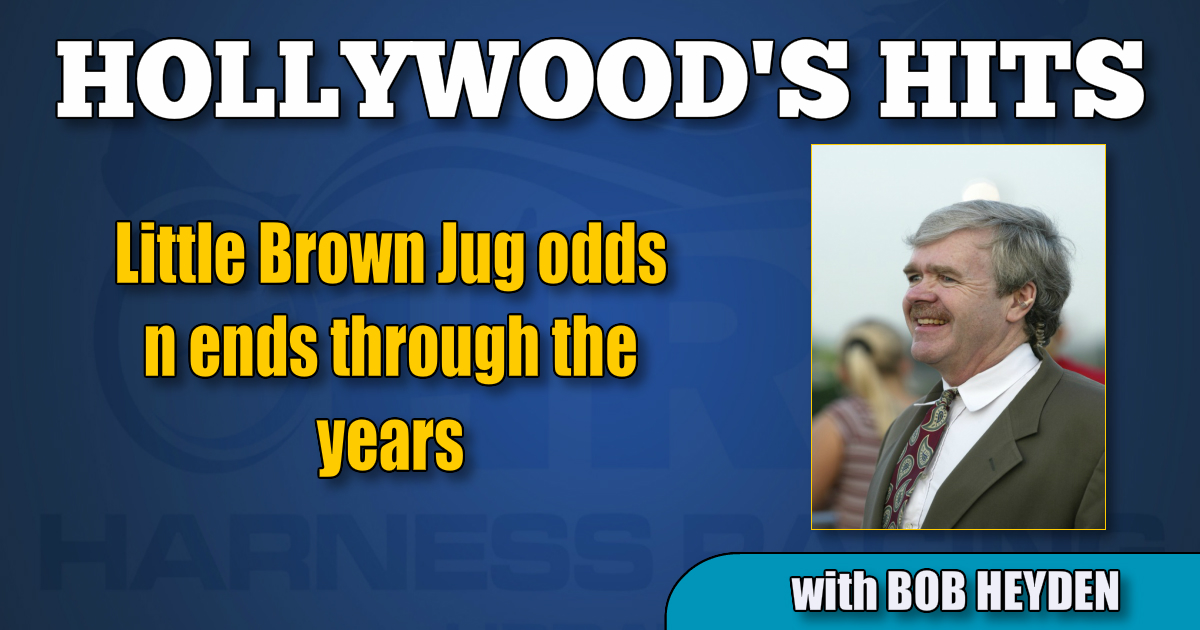 Little Brown Jug odds n ends through the years
by Bob Heyden
1. Dr. Ken Seeber won the 1989 Cane and Messenger with two different colts, but neither was in the Jug that year. Cane: Dancing Master $2.60 (Sandman Hanover was second as the 1-5 entry went 1-2). Messenger: Sandman Hanover $8.60 (Dancing Master not in it). He 1-2 in the Cane, won the Messenger with his only entrant but was not in the Jug.
2. Tall Dark Stranger in 2020 joins the list of top colts NOT Jug bound that includes: Somebeachsomewhere (2008), Cam Fella (1982), Jennas Beach Boy (1995) and Captaintreacherous (2013).
3. Not once in the 1940s and 1960s did the Jug-winning driver also drive another sophomore in the Jug that same day. The year 1957 was the only time in the first 25 editions that it happened at all. John Simpson, Sr. won it with Horse of the Year Torpid, but also handled Nyland Hanover (6th) that same day.
It became commonplace after that for winning drivers to have multiple Jug horses.
4. From 1982-1988 Bill O'Donnell had 19 Jug drives, eight wins, three seconds, a couple of thirds and no missed checks, winning back-to-back finals with Nihilator and Barberry Spur in 1985 and1986.
5. The 1992-1999 Meadowlands Pace winners seemed to take it on the chin come Jug time.
1992 — Carlsbad Cam was not in the Jug.
1993 — Presidential Ball was third after being second in the Cane and Messenger.
1994 — Cams Card Shark was scratched that day and never did race again, but was an easy choice for HOY.
1995 — Davids Pass was not in it.
1996 — Hot Lead was not in it.
1997 — Dream Away was last as the even money favorite.
1998 — Day In A Life was third from post 8 totally dismissed in the wagering at 55-1.
1999 — The Panderosa was last in his heat and did not make it to the final.
6. Phantom Lady in 1954 was 1-6-2 for Frank Ervin. She took her shot at becoming the first filly to win it. Adios Harry ended up being victorious, but, consider that just three days before the Jug, Phantom Lady won the Filly Breeders Stake!!
7. The 1946 Jug went for $35,358.25, which was the all time biggest pot for sophomore pacers to that point in history.
8. Little Brown Jug debuts:
• Brian Sears was fifth with 2-1 favorite in 2001 with Pine Valley.
• Dave Miller in 1992 with Ruff Hewn was second and third and did not make the Fake Left-Western Hanover-Crouch-Gamma Ray race-off.
• John Campbell debuted in the 1981 Jug that was marred by multiple interference. His Armbro Wolf did not finish, but Campbell did win it the next year with Merger, a horse Campbell owned, in part.
• Bill O'Donnell was first and fourth in the final with Temujin in 1982.
• Mike Lachance got it going in a hurry winning his first two Jugs ever — the only driver to do so back to back. B J Scoot and Goalie Jeff each won both.
• The Waples three: Keith debuted in 1969 with Penn National (third and sixth); Ronny got going with Coal Harbor (second and third in 1982) and Randy was scratched in 1998 with Memphis Flash and then raced Elmos Blaze (7th in 2000).
9. June Weller was 10th and ninth in 1972 in the Jug, but remains today the only female driver to compete in the Jug.
10. 252-1 shot Savvy Almahurst (Dave Rankin) finished third in the 1983 Jug final, right behind 61-1 shot Skirt Lifter and favorite Ralph Hanover, who won it. Too bad show wagering was barred from this one. And 252-1 was not the longest shot in this field. Salute Hanover was 8th at 305-1.
11. John Campbell was second in three straight Jugs (1985, 1986, 1987):
1985 — Pershing Square to Nihilator
1986 — Amity Chef to Barberry Spur
1987 — Redskin to Jaguar Spur
12. Cam Fella wasn't in the 1982 Jug. He was ineligible, though he did win the Cane and Messenger via the supplemental route. Pat Crowe waited a year until his debut in 1983 with a pair of horses — Elarfus and Ludell Hanover. Both were fourth and did not advance.
13. HOYs that failed in the Jug. In 2000, Gallo Blue Chip finished second to Astreos in the Jug but was an easy choice for HOY. In 2005, Rocknroll Hanover was the no-doubt HOY, but was second and third in theP Forty Seven year.
14. In 1999, Luc Ouellette won at Delaware, OH with Jet Laag for Linda Toscano in a world record half-mile track effort in 1:49. He also won paying double digits twice in the Jug heats —$10.00 Royalflush Hanover (last in the four-horse race-off) and $10.60 Mystical Shark. (third in four-horse race-off with Jack Moiseyev driving).
15. Clint Galbraith had only one Jug drive prior to 1980 when he won with Niatross and it was 14 years earlier in 1966 with Niagara Byrd (7th and 8th).
16. Del Cameron is the only driver to win a Jug heat each of the first two years:
1948 — Royal Chief (1-6-3-3 on the day)
1947 — 1-1 winner with Forbes Chief
17. Just six of the last 38 HOYs also won the Jug:
1985 — Nihilator
1990 — Beach Towel
1991 — Precious Bunny
2003 — No Pan Intended
2010 — Rock N Roll Heaven
2015 — Wiggle It Jiggleit