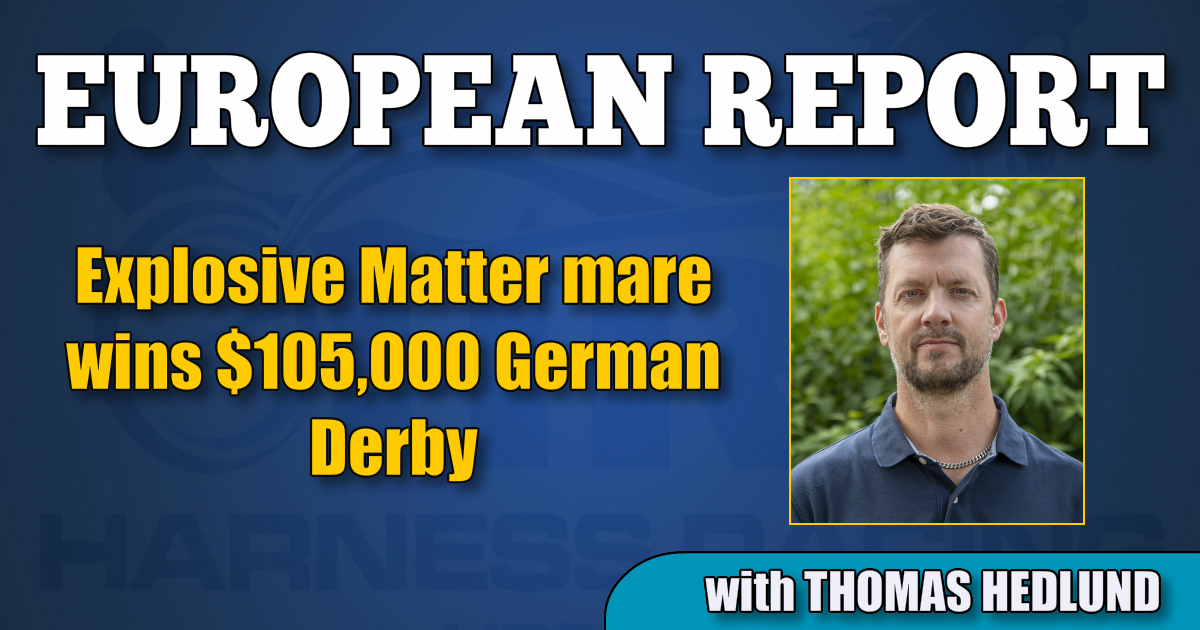 Explosive Matter mare wins $105,000 German Derby
by Thomas Hedlund
The $105,000 German Derby for 3-year-old mares was held in Berlin on Saturday afternoon and Michael Nimczyk drove winner Kyriad Newport (Explosive Matter), but the duo was certainly not the winner when the field turned for home. Nimczyk, who represented Germany in the latest edition of World Drivers Championship in Sweden, served his horse a pocket trip and Kyriad Newport couldn't attack before 100 meters to go in the 1,900 meters long race.
The mile rate of 2:00.2 was enough to claim the big trophy and Kyriad Newport continues to show that she's got the right morale. The Derby win was the 3-year-old mare's fifth consecutive win. She has only lost one race in six attempts.
The $215,000 German Derby is scheduled of today (Sep. 20) and it seems like Europe's winningest driver in history, Heinz Wewering, 70, has a great shot behind Arnold Mollema trained Keytothehill (Quite Easy). Wewering has won over 16,900 races and grabbed the World Driving Championship title two times. It's 55 years since Heinz Wewering won his first race, according to sulkysport.se and today afternoon he chases his ninth win in the German Derby.
Gocciadoro wins all three Italian Derby elims
Three eliminations for the $1 million Italian Derby for 3-year-olds were held in Rome on Saturday afternoon (Sept. 19) and Alessandro Gocciadoro was successful, to say the least, since he won all three races.
Gocciadoro had 10 horses in the eliminations card and began with Boltigeur Erre (Voltigeur de Myrt), who won after a pocket trip signed by Giampaolo Minucci. Gocciadoro's drive Babirussa Jet finished second from the lead and Baresi Effe, trained by Gocciadoro, took the bronze medal.
Bubble Effe (Nesta Effe), driven by Gocciadoro, took a safe wire to wire victory in the second elimination and stablemate Bigbusiness Ard finished second ahead of Belezebu' Jet.
Gocciadoro's third winner, Bepi Bi (Donato Hanover) had to do the heavy job outside of leader Bleff Dipa during the last mile of the 1.3 miles long race and in summary, Alessandro Gocciadoro has great chances to grab the prestigious Italian Derby once again. The "yellow" trainer won the Derby in his home country 2017 with Valchiria Op and 2018 with Zlatan.