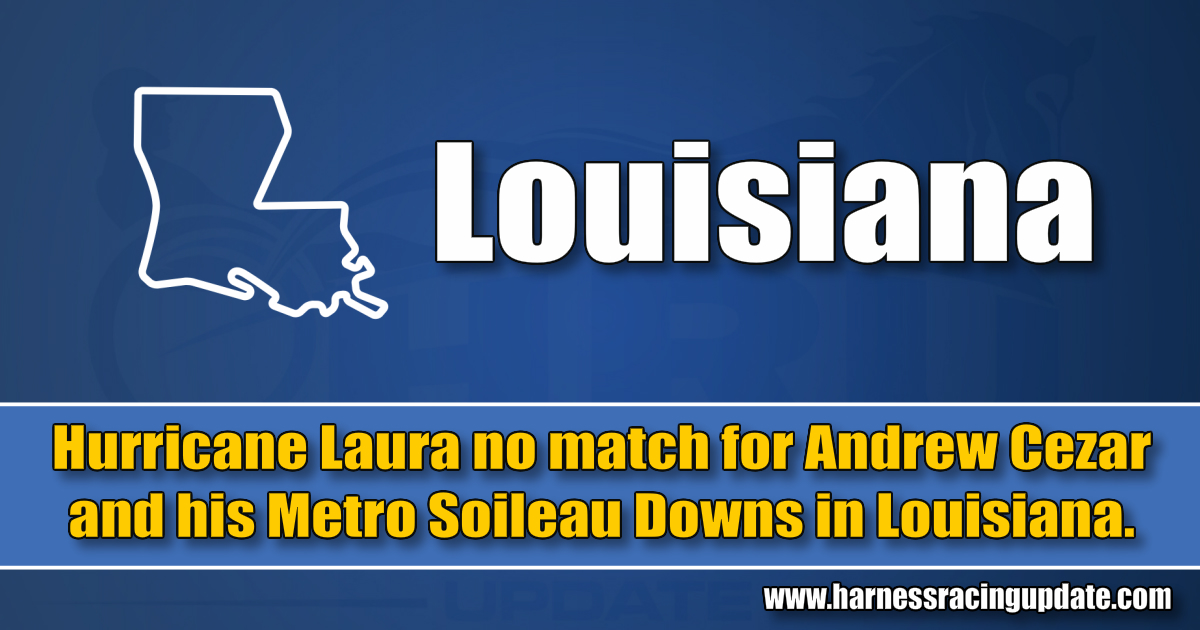 Hurricane Laura no match for Andrew Cezar and his Metro Soileau Downs in Louisiana
by Melissa Keith
Harness racing abounds with stories of beating the odds. But just when you think you've heard them all, the ultimate longshot comes into view.
Meet Andrew Cezar, the 81-year-old French-Creole trainer/driver who founded, owns, and operates Metro Soileau Downs in Allen Parish, Louisiana.
"I started in Michigan. I raced in Michigan, Illinois, Indiana," said the fourth-generation horseman. "In Three River [Fair], Michigan; LaGrange [Fair], Indiana; Nappanee [Raceway], Indiana; and Goshen, Indiana [Elkhart County Fairgrounds]. Then I moved back to Louisiana and I opened up the track over here in '97."
Louisiana harness racing has a tumultuous history. Because many early residents came from northern states and Canada in the 18th and 19th century, they were accustomed to the sport. They formed trotting and pacing clubs and conducted race meets. The Locke Bill, introduced in 1908 by the Anti-Race Track Committee of New Orleans, explicitly banned wagering on "races, run or trotted or paced, within this State or elsewhere." A few decades later, standardbred tracks Magnolia Park and Jefferson Downs both switched over to thoroughbreds within a few years of opening, and were later levelled by hurricanes and general misfortune.
Cezar didn't let those factors hold him back when he returned to his home state. There was a proud tradition to uphold, even if on a smaller scale than the sport's previous local incarnations.
"I am from Louisiana. So, after my father died, then my mother was going to sell the [Triple C] Ranch," he explained. "To keep it in the family, I bought it. Then I said, 'Well, I've decided I'm going to move back over here.' So then, I did. After 40 years, I moved back."
He brought his favoured style of racing with him, breaking ground on the family ranch for Metro Soileau Downs, a quarter-mile track that has hosted Trottingbred races on alternating Saturdays from summer through October. (Trottingbreds are the small harness racing breed used by the Harness Horse Youth Foundation and other programs worldwide, to provide aspiring drivers with a safer, slower experience than sitting behind a full-blooded Standardbred.)
"I started the racing in Michigan with friends," recalled Cezar, who has also raced standardbreds. "When I moved back over here, I brought a bunch of horses and I built that track with the nephews and kids, grandkids and stuff, you know. Because they didn't have that kind of racing — harness racing — in Louisiana. I loved it and I decided I was going to do it over here, but other people didn't know too much about it. I said, 'Well, I must start something,' so that's what I did."
Coming from a Creole cowboy background dating back to 1805, the Oberlin, LA native wanted to keep that spirit alive as well. He works from horseback, and leads the annual Soileau Mardi Gras Parade and Dance every year. That's in addition to driving in races at Metro Soileau Downs. "I still do! I'm a young 81, not old!" he added with a laugh.
In a normal year, the lifelong trainer/driver would currently be competing against other owner/drivers of Trottingbreds raised and based at Triple C Ranch. But 2020 had other plans.
"No, we didn't race this year, because of the weather and the mosquitoes… It was rough," he said.
Then came the coup de grâce, when Hurricane Laura made landfall Aug. 27.
"We had a hurricane that blew the roof off of the barns. […] The 'grandstand', the clubhouse, you know, where we used to sit around… It pretty much damaged it all." The 40 on-site Trottingbreds were turned out in the ranch's pastures, while Andrew and wife Olivia faced weeks of power outages and the prospect of a major rebuild ahead.
Dr. Rachel Cezar-Martinez, DVM, is one of Andrew and Olivia's six children. She said insurance should cover the bulk of rebuilding, but she's always willing to help her parents. "I'm very indebted to them," added the Maryland veterinarian and horsewoman. "Without them, I wouldn't be who I am today." When she was a 4-H member in her early teens, Cezar-Martinez showed horses at Michigan fairs where Trottingbred racing was also featured. That's where her father became captivated by the breed: "He saw little ponies at the fairs, racing, so he asked somebody and we started doing the Trottingbred racing." Both father and daughter competed as drivers.
Will harness racing return to Metro Soileau Downs in 2021? Andrew Cezar said that "it should be" fixed in time for next summer, when he hopes to bring back the races, "once I get the money and the materials to fix it back again, you know." His regular way to get major projects done is tougher in this challenging year: "What you do around here is you make a big barbeque and invite everyone to the barbeque, but you don't feed them until they have fixed the barn!" Fortunately, son Jonathan Cezar lives nearby in Texas; Rachel Cezar-Martinez said her brother "is trying to rekindle" the local sport alongside their father.
After Hurricane Laura, Cezar-Martinez started an online t-shirt sale in support of Metro Soileau Downs and Triple C Ranch. Each shirt sports her father's familiar greeting ("Hello Darlin'") and the silhouette of a rider astride a rearing horse, designed by her husband Dennis Martinez. She said the venture is more about raising her parents' spirits than raising serious funds: "They're from Louisiana. They speak French. They're the last of their kind. Every year the hurricanes come, and they won't leave."
Andrew Cezar was named this year's Allen Parish Tourist Commission Black History Honoree for his dedication to grassroots racing, and to traditional Mardi Gras. (Not New Orleans-style revelry, but rather "a trail ride, going house to house, with Zydeco music and gumbo at the end of the day," explained Rachel.) Will he and Metro Soileau Downs beat the odds again? Anything seems possible for the Creole cowboy with two passions where les bons temps roulez (the good times roll).
The "Hello Darlin'" Bonfire t-shirt campaign ends September 18.
Details and ordering information.