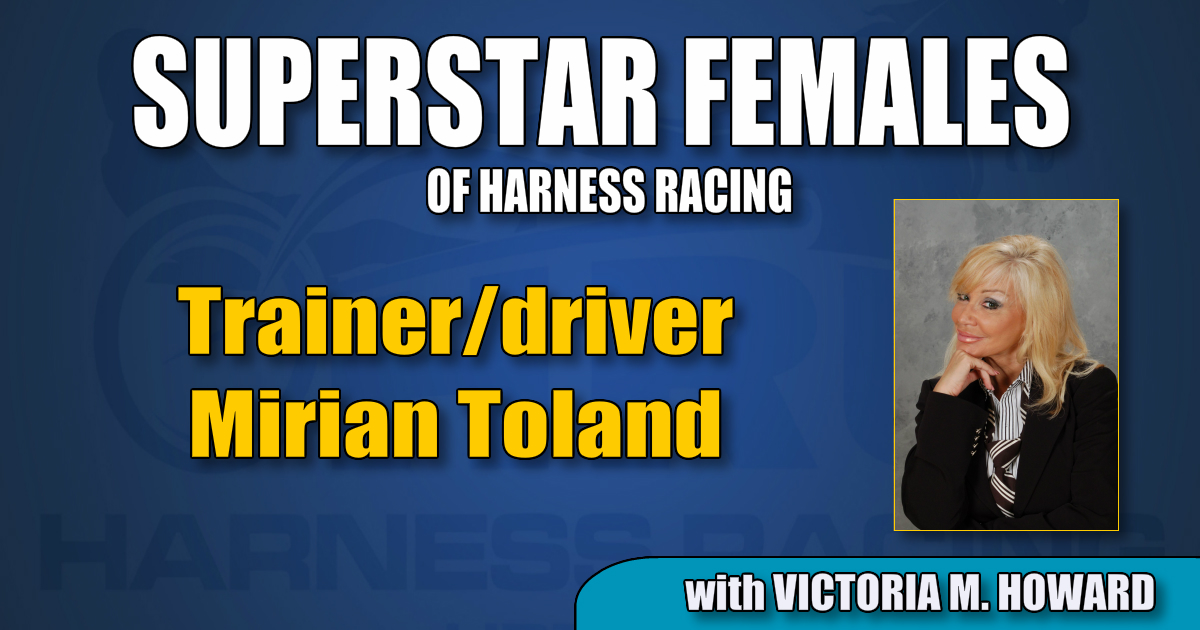 Trainer/driver Miriam Toland
by Victoria M. Howard
Growing up in Rahway, NJ — 21 miles from Manhattan and 5 miles from Staten Island — Freehold Racetrack was a 30-minute drive from the Miriam Toland's house.
Miriam, an only child, often accompanied her father to watch the thoroughbred races there.
"That's when I began dreaming of having my own pony and one day becoming a jockey. But I realized I would never be 100 pounds, so that dream went up in smoke," Toland said, laughing.
But little did Miriam know that decades later she would become one – if not— the oldest female driver in harness racing.
Although racing and training horses wasn't her primary career, driving her four-legged-kids in races would eventually take her to racetracks all over the United States.
"I've raced my horses at Pompano Park in Florida, Freehold in New Jersey, Ocean City Downs located in Maryland, Pocono Downs in Pennsylvania, Harrington in Delaware, Foxboro Raceway in Massachusetts and the New York tracks, Goshen, Monticello, Tioga, Batavia Downs and Vernon Downs."
She attended the University of Tampa, majoring in Physical Education. When not in school, Miriam took a job as a waitress at Monticello Racetrack.
"I was working to help pay for my tuition and would watch the races. I couldn't believe the drivers in harness racing came in all sizes, unlike the jockeys of thoroughbreds.
"I was always a person who when putting my mind to something, I followed it through. I thought, 'I could do it' and I did.
"Working as a physical education teacher in New York City, I had summers off so in 1971 I started working in the barn area — grooming, cleaning stalls, and taking paddocks.
"In 1972, I took the trainer/driver test and passed.
"The next year a trainer/driver at Roosevelt Raceway named Steve Demus saw how hard I was working and actually gave me my first horse, named Madam's B Gallon."
"I raced Madam's B Gallon at the matinees and was devastated when in the race he stepped in a hole and shattered his ankle. My heart broke when we put him down and I wrote a 36-line poem about him, but it never got published.
"In 1973, I got my matinee license and drove at the fairs. When I was 31-years-old (which is considered late for a driver) I began driving.
"In 1976, I got my 'P' license and, as they say, was on my way."
Miriam worked hard juggling both careers at the same time, but somehow it worked.
"On June 3, 1984, I got my 'A' license and had my first pari-mutuel win with my horse, Starry Night."
Decades later, her resume credits her competing in hundreds of races, including 25 Sweetheart Paces held at Pompano Park.
"Unfortunately, I was always a bridesmaid, coming in second many times, but never victorious," she said.
Miriam chose not to marry or have a family. Instead, she chose the life of a career woman.
"I wasn't one of those woman who wanted to get married, have children and a house with a white picket fence, which really upset my mom.
"My mother was my best friend and being an only child she hoped one day to be called grandma, but when she realized that wasn't for me, she accepted my horses as her grandchildren."
"One of the best women drivers in our sport, Bea Farber, was someone I admired and looked up to, as well as driver Sandy Fisher.
"I purchased two horses from Sandy and discovered, like me, she also likes to scuba dive. We became great friends and went on many scuba adventures together."
Sandy Fisher and Bea Farber — two of harness racing's top female drivers that could drive with the best males — have both passed away.
Farber, known as "Queen Bea" to her racing family and fans was the female driver with most wins ever in the sport of harness racing, accumulating 1,801 victories.
Sitting behind a 1,200 pound animal is far from a glamorous lifestyle, and until recently women drivers did not get the credit or recognition they deserve.
Back in 1976, NBC News did a segment called "Women In Sports" which included Miriam. When asked why she gave up everything to become a harness horse driver, she replied, "It's worse than alcohol or drugs, but there's nothing like it! I get a natural 'high' every time I drive."
Thirty-four years later at the young age of 75, Toland still gets a thrill when competing. In fact, on July 3, 2020, Miriam won with her horse Fleetwood Hall, a 10-year-old trotter, at Vernon Downs in New York in 1:55.3 (her fastest drive to date.)
Humbly, she credits five people for her success: First, her mother who was her biggest cheerleader, asset, and best friend; and to harness drivers Bruce Ranger, Sandy Fisher, Bea Farber, and Whitney Bell.
When Toland mentions Whitney she lights up like a Christmas tree.
"Whitney is the daughter I never had and I'm thankful she's in my life."
Harness racing and tracks have a questionable future, but Miriam remains positive.
"I've had a wonderful career and wouldn't trade it for the world. Currently I own four horses: two are retired on a farm in Loxahatchee, Florida, and two are my racehorses.
"My all-time favorites are Starry Night, Jim's Little Red, Nobell Prize, Hi Sweetie (which is on my license plate) and of course, Fleetwood Hall.
"I just love that boy for he really makes me look good. I believe anyone can get behind him and win."
Having had a successful and exciting career and still going strong at the age of 75, does Miriam have any advice for women who would like to drive harness horses?
"Be true to and take care of yourself.Doing what you love to do is the key to a happy and rewarding life. And for all the women drivers: past, present and future: congratulations, for we've come a long way ladies."