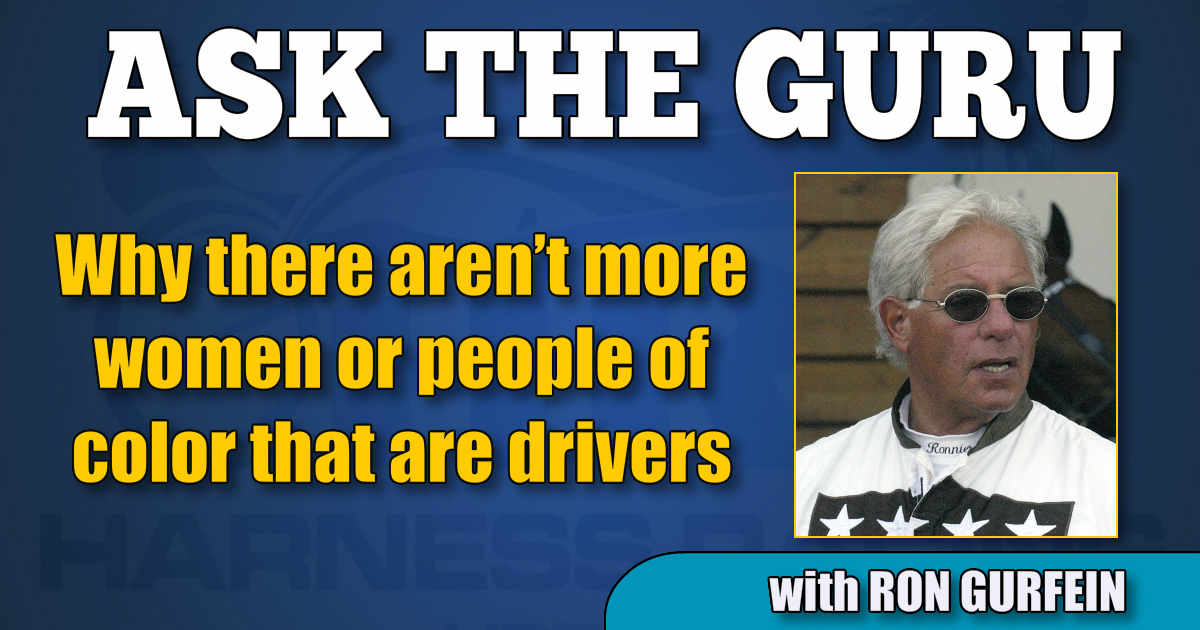 Why there aren't more women or people of color that are drivers
Plus, thoughts on spectators being allowed at Red Mile, whether one should buy yearlings from a farm that retains some of its prospects and much more in in the latest edition of harness racing's most popular advice column.
by Ron Gurfein
Tidbits: You have to love it! If you are true lover of harness racing then I hope you witnessed the third race at the Red Mile on Sunday. It was a true David and Goliath event.
Marie Ortolan Bar, the beautiful significant other of the world renowned horseman Jean Pierre Dubois, has been racing a Trixton 2-year-old on the Kentucky Fair Circuit. The colt Cuatro De Julio (out of Clarabelle by Ready Cash) was bred by Dream With Me Stable.
The colt had won six fair races in a row going into the Kentucky Sires race on Sunday. He was driven in the event by Al Efferstein, his usual driver, a fixture in Lexington's local driving colony. Al had competed in 17 races for the year of 2020 and was competing with names like Mark MacDonald, Brett Miller, Chris Page, Matt Krueger and Trace Tetrick, most have had around 1,500 drives this year. The training competition was no slouch either with names such as Takter, Burke and Melander in the mix.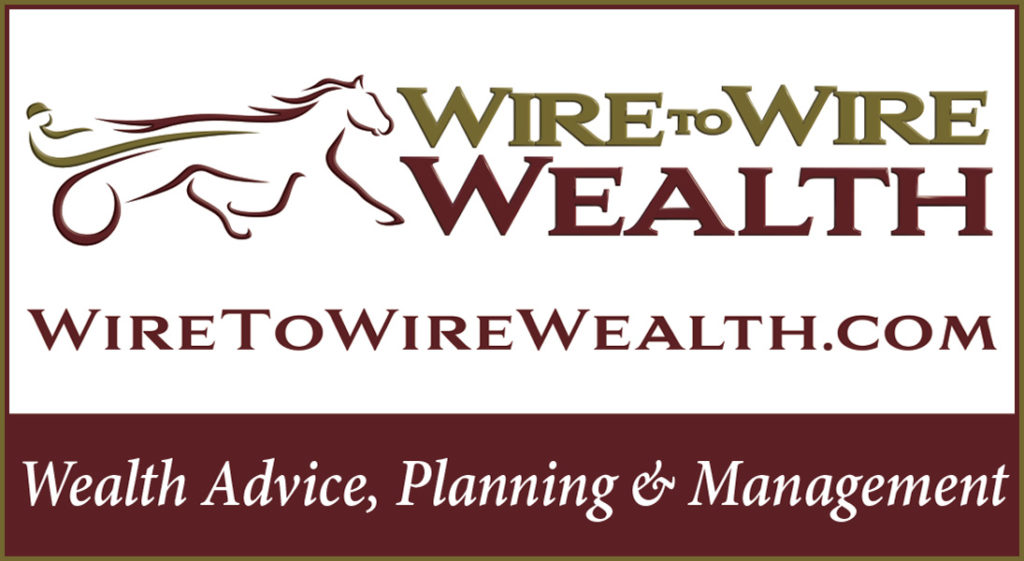 Cuatro De Julio has been racing on the front recently and just drawing away from the competition. Efferstein left well from the outside, but Mathias Melander protected the rail position with a blistering 27-second first quarter forcing Al to take a tuck in the two hole. When the favorite came first up, Efferstein never made a move to beat him to the first up position and was sitting chilly locked in third. Like an ice man he waited and waited and waited for the leader to tire in that long Red Mile stretch and sure enough without one bit of urging the Trixton colt slipped through on the inside and won going away.
Marie and I had spoken about the colt last month and after watching him in the fair races. I even offered to buy him but she had no desire to sell. It is easy to understand why.
I couldn't be happier for the Ortolan/Efferstein conquest. Please stay tuned for "the rest of the story."
* * *
There is no SPORT in the sport of harness racing any more in Southern New York. It's pure business and nothing more.
I am well aware of the financial impact of the COVID-19 virus on racetracks today. But how does a huge corporation like MGM cancel the Yonkers Trot and The Messenger Pace two major races both legs of a Triple Crown? To top this, they announce remaining open until mid-September, but with $1.2 million from the SOA to support purses.
The races didn't have to go for the advertised purses, but MGM could have advanced the purse account enough that added to the stakes payments and declaration fees the purses would appear adequate.
It's not too late, it would be great if another track would step up and take over the two events to keep the Triple Crowns alive.
Kudos to Jeff Gural. The major stakes at his tracks are alive and well. On the subject, don't miss the big events at Vernon and Tioga this weekend. The first three finishers in this year's Hambletonian will all be performing, and well as the winner and second place finishers in the Oaks. There will be $1 million plus up for grabs at both venues.
* * *
I received a note from Sy Fuchs in regard to my comment that I felt that the testing lab had messed up testing involving the bute positives of the three Meadowlands horseman that end up racing on the Hambletonian weekend anyway.
Sy says "Not a lab screwup. An apparent New Jersey Racing Commission screwup. There was a 24-hour bute rule in effect. The commission changed it to 48 hours."
However, they never informed anyone of the change in withdrawal time. That omission included the veterinarians.
* * *
I read some what I thought to be ignorant comments on social media about the COVID-19 protocol at the Red Mile and found out the situation was odd to say the least, but the decision was not from the Red Mile management but from the State of Kentucky.
I will omit the gory details but will say that after speaking with Shannon Cobb I was assured that they were doing everything possible to have on-site patrons for the Sires Stake finals and the Grand Circuit meet.
Considering the fact that it has been okayed for the Kentucky Derby 72 miles away I would think and hope the Red Mile's requests are granted. I will definitely keep you informed.
* * *
Congratulations to one of the good guys. Gabe Prewitt has been named director of racing for the four racetracks owned by Caesars Entertainment (full story here). With this announcement, the futures of Pompano Park, Scioto Downs, Harrah's Hoosier Park and Harrah's Philadelphia look much brighter.
Allan R Pullman asks: Now that yearling sales are around the corner, would you check out and buy yearlings from a breeding farm like Diamond Creek that each year seem to keep the best yearlings for themselves?
There is not the slightest question that I would. No one can buy this game and no one is that smart. True, a farm manager has an edge watching a colt grow and mature and also know of sickness and minor accidents.
That said, there is an old saying "too many cooks spoil the broth."
A huge operation does not make one man decisions. It's like a big corporation and there are many fingers in the pie deciding who it shall retain.
To begin with, the majority of the yearlings they retain are high ticket types that someone would outbid me for any way. If you believe in your system and it is proven to be successful, just go for it. They sell plenty of top horses.
The same was said of Brittany Farm. Yet, I bought Continentalvictory and Self Possessed from them, both were Hambletonian winners that I am certain Mr. Segal wishes he had kept.
Remember, buying yearlings in a sense is like a poker game. I wouldn't tell my mother that I loved a yearling. Keep your cards close to the vest. If you are a respected yearling buyer, don't give away any pertinent information on how grand a colt is to the consigner when visiting their farm. For sure, if you do the next thing you will hear is the horse hurt his leg in the paddock and we had to take him out of the sale.
Mark Willis asks: With the passing of Bea Farber it made me wonder why no woman is ever a top catch driver in the industry. Also with all due respect to Montrell Teague, why aren't there more people of color in the top tier of drivers in the country?
To me the question begs for a conspiracy discussion answer. However, that is far from the case. Harness driving started out as a gentleman's sport racing on back roads. Although there have been a few women to enter the driving colonies, there haven't been more than a handful. Evidentially, the opportunity for a young girl centers more on the thoroughbred as opposed to the standardbred and the results are that most tracks do have a few women jockeys in their riding colony. It is based purely on desire.
If you are a Currier and Ives fan you will be well aware that many of the drawings are of women in the sulky, so obviously there were more ladies interested in the sport in the formative years.
There is no prejudice against women drivers in the industry, just as there is none against people of color. Harness racing is and always has been a family oriented sport. Most horsemen had fathers, uncles or cousins well established in the industry before they started. It was so prevalent in the earlier years you could have opened a racetrack with just the families of Filion, Lachance, Gilmour and Waples. From generation to generation most male family members became horsemen.
So now we discuss men of color.
In the past generation of horsemen, there were a plethora of caretakers of color. I purposefully didn't say African Americans because many were from the islands and not American born. They were caretakers and not trainers, and from the 1950s until today their numbers have dwindled considerably.
Montrell Teague is a wonderful young man and it's very important to point out that his father is one of the finest horseman to draw a line over a horse. His aunt is a great horse lady in her own right. The apple fell close to the tree.
Why is Montrell one of very few?
The answer to this writer is quite simple. When a minority group is looking toward upward mobility in the 21st century they are thinking lawyer, doctor, accountant or at least high-paying jobs that have some semblance of security (i.e.: a pension or a 401k).
Somehow or other, horse trainer doesn't fit those priorities. After 60 years of experience, I can assure you it's a tough road to hoe.
Subsequently, we find very few minorities in the driver colonies of the sport. It is certainly not just men of color among the missing. How many famous Jewish drivers do you know? Only George Berkner and Art Bier come to mind.
There have been a handful of top horsemen of color outside the Teague family — Lew Williams, Odell Thompson, Maxie Lee, and Dover Tolson to mention some of my friends —but unfortunately merely a handful. This situation is not likely to change anytime soon.
Paula Richardson asks: Mr. Guru, we are quickly approaching sale time. Do you think the failure of the two million-dollar babies will impact buyers at the coming sales?
To begin with, calling Maverick and Damien failures this early in their careers is a horrible mistake. Much of the money spent on them was because of their siblings Greenshoe and Propulsion. As I recall, neither one of them set the world ablaze at 2. In fact, they were at best major projects as freshman. Greenshoe showed extreme speed and was extremely erratic. On the other hand, Propulsion showed little talent till late in his sophomore year and never became a championship caliber horse until he was 5 years old.
That said, I would worry more about the COVID-19 virus effect on the coming sales more than the success or failure of the aforementioned equines.
I am not a gloom and doom type person. Personally, I think that with both major sales outside for the most part the participation will be way larger than we thought a few months ago. With restaurants opening in Lexington and the panic coming under control I can truly see the breeders and owners surviving this horrid circumstance with the least possible scarring.
Will there be a big dip in the market? Of course there will be, but my concern is the inability of the European buyers to attend the sale. Their presence in recent years had been a boom to the equine economy and there absence will hurt the trotting game on the high side immensely. Although I am sure there are legitimate reasons for these new laws restricting travel, sometimes their severity mystifies me.
John Cooper asks: Will spectators be permitted at the Red Mile during the two weeks of Grand Circuit?
As I mentioned above, the State of Kentucky has made some tough decisions as to the dos and don'ts at racetracks in the state.
The Red Mile, as of now, is working on a plan to have spectators and are hopeful it will work out. There will have to be capacity limits. They may deal with through advanced ticketing. Also, screening, masks and social distancing will be in effect. Stay tuned. I will keep you updated.
It's hard to figure, but the emails have improved since the Big M is closed. If I haven't answered your question please bear with me I will get to it ASAP. Our sport is alive and well at a time we cannot say that about many other businesses. There are problems in certain states but I am sure they will rectify them in a positive manner. Please enjoy a wonderful weekend of some major stakes races and have a wonderful week.
Have a question for The Guru?
Email him at GurfTrot@aol.com.