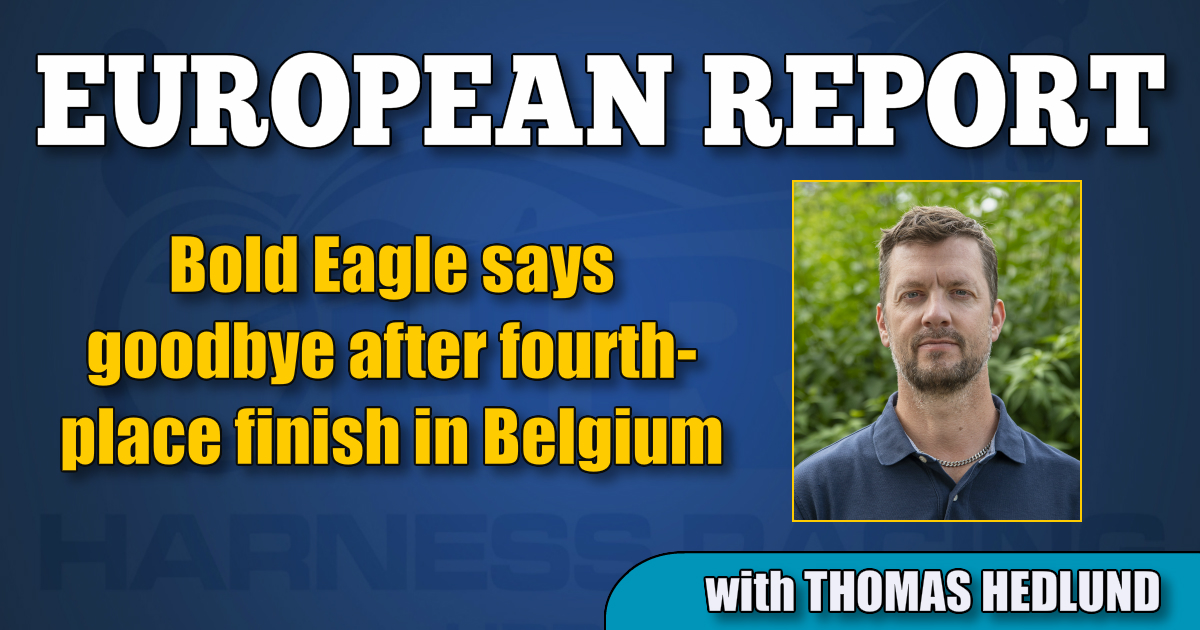 Bold Eagle says goodbye after fourth-place finish in Belgium
by Thomas Hedlund
A champion had his last performance on the racetrack on Sunday afternoon (Aug. 2). Bold Eagle (Ready Cash) ended his career with a fourth-place finish in the $140,000 Grand Prix de Wallonie in mons, Belgium, driven by Hugues Monthule, the horse's caretaker.
Bold Eagle had to race first over with a half mile to go in the 1.4-mile long race, and with Prix d'Amérique winner and stablemate Face Time Bourbon in front, the objective was too tough. Face Time Bourbon (Ready Cash), driven by Björn Goop, hit the lead at an early stage of the race and won comfortably in mile rate 1:54.1.
Bold Eagle's career is astonishing with two victories in Prix d'Amérique as the most prestigious wins and the 9-year-old champion pushed his lifetime earnings to €5,000,567 ($5,878,020) with the fourth-place in Mons.
Sébastien Guarato trains both Bold Eagle and Face Time Bourbon.
Set for Åby Stora Pris
The $410,500 Åby Stora Pris over heavy distance 3,140 meters (approximately 1.95 miles) is scheduled at Åby racetrack on Saturday (Aug. 8) and several tough trotters will be gathered behind the gate.
Horses such as Cokstile, Ble du Gers, Who's Who, Makethemark and Very Kronos will fight over three laps on Åby's surface and there are no doubts that the track has collected and invited a field which includes trotters that like long distances like this one.
Åby Stora Pris 2020
3,140 meters
Horse – Driver
Ble du Gers – Per Oleg Midtfjeld
Cokstile – Wim Paal
Handsome Brad – Carl Johan Jepson
Pacific Face – Giuseppe Lubrano
Valvet Gio – Jorma Kontio
Who's Who – Örjan Kihlström
Don Williams – Mika Forss
Moni Viking – Björn Goop
Mindyourvalue W.F. – Robert Bergh
Makethemark – Ulf Ohlsson
Cyber Lane – Johan Untersteiner
Very Kronos – Erik Adielsson