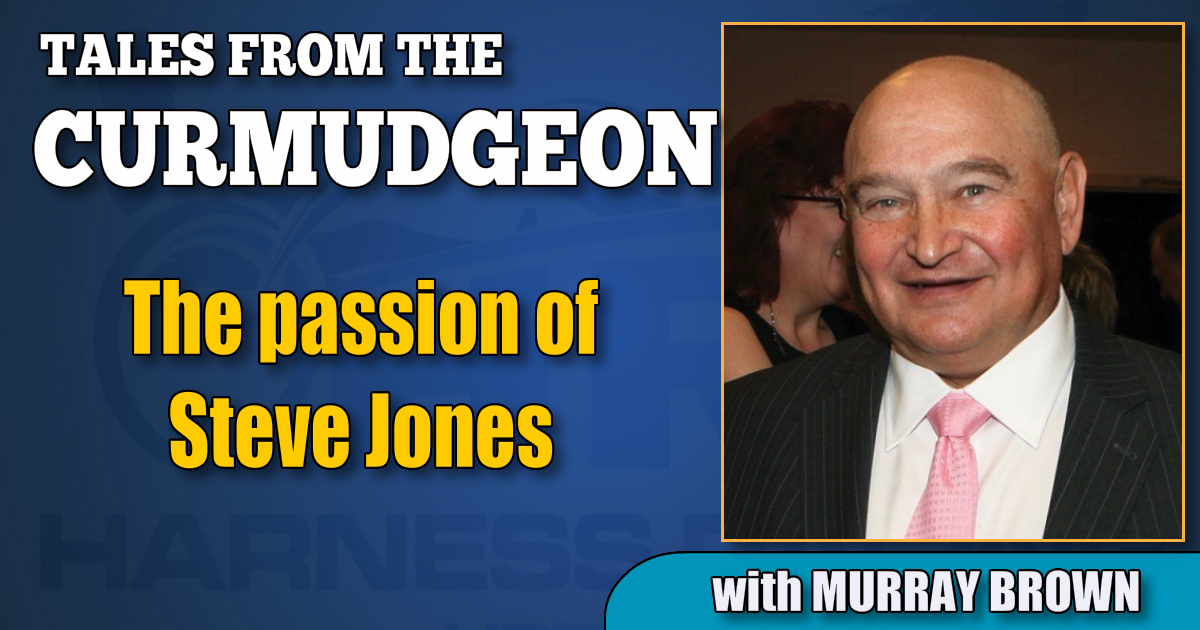 The passion of Steve Jones
A passion for horses was born into the man behind Cameo Hills.
by Murray Brown
Although Steve Jones says his interest in horses came at a later time, I'm inclined to believe that his memory may be playing tricks on him.
I think that for all intents and purposes, he was in effect born in a feed bucket.
My earliest memories of him were as a pre-teenager following his Hall of Fame dad, Hal, everywhere he went in exercising his duties as farm superintendent at Hanover Shoe Farms.
Before that, Hal was the farm manager at Ohio's behemoth Pickwick Farms — where he introduced the concept and utilization of artificial insemination to the breed — and then at New York's Blue Chip Farms.
After Hal was done with his myriad of duties at the Pennsylvania nursery, my mind's eye sees Steve coming into the office perusing the farm's library of periodicals and Sires and Dams books, sometimes for hours on end.
Steve says that it wasn't until he actually worked with Hal at their newly acquired Cameo Hills Farm in New York that he became consumed with harness racing.
It may have grown by then, as it still is growing, but trust me on this, his passion was and will always be there.
His first "job" he remembers was at Hanover on Saturday mornings when he went around with his dad keeping the teasing records of the mares that they were checking. When the yearling catalogs came out, he recalls many an evening spent stuffing catalogs to be sent out to the farm's large mailing list.
From Hanover, the Jones family moved to the newly-established New Jersey division of Lana Lobell Farms where his dad became the farm manager.
It was there that Steve first learned how to handle and show a yearling.
It was also there that his love for racing grew.
Those were the halcyon days of both harness racing and The Meadowlands.
Back then The Meadowlands raced six nights a week. Steve Jones would be in attendance all six nights.
Life was good.
He and his family lived in a beautiful mansion, set on a beautiful farm and surrounded by some of the greatest horses the world has seen.
All the top names, the Dancers, Haughtons, Sholtys and Beissingers were frequent visitors.
He was seeing all of North America's greatest horses race on an almost nightly basis.
He was living the dream.
After some time, Hal and mom Marie came to the decision that they had perhaps spent too much time working for others. It was time for them to establish something of their own. They were going to buy and build their own farm in the then thriving Goshen, NY area. There were numerous breeding farms there and the sky was the limit.
There were both plusses and minuses to the venture.
They purchased 118 acres of undeveloped, but fertile land in the area. There was a lot of work and money put into it to make it a workable horse farm. That was the minus.
The plus was that Hal could build it to his exact specifications.
His goal was to make it as efficient and practical as a horse farm could possibly be.
Here was a man who had managed Hanover, Lana Lobell, Blue Chip and Pickwick Farms. There was probably nobody who had as much hands on experience and insight as to how a horse farm should be laid out and run.
When his mom and dad decided to take that step, Alan Leavitt, who owned Lana Lobell asked young Steve to stay on.
Hal left the choice to Steve, although his preference was that his son accompany him.
Steve recalls having a meeting with Lana Lobell's manager and asking him what his duties would entail. The response was "Whatever needs to be done. If a ditch needs to be dug in winter, then that's what you will be expected to do."
Steve chewed on it for awhile and came to the wise conclusion that if that was what he was going to do, then he would be better served doing it for his father.
Steve you and your family have, perhaps a deserved reputation, for being thrifty and watching where the dollars go.
"I give my mom all the credit for that. My folks never had a lot of money to begin with. They worked hard for every dollar they earned and mom was not prepared to waste any of it. We were never poor and never suffered from any of the needs of life, but we also weren't disposed to waste what we had earned.
"There was one rigid exception to that – the horses. When a horse of value came along, we didn't think too long before acting upon the opportunity.
"The most glaring example of that was in the purchase of a share of Albatross. When Albatross was re-syndicated by Hanover, my dad had the opportunity to buy a share for $50,000. That was about all the money that my folks had in the world. It was the result of decades of hard work and money management. But that was all they had.
"My dad absolutely felt that Albatross was the greatest racehorse that he had ever seen. He was willing to take the plunge. I'm not quite as sure about mom. Add to that the risk inherent of betting the store on a horse that came with no guarantees. There was no payout. It was strictly a cash on the table buy.
"Hell, there were no guarantees that he could even breed a mare, let alone that he could get them in foal. Then, of course most stallions, regardless of how great they were on the racetrack, don't make it on a high level in the breeding shed.
"They went for it anyway. That one move was by far the biggest factor in any success that I've had in the breeding business.
"I'm probably not as frugal as mom could be, but nobody would call me a spendthrift either – except when it comes to buying quality mares or buying into stallions.
"Not only will I spend whatever the price, within reason, for quality horses, but it also extends to what is best for the horses. We never skimp on the best hay and feed. Whatever needs to be done to produce a healthy, well-maintained horse, gets done.
"I know that there are a few gorgeous showplace farms out there. I won't mention their names. But I can guarantee you that not a single one of them raises a better or healthier horse than we do. I believe that the fancier aspects of an operation, are more for the ego satisfaction of the owner or the perceived impression that it might make on potential buyers."
*Author's Interruption: This brings to mind a true story that I've told more than once.
Lawrence B. Sheppard, the owner of Hanover Shoe Farms, was looking to hire Jim Harrison, then considered the foremost authority on standardbreds, as his farm manager.
Harrison had never before been to Hanover.
He visited and Mr. Sheppard spent the day showing him around and advising him as to how the operation functioned.
At the end of the day, Mr. Sheppard asked him what he thought.
"Well, frankly Mr. Sheppard, I'm kind of disappointed," Harrison said. "I've been to Kentucky and seen all those beautiful farms with their beautiful buildings and fences. This is pretty much a bare bones operation."
Mr. Sheppard looked at him, kicked up a pile of dirt and responded, "Boy, in Kentucky they raise fences. Here, we raise horses."
So, your dad set up the farm to his specifications. Isn't it hard to get a farm established, especially when you aren't standing a stallion?
"At first it was just dad, my brother Mike and me. We had put together a group of a few average broodmares, by our present standards. But they served us well.
"Dad also had made many friends along the way and we got some boarders as well, including Charles Michael for whom we raised Goalie Jeff and Marty Granoff's Val d'Or Farms. Our overhead wasn't as high as some of the showplaces bordering us, so we could present the opportunity to board mares at a more affordable rate than those of Blue Chip, Castleton and Lana Lobell whose stallions the mares were booked to. We tried hard and history shows we have succeeded in raising the quality of our broodmare band.
"That's where my dad's trust in my knowledge kicked in. He was never afraid to invest in a good horse and neither am I.
"We just kept raising our standards as far as pedigrees and quality individuals were concerned. We were never satisfied with the status quo and I hope that I never become so."
Where is Cameo Hills Farm positioned today?
"Well, we are more than triple the size than we were when mom and dad first bought the original 118 acres. We are now at 425. We are the home of about 100 broodmares. Roughly half of them belong to us and the others are boarders. Of course, that doesn't include yearlings, weanlings and suckling.
In fairly recent years, we have also gone into the stallion game. We stand two very promising horses So Surreal and Huntsville.
"Despite very limited opportunity So Surreal has already proven himself to be one of the top pacing stallions ever to stand in New York. Last year, he swept three of the four New York Sires Stakes finals. I'm not sure, but I think that may have been unprecedented.
"Huntsville has booked the maximum number of 140 mares each year that he has stood at stud. His first crop are yearlings and will go to the sales this fall.
"I think they look terrific, but every stallion owner says that. We've done the best we could. It's now up to him."
You brought up sales. What do you think the future holds for sales this year?
"As you know, these are scary times. I don't know. One thing I do know for sure is that all of our yearlings will be sold regardless of what they bring. We are in the breeding business, not the racing business.
If we've been successful, I believe that is one of the major keys to our success. What you see is what you get. We don't play games. We don't compete with our customers on the racetrack. This is what we do for a living. We have no other business to fall back on.
"Besides my wonderful family, I've got three assets in life — horses, land and a stock portfolio that I've been able to acquire because of the horses and the land.
"You asked me the question 'What sort of percentage loss would you be willing to take now in terms of your yearling consignment relative to last year's?' My answer would be 30 per cent. It could be more. I hope it's less. Regardless, they will all have new homes."
You have another business. You probably broker the sale of more bookings to stallions than anybody else in the business.
"That actually came about mostly by accident. Most of the credit for that also goes to Albatross. His success in the stud was well beyond our expectations. We thought he'd be great, but not to that degree. There was a period of time for a few years when if you didn't have an Albatross for the big events, you might as well not show up.
"His stud fee kept rising to the point where it got as high as $75,000. We probably didn't own a mare at that time that was worth $75,000. Dad and I spoke about it and we decided that we'd be well ahead of the game if we sold our three bookings at a discount – maybe $50,000 or $60,000. We got a lot of flack on that from Hanover and a lot of the shareholders. But we felt they were our bookings. We took the risk in buying the share. We felt that the rights were ours to do with as we pleased. It's now become fairly accepted, but not completely. It also works both ways. I've sometimes been in the position where I've been able to sell bookings at a premium above the advertised stud fee, sometimes well above it. It's called America and it's the free market at work.
"To be able to do this has also required a large capital outlay on my part. I've bought into most every quality stallion or stallion prospect that has been syndicated in recent years.
"Just off the top of my head these are the stallions in which I own equity or breeding rights:
Muscle Hill (8)
Chapter Seven (6)
Bettors Delight 10 per cent
Captaintreacherous (6)
Sweet Lou (6)
Betting Line (3)
Greenshoe (4)
Betting Line (3)
Huntsville 20 per cent
Wallner (3)
Tactical Landing (5)
American Ideal (6)
Muscle Mass (8)
Always B Miki (7)
Cantab Hall (1)
So Surreal 40 per cent
Bar Hopping (1)
Six Pack (1)
Captain Crunch (1)
Trixton (4)
Stay Hungry (1)
Just as Hal and Marie had two sons that got involved in their parents' way of life, so do you and Kathy
"Kathy is a big part of the team. She helps with the foals and in every other way that she is able to.  She has a big presence on social media, which I lack. She keeps the farm's name and those of our horses in front of the public.
"Tyler is 27 and Jake is 24. They are both learning in the same manner that I did. They are interested. They are becoming good horsemen. They have a good work ethic. Perhaps most importantly, they are a positive factor on the farm's payroll."
Have a question for The Curmudgeon?
Reach him by email at: hofmurray@aol.com.