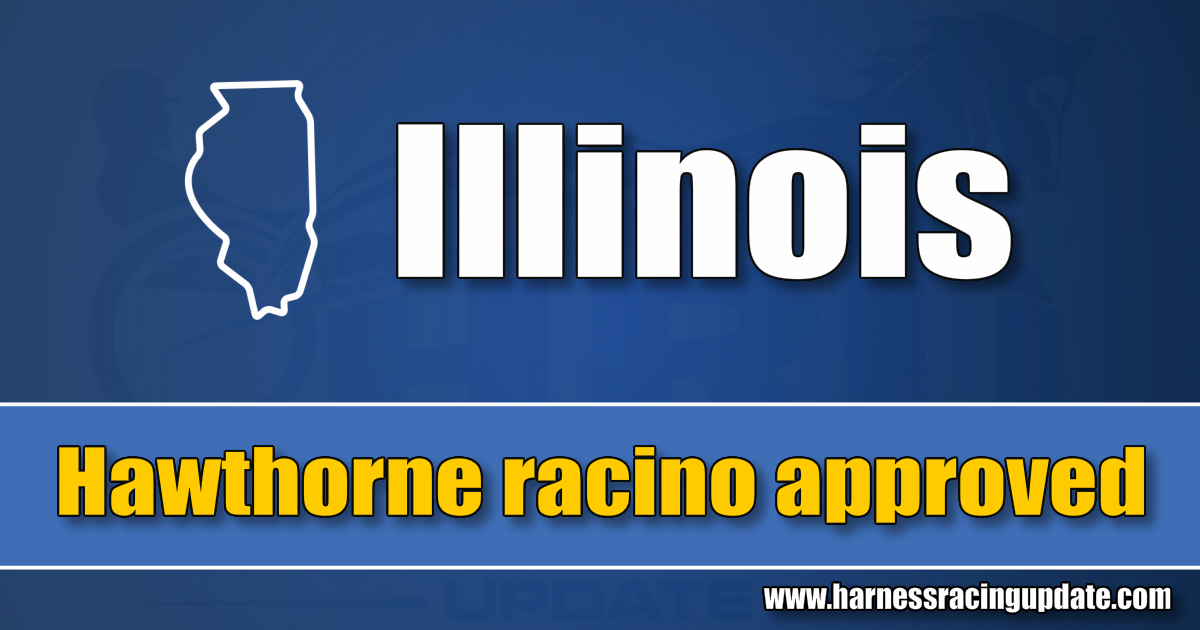 Hawthorne racino approved
If all goes according to plan, the casino will open late in 2021.
by Neil Milbert
Hawthorne Race Course is officially on the road to becoming a racino.
The Illinois Gaming Board on Thursday voted unanimously that the ownership and key personnel of the fourth generation family-owned track receive a "finding of preliminary suitability" to be licensed to conduct casino gambling that will augment the harness and thoroughbred meetings.
"The staff of the Gaming Board has been wonderful," said Tim Carey, Hawthorne's president and chief operating officer. "We presented them a very difficult and complex ownership structure (because of the number of Carey family members in the ownership estate). They had to work through that.
"Now, it allows us to go out and get the financing and start construction. We plan to start in mid-to-late September and we will have a 14-month construction schedule."
If all goes according to plan, the casino will open late in 2021.
Hawthorne is the longest running gambling business in Illinois and the state's oldest sporting venue, dating back to 1891. It opened as a thoroughbred track and added harness racing in 1970, becoming the Chicago metropolitan area's sixth standardbred track. Now, it has the distinction of being the only surviving harness track.
Casinos began operating at Illinois in 1991 and the state now has 10, but it wasn't until last year that the legislature voted to allow racetracks to add slot machines and table games with a portion of the adjusted gross revenue allocated to their purse accounts.
Carey's original plans called for a one-year hiatus in the spring thoroughbred meeting to enable Hawthorne to conduct a Feb. 15-Sept 20 nighttime harness meeting while casino construction was going on during the day. He was hoping the racino would be ready to begin taking bets sometime during the Oct. 1-Dec. 31 thoroughbred meeting during which all of the racing will be in the afternoon.
But the COVID-19 pandemic coupled with the length of time it took the Gaming Board to vet the family owners and confirm their long-standing reputation of integrity played havoc with those plans.
Racing was halted after 12 programs on March 15 and 33 nights were lost before it resumed on June 5 with spectators conspicuous by their absence. Since then studio racing has been taking place on Friday, Saturday and Sunday nights.
Although no work was done on the casino per se, the interior of the track has been gutted to make for an easy transition to constructing the casino and the sportsbook that also is a by-product of last year's racing legislation. Hawthorne is developing the sportsbook in partnership with PointBet.
"I think a lot of people may have expected us to simply put some slot machines and tables into our existing facility, but we're going to break the mold on what a regional integrated casino, racing and entertainment destination can be," said Kevin Kline, Hawthorne's CEO of gaming.
Kline has been in the gaming industry for 25 years and has significant experience in the development of multi-faceted casino
projects.
Harness and thoroughbred horsemen look upon the racino as a godsend.
"Our share (of the revenue) starts at 12.75 per cent and then escalates to 20 per cent, depending on how well they do," said Tony Somone, executive director of the Illinois Harness Horsemen's Association. "We figure it'll probably average out to from 15 per cent to 18 per cent."
Another important aspect to the racino is that will bring to an end the much-reviled purse "recapture" that is unique to Illinois. It is a 1995 provision of the law that brought full-card simulcasting to Illinois and allows tracks to recoup revenue from live handle losses because of wagering on races from other states. The recapture amount is 2 per cent of the decrease in Illinois handle on in-state races from the total bet in 1994.
That year the amount bet was $1,181,911,128; in the intervening years it has declined substantially to an all-time low of $44,467,712 in 2019.
The impact on purses has been devastating.
"If they open (the racino at Hawthorne) next year it's done," Somone explained. "We still would have to pay what we owe this year but if they open next year we wouldn't have to pay anything in 2022."
Friday was the deadline for 2021 race dates applications. Hawthorne asked for a 63-night harness meeting from May 7-Sept. 26 to be sandwiched between thoroughbred meetings from March through April and September through December. The thoroughbred application calls for live racing on Labor Day, which would put it in conflict with the requested harness meeting.
It will be up to the Illinois Racing Board to decide which option it wants Hawthorne to pursue in 2021 when the annual dates hearings are held on Sept. 16.
Arlington International Racecourse's owner, Churchill Downs, Inc., is creating the uncertainty. Much to the consternation of both the Illinois Thoroughbred Horsemen's Association and the Racing Board, CDI has declined to convert Arlington into a racino. Bill Carstanjen, the CEO of CDI, has said that the reason is because the taxes are too high but the logical explanation is that CDI doesn't want an Arlington racino to compete with Rivers Casino in Des Plaines in which it holds a 62 per cent interest. The casino is located less than a half-hour from Arlington and CDI also is bidding for a new casino in Waukegan, another community in Arlington's market area.
When Hawthorne and Arlington received the green light from Gov. J.B. Pritzger to resume racing the first weekend in June, Arlington was engaged in a bitter contract squabble with the ITHA. A two-year contract finally was approved on June 22 but the meeting that had been scheduled to start on May 1 didn't get underway on July 23.
During the past two years, Carstanjen has expressed uncertainty about racing at Arlington beyond 2021. If that happens Hawthorne not only would be the only harness track in the Chicagoland metropolitan area it also would be the only thoroughbred track.
In a conference call with CDI shareholders last week when asked about the status of Arlington he replied: "The long-term solution is not Arlington Park. The land will have a higher and better purpose for something else. We've been patient and thoughtful and constructive with the parties up in that jurisdiction but long term that land gets sold and that license will have to move if it's going to continue."
He added that Arlington "may race" in 2021, a remark that casts the cloud of uncertainty over the upcoming dates hearings.
Meanwhile, Hawthorne is giving harness horsemen plenty of opportunities to make up some of the money they lost because of the 2 ½-month COVID pandemic shutdown by putting on 13 races on most programs. Full fields have been the norm.
According to Jim Miller, director of publicity and horsemen's relations: "Since our return handle per night (solely from simulcasts) has averaged just over $1 million."
The best night so far was Sunday, July 5 when $1,445,066 was bet.
Non-wagering racing without spectators has been flourishing every Tuesday at the State Fairgrounds in Springfield where all 27 county fair cards have been moved. Racing began there on June 3 and is scheduled to continue through Sept. 1.
"We typically have between 18 and 23 races," said Tim Norman, the Illinois Department of Agriculture's Bureau Chief for horse racing and county fairs. "The big thing is we're distributing the purse money (from the county fair program)."
Both the Springfield and DuQuoin State Fairs have been cancelled but Hawthorne is picking up the races that would have been held there and will use them as a preface to the regular Friday and Saturday night programs. The Aug. 14-15 Springfield races will be held on those nights at Hawthorne and the races that were to be held on Aug. 19 and 20 have been rescheduled for Aug. 21 and 22; DuQuoin's Aug. 28-29 races will be contested at Hawthorne instead.
For Hawthorne's long-time track announcer, Peter Galassi, this has been a year unlike any other.
"At the beginning of the meeting we had shut out the grandstand and they started gutting the place so the only fans I could see were those on the apron," he said. "With no one there I've had to change my terminology a little.
"At the end of the night I always remind everyone to turn off their computers and go walk the dog."