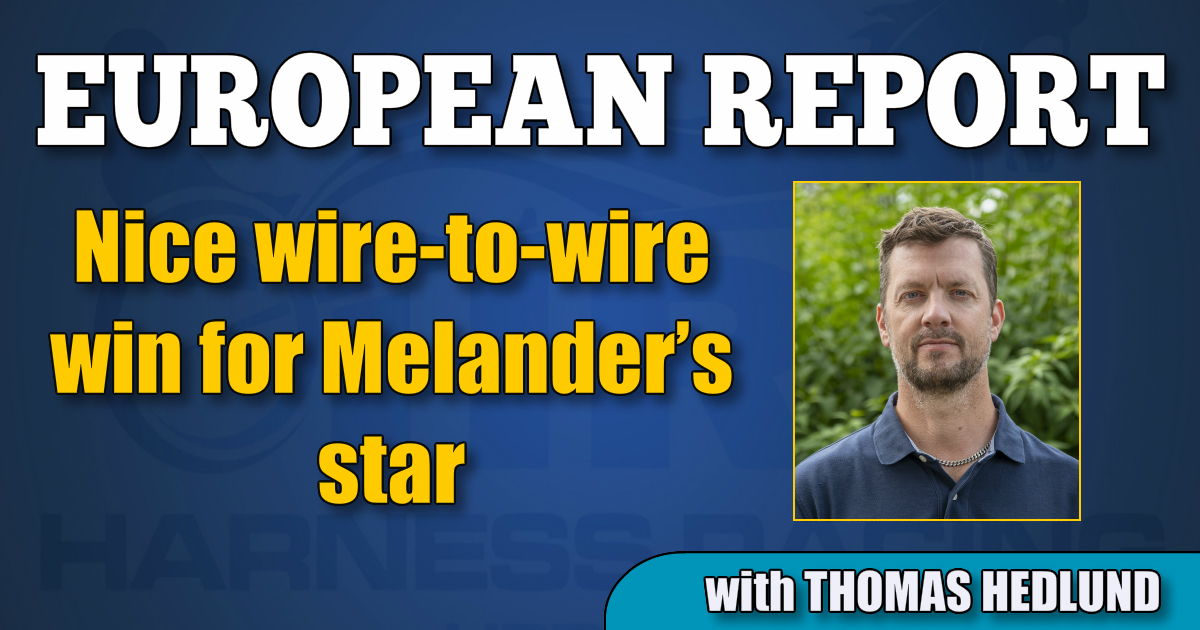 Nice wire-to-wire win for Melander's star
by Thomas Hedlund
Stefan Melander-trained Milligan's School (Yankee Glide) came to the lead during a hailstorm in the $108,000 Årjängs Stora Sprinterlopp in Sweden and when horses disappeared by making early breaks, no one could reach the American-bred trotter over 1,640 meters.
Ulf Eriksson drove Melander's top trotter and aimed for the lead when quick starter and stablemate Disco Volante went off stride as soon as the car left the field of 10 horses.
Sorbet found position first over and Milliondollarrhyme third over, but Milligan's School kept the pace high throughout the whole race and the opponents had no chance to challenge as he landed on a mile rate of 1:52.2.
Norwegian trotter Gigant Invelley followed as runner up after a pocket trip and Sorbet held for third place.
Milligan's School claimed his 25th victory in his career, which includes 93 starts and $1,290,083 in earnings. This victory gave the 7-year-old colt a ticket to the $347,000 Hugo Åbergs Memorial at Jägersro racetrack on July 28.
Ble du Gers strongest in Norway
For the second time this summer, French-bred Ble du Gers (Quinoa du Gers) won a big race in Norway. In June, 9-year-old Ble du Gers won the Oslo Grand Prix and when the $53,000 Ulf Thoresen Grand International was on the schedule at Jarlsberg racetrack on Sunday afternoon, he once again proved that he likes northern European racing conditions, where 5/8 mile tracks are most common.
The Ulf Thoresen Grand International became a messy story where several horses disappeared by making breaks early into the race and Ble du Gers was served a trip second over by driver Vidar Hop. The French trotter left Jean-Michel Bazire's barn earlier this spring and Norwegian trainer Frode Hamre has done a great job keeping the gelding in perfect shape.
Vidar Hop left his position at the backstretch and Ble du Gers took over the lead from Evil Enok M.E. when 500 meters remained of the race and three wide follower Zarenne Fas seemed to be a serious threat in the last turn. But Ble du Gers is stronger than many other trotters in the elite and the victory was never in doubt. The mile rate was 1:55.3 over 1.3 miles and Zarenne Fas finished second, well ahead of Floris Baldwin, who was one of the horses that went off stride in the race's opening.
Cleangame returns to winning form
Bazire's star trotter Cleangame (Ouragan de Celland) won for the first time since Jan. 18 when he won Saturday (July 4) in $101,000 Grand Prix du Conseil Municipal in French Vichy on Saturday night.
Cleangame started 25 meters behind front trotters in the 2,975-meter event and the race went off after three recalls. Cleangame made his move midway through the race and during the last lap Bazire followed leader Etonnant, an opponent Cleangame easily disarmed at the beginning of the stretch. Bugsy Malone finished strongly from behind and Cleangame had to give his all to win in sharp mile rate 1:54.1 over 1.8 miles.
Bold Eagle just shy of being richest French trotter
In La Capelle last Sunday (July 5), Bold Eagle chased victory in the $101,000 Prix de la Thierache and the entourage around the charismatic top trotter was aiming for records. Bold Eagle is just behind Timoko in becoming the richest French trotter in history. Bold Eagle needed a win in the La Capelle to set the record.
But a second over trip resulted in third place, behind Billie de Montfort, who followed leader and winner Drole de Jet (Coktail Jet) the whole way. Drole de Jet has really found high level this summer. In his previous start ahead of the race in La Capelle, Pierre Vercuysse's horse made a strong effort as second to Face Time Bourbon in Prix Réné Balliere at Vincennes. On Sunday afternoon, he took a safe wire to wire victory over the mile in 1:52.
As a 4-year-old, in 2017, Drole de Jet won $450,000 Grand Prix de l'U.E.T. at Solvalla and now it seems like he's ready to fight among the toughest contenders in Europe again.
French trotters, earnings in USD
Timoko – $5,654,045
Bold Eagle -– $5,636,243
Ready Cash – $4,835,953
Elian Web claimed big trophy in Finland
Papalympiatravet winner and Elitloppet contender Elian Web (Like A Prayer) had a great weekend in Finland last week. On Saturday's race card in Lahti, the first heats in $300,000 Suur-Hollola went on and paired with Janne Soronen, Elian Web won in great style in a mile rate of 1:55.4 over 1.3 miles, which meant that he would get a pleasant post position the day after. Yes, the Suur-Hollola is special in that way, that the story is determined after racing two days in a row. In Sunday's final, Jorma Kontio was back alongside Katja Melkko's gelding and from post 1, Elian Web had no problems in keeping the lead, a position from where he is tough to beat and Suur-Hollola 2020 was his race from the moment when the car left the field of 12 trotters. Elian Web won in a mile rate of 1:57.1 and claimed his second biggest victory in his career.
Hotshot Luca, who won the second elimination on Saturday's race card, finished second and Big Headache took the bronze medal.