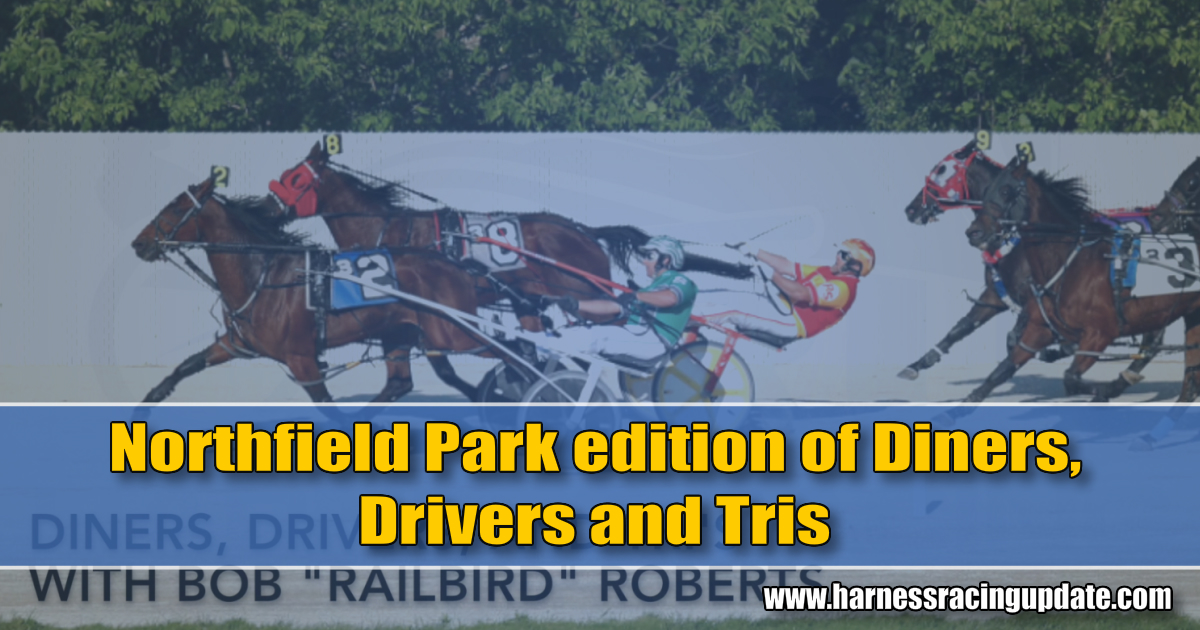 A culinary betting adventure around and near MGM Northfield Park, which has handled $17.3 million since its return to racing without spectators.
by Bob Roberts
It's been 93 nights since fans leaned against the grandstand fence at Northfield Park, beer or beverage of choice and tote ticket in hand, and rooted for the horse they bet on. It's very likely they'll be allowed back in next weekend.
I can't wait for the doors to be unlocked, so here's the next (and closest) best thing – Diners, Drivers and Tris.
Say what?
Most food lovers are familiar with the popular television series "Diners, Drive-ins and Dives" and its bearded and bleached host, Guy Fieri. Well, this is a pari-mutuel spin-off for railbirds like me. We're all on the outside looking in.
In this episode, the diner is me, the drivers are those of Northfield Park, where the pacers and trotters go round and round year-round, and the tris are trifecta wagers.
Northfield, located on the southeast side of Cleveland, has a clubhouse dining room and a grandstand concession stand offering a variety of food choices, but nobody is wearing a bib to the track these nights because you can't get in the place.
Luckily, the area surrounding the track offers a surprisingly wide variety of dining and dessert choices, some sit-down, some fast food, and two of them long-standing and outstanding Italian eateries.
Not wanting to go hungry as I handicapped, bet and watched the races on my phone, I mapped out a gastronomical plan for Tuesday night and then drove into Northfield's neighborhood. It would make for the closest thing to one-stop shopping as all the restaurants are within a half mile of the track's finish line.
The first stop at 5:30 p.m., just a half hour to post time for the first race daily double, was Spennato's Ristorante & Pizzeria. It's popular with horseplayers and horsemen, because not only is the food very good, Egidio Di Paola, it's owner and head chef, used to own the track kitchen, where he served up a wicked breakfast pizza.
I'm hooked on Spennato's chicken marsala and that's what I ordered and ate while I watched my daily double and opening trifecta wagers finish up the track. There is no correlation between feast and wagering famine. I wolfed down the chicken as my picks headed back to the barn area, unimpressive and unplaced.
Meanwhile at Northfield Park, the paddock and drivers' room was pacing itself for another lengthy night of racing. More is always more at the Rt. 8 oval, where 15 race cards is the norm. Tuesday night's program clocked in at five hours and 32 minutes.
Bettors love the extended action. Through the first 10 programs since reopening following its coronavirus shutdown, Northfield has handled $17.3 million. Its top handle was the $2.1 million of June 1. There have been two other $2 million-plus evenings.
Napoleon has been credited with saying that an army marches on its stomach. Some drivers at Northfield like to hit the track with a satisfied tummy. Others forego foodstuffs.
"I don't like to eat during the races," said Aaron Merriman, the winningest driver in North America the past five years. "I'll have something in the afternoon before I get to the track. If I get hungry later, maybe I'll have some candy."
I followed up my chicken marsala by driving across the street to a McDonald's for a cup of coffee and a winning ticket on a hunch bet. Who wouldn't pair Mighty Cowboy and M T Gunslinger in the third race exacta? They finished one-two, but the gimmick paid only $6.20 for a deuce and I didn't have the trifecta.
Back at Northfield, driver Jason Thompson wasn't having much luck in the sulky, but he was well-fed in defeat.
"I could eat Italian or Mexican food seven days a week," said Thompson. "At home, I'm well stocked with spaghetti and meatballs and tacos and chips. I always have plenty of food with me at the track."
"He (Jason) is something else," said Merriman. "He's always eating a full meal in the (drivers') room."
Feel free to be jealous of Thompson. He is tall and lanky and burns calories so quickly that he carries two nicknames – Bones and Bony.
A few more losing wagers drove me to drink, so I headed a quarter of a mile down the road to Larry Sack's Northfield Inn for a glass of wine. The restaurant has been a regular stop for racetrackers for nearly 60 years. When in town for stakes races, it wasn't uncommon to see the likes of John Campbell and Bill O'Donnell dining at the Northfield Inn, with its loaded grilled chicken salads, outstanding pizza, and Italian bread, served warm.
The success of a small trifecta ($37.40 in the seventh) triggered my sweet tooth, so I drove down the street to Handel's, a homemade ice cream and yogurt shop started by Alice Handel and sold for the first time out of her husband's Youngstown, OH gas station 74 years ago.
I settled on a cup of red raspberry sherbet, which should have put me a length or two in front of Thompson and his tacos for the road.
With a full stomach and a wounded wagering account, I headed for home for the second half of the 15-race card. The food in the pantry, already paid for, was free, but the betting didn't improve. It meant for the night, I gained weight and lost money.
I might have to mooch a meal from Jason Thompson when Northfield welcomes back its fans.