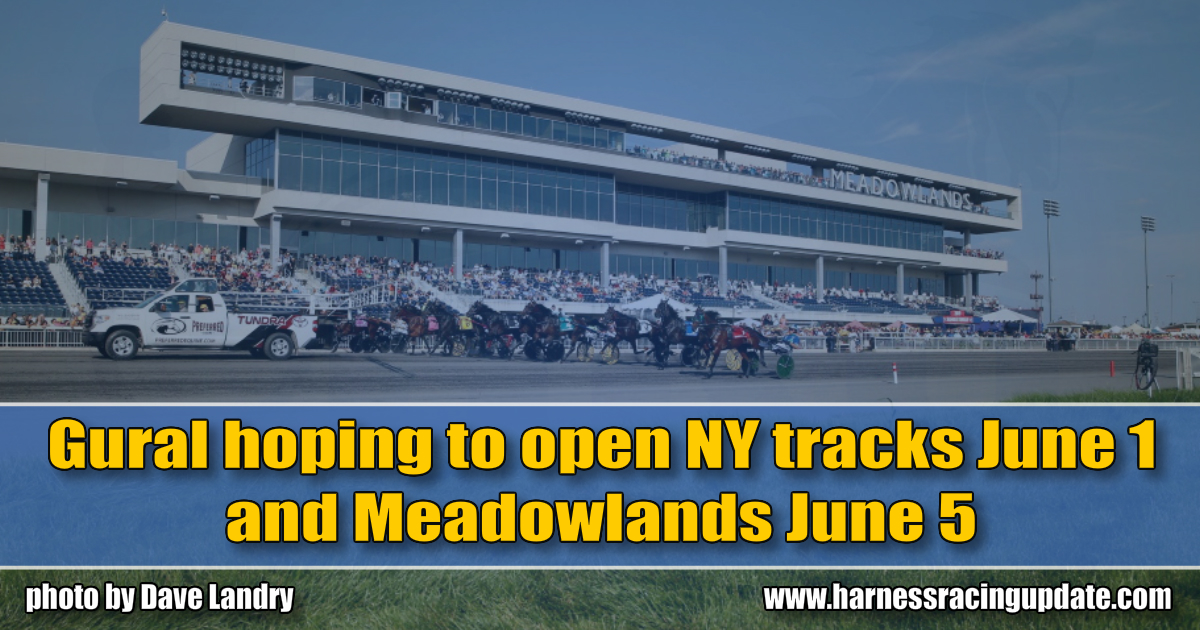 Gural hoping to open NY tracks June 1 and Meadowlands June 5
New York governor Andrew Cuomo announced Saturday that all the state's racetracks can reopen June 1 without spectators. Gural is hoping New Jersey governor Phil Murphy will agree to a similar timeline for the Big M.
by Bill Finley
Things are starting to fall in place for the Jeff Gural-owned tracks. New York governor Andrew Cuomo announced Saturday that all of the state's racetracks can reopen June 1 and Gural said Vernon Downs and Tioga Downs would be ready to operate by then. He is also optimistic that New Jersey will follow suit and penciled in June 5 as a possible opening night for the Meadowlands.
Gural said he has made an official proposal to the state to let him open the Meadowlands June 5 without fans allowed in the building and, though he has yet to receive an answer, he said he was optimistic the state would grant the request.
"I am pretty optimistic," he said. "Jersey and New York usually work in tandem, so I think there is a good chance."
Gural said the key to being allowed to race again at the Meadowlands is that it is an outdoor activity.
"Why wouldn't they let us reopen?" he said. "What they are doing is to open outdoor activities; that's their theory. They say it's much safer to be in an outdoor place than an indoor place. People will be encouraged to eat outdoors and go to the beach, as long as there is social distancing. We are basically an outdoor activity and people who are training these horses have been going to work right through. That was the argument we made to Governor Cuomo and we've made the same argument to New Jersey."
Once the Meadowlands starts racing again and for the first couple weeks of racing, it is possible that only horses who are based in New Jersey will be allowed to enter. Gural has been contemplating taking that step as a safety precaution to cut down on the chances of someone catching the coronavirus.
"My main concern is that something could go wrong when we open and somebody gets sick and they shut us down," he said. "It's much safer if we stick to the New Jersey horses because we have some control over those farms. Another possibility is people could ship horses in, but not bring people in. They would have to make arrangements with a Jersey person to pick the horse up off the truck, race it, and then put it back on the truck. That's something we can consider. We may be overwhelmed without the Pennsylvania tracks being open. We only race two days a week. But my loyalty is to the Jersey guys and not the Pennsylvania guys."
He said the restriction on out-of-state horses would likely only last a few weeks.
"We will just to have to see how it goes," Gural said. "The most important thing is to get open and see how it goes. And then if we race one or two weeks successfully, then we can open it up."
Like many business owners, Gural is hoping that testing procedures will advance to a point where it will be easier to keep everyone safe.
"Testing is the answer and everybody is waiting to see if they can come up with a test you can take at home or a test that takes ten minutes before you get the results," Gural said. "That's one of the keys to being able to let everybody in to race."
Since June 1 is a Monday, Tioga and Vernon could both open a bit later in the week. Gural had said earlier that he would not open his two New York tracks until their casinos could be up and running because there would be a lack of money for purses. He had since had a change of heart.
"I don't think the casinos will be open until July 1 at the earliest and I know these guys are starving," he said. "I figured I would suck it up. I don't see how you can have a situation where we don't open racing until July. That would be brutal. Another thing is that we need to get the New York Sires Stakes races going as soon as possible. I will lose money if we reopen without the casino, but I feel bad for these people. We can't let people starve and destroy an industry."
The Meadowlands has not raced since March 14. The original stakes schedule for 2020 was light through June, but does include the $200,000 Cutler Memorial. The June 14 card at Tioga includes the $175,000 Roll With Joe and two legs of the Graduate series.