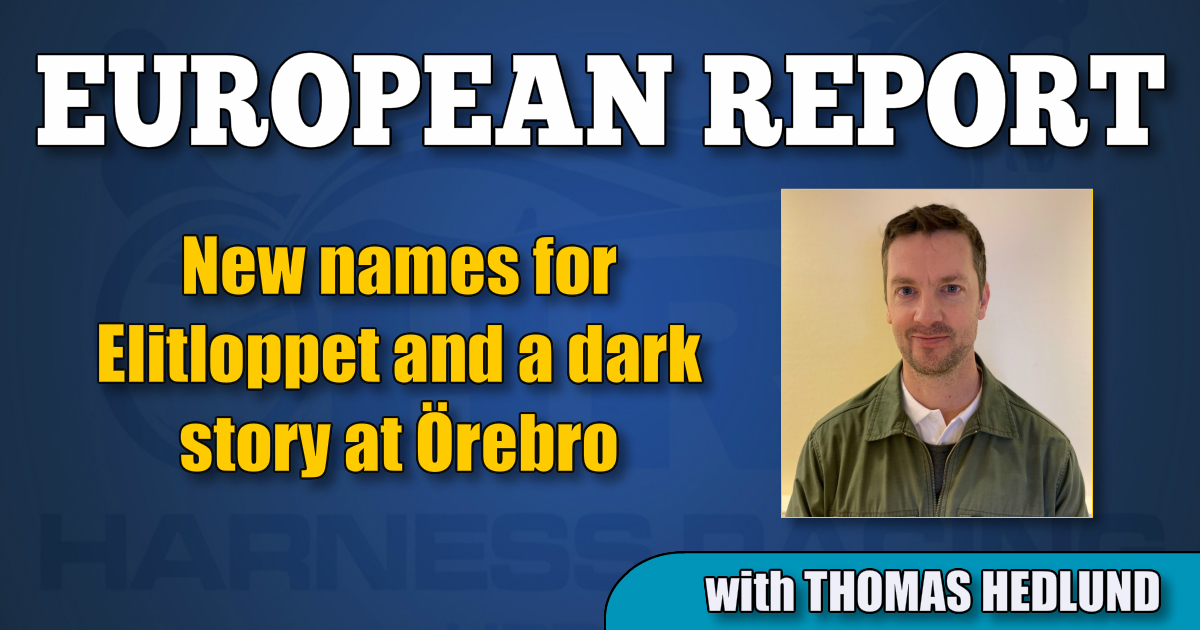 New names for Elitloppet and a dark story at Örebro
by Thomas Hedlund
The Elitloppet is set for May 31 (without spectators) and with three weeks to go before the famous harness racing weekend, the field is taking shape.
Eight out of 16 horses are set for the mile race at Solvalla and new names on the list are: Missle Hill (Muscle Hill), Looking Superb (Orlando Vici) and Makethemark (Maharajah).
Vivid Wise As, Tae Kwon Deo, Chief Orlando, Elian Web and Attraversiamo had all previously qualified.
Vivid Wise As (Yankee Glide), the first horse that got an invitation to Elitloppet this year, earned his berth after a victory in Cagnes-sur-Mer in March, when trainer Alessandro Gocciadoro drove the Italian horse to a safe win in 1:52.1.
Things have changed around the horse the past week. Former trainer Alessandro Gocciadoro was involved in a doubtful situation in Sweden last Saturday. Well, Gocciadoro himself wasn't really involved in the situation. It was more the fact that he's the responsible trainer to the horse. At Örebro racetrack, one of Gocciadoro's horses was supposed to entering a race in V75, but the mare Zarina Bi got scratched after the warm up heat since the driver (a groom working for Gocciadoro), showed bad judgement and whipped the horse too much and way beyond Swedish regulations regarding use of a whip.
This case ended with heavy discussions in the Swedish media, social media and Alessandro Gocciadoro dismissed his groom. Meanwhile, the owners of Vivid Wise As decided to change barns for their top trotter. Swedish trainer Björn Goop is now responsible for the Elitloppet contender and the duo will enter the track together on Wednesday, May 13, in a race at Solvalla where the winner gets a ticket for Elitloppet.
The Gocciadoro story was a sad one in Sweden last weekend and the Swedish harness racing association judged Gocciadoro quite decisively. The Italian trainer is out of competition for six months as driver and he also got a one-month suspension from entering horses in Swedish races. He also has to leave his stable that he rents in Sweden.
"We want to convey that this is not acceptable. Swedish harness racing should be something nice where the horse is in focus. The past days we've been associated with footage and behavior that lies far from our values and the sport is damaged by this situation in Örebro", said Maria Croon, CEO at the Swedish harness racing association.
The judgement will be appealed by Alessandro Goociadoro and his legal representative.
Reminder – Pokal races at Åby tomorrow
The $199,500 Kungapokalen (4-year-old colts and geldings) and Drottningpokalen (4-year-old mares) are scheduled at Åby racetrack on Saturday, May 9 and Green Manalishi (Muscle Hill) is one of the favorites to claim the race for colts and geldings.
Power, Aetos Kronos, Click Bait and Osterc are horses that complement the nice race at Åby tomorrow and complete entries list can be found here.
In the $199,500 Drottningpokalen, Courant Stable has a great shot in Muscle Hill mare Ganga Bae and the red and yellow racing colors may be seen in the winner's circle after both races at Åby.
The $30,000 Gold division over 1.640 meters has collected a great field where several trotters chase their spot in the Elitloppet, and the winner will most probably get an invitation from Solvalla's part.
Billie de Montfort, Cyber Lane, Racing Mange and Cokstile are all merited top trotters that very well can be a part of the non-public party at Solvalla on May 31.