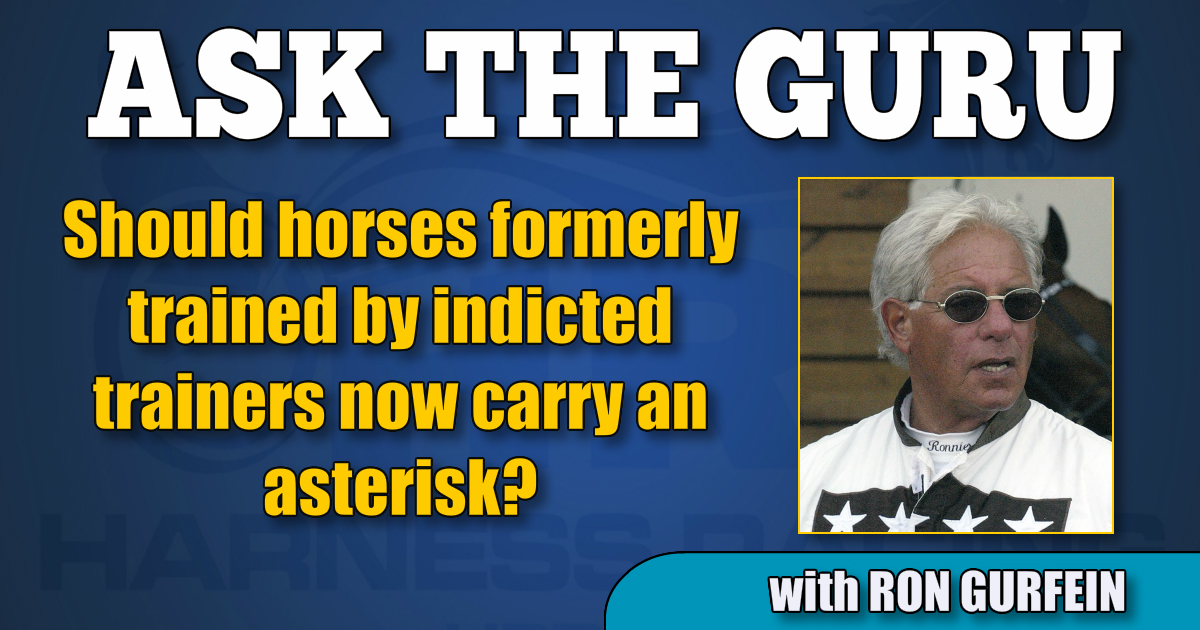 Should horses formerly trained by indicted trainers now carry an asterisk?
All this and much more in harness racing's favorite advice column.
by Ron Gurfein
Tidbits: I applaud Scott Palmer and the New York Racing and Wagering board for coming up with the plan to test the hair follicles of all the horses trained by the indicted trainers and associated veterinarians for previously administered drugs. My question is what do they expect to find that they don't already know. The horses have been tested every time they race. We are back to square one. There is NO TEST that will discover the presence of EPO unless it's a test given within hours of the drugs injection in the animal.
Before going to print I contacted many of my academic friends to make sure I did not miss the boat on something new in hair discovery. I did not. The test will not have any EPO discoveries. Moving forward, let's hope the FBI continues on a vigorous course of criminal detection in our sport. Nothing is more welcome.
* * *
With little to do I watched the entire first round of the NFL draft and under the crazy circumstances provided by the virus I think ESPN did a spectacular job.
That said, it amuses me to listen to the variety of opinions put forth by underpaid sports writers who after listening to themselves for many years are convinced they are masters of the selection process.
It reminds me of going to the races in the '60s where there were 20 different tip sheets being sold where you buy your program. If you had purchased them all someone would have each and every horse in each and every race on top of his selections.
Similarly, the mock drafts run the gamut of possibilities. Don't these reporters realize that there are people making millions a year to properly dissect the probability of greatness in the draft. Unfortunately, they are rarely correct.
Then we get to the post draft comments or ratings. Three different reporters are now rating your team's selections. All three have totally different approval comments for every pick.
As a Dolphin fan I was thrilled with the selection of Tua Tagovailoa. Here are some of the ratings, leaving the writer out to protect the innocent:
A+ Best Selection in the draft.
B- Way too risky, too much injury baggage.
C- major mistake they should have selected an offensive lineman and waited to pick a quarterback.
Wait how long? Maybe 2021.
* * *
A very happy 8th anniversary to Murray Brown and "Sweet" Carol Stein. May they have many more.
Mr. Brown posted a quote this week on Facebook by Joe O'Brien saying: "If by May 1st you didn't have a 2-year-old that stood out over the rest, chances are you don't have a top horse."
In retrospect I couldn't agree more, especially in the trotting ranks. I may not be that positive about a pacer till he really beats someone, as there are way more good pacers around.
To young trainers that think I have lost my mind try this experiment:
Train your colts or the ones you like solo one morning and don't look at your watch. Just clock the first quarter. In your head guess how much you went. If you guess 40 seconds and you went 35 he will be a good one. If you guess 40 and he went 43 he works too hard at what he does.
I would say that never in all my years training has this conception not proven 100 per cent correct. It is a wonderful way to assess February stake payments.
* * *
FYI Neal Ehrhart sent me a nice letter last month about how troublesome cheating has gotten for the legitimate trainer and there was a quote I thought well worth printing: "The commissions never follow up on the beards. Racetrack management love the cheaters, they are high percentage winners. They conduct interviews with them, do write ups in the programs and the public loves them. YET MOHEGAN SUN WILL BAN YOU PERMANENTLY IF YOU DARE TO EVER PUT TRASH IN THE MANURE BARREL."
You have to love it….
* * *
Crawford Farms (Michelle and Albert) have announced that they have selected a new trainer for their thoroughbred speedball sprinter Shancelot. He will be trained by Steve Asmussen in the 2020 season after his rehabilitation from minor soft tissue damage is complete. After winning the Grade 2 Amsterdam he went on to be a close second in a few Grade 1 races and was thought to be headed to a race in Saudi Arabia. However, with a slight tendon problem and the indictment of their trainer Jorge Navarro, plans for the trip were scrapped. Best of luck to the Crawfords' 4-year-old son of Shanghai Bobby in the years to come.
Tom Santoro asks: When trainers are indicted for using drugs as recently happened, should the racing form have an asterisk next to the horse in question? I think the bettors need this so they can take into consideration altered performance. The horses are now in new barns with new trainers.
Your idea is a good one. It has never been done before but it would be premature unless there was actually a positive test. In the existing indictments there was one positive and lots of phone tapping.
On the other hand, there are many tracks with a section in the program that lists previous trainers. The change from an indicted individual would be a red flag in and of itself.
While on the subject, I always wondered why some racetracks omit the section for previous trainer as to many handicappers it is of primary importance.
Too those of you that have written me to update the situation unfortunately there is a status quo. If it is of any help, the latest series of indictees are not scheduled for a first court appearance until late October. COVID-19 has taken its toll on our industry in a myriad of ways.
Jocz Stanley asks: Suppose all three of your Hambletonian winners raced against each other at three with no hub rail, modern equipment, newest race bikes and top drivers. Who do you think would win and how fast could the winner go?
I love the question as I have had it asked many times in the past.
It is very easy to answer as Self Possessed was a minimum of 10 lengths better than Continentalvictory and she was about six lengths better than Victory Dream.
Michel Lachance has told me many times that Self Possessed could easily have gone faster than 1:50 the day he won the Hambletonian by 5 plus lengths in 1:51.3.
He was literally on cruise control. He won the Kentucky Futurity in 1:52 when it was in the low thirties and in both races he raced in a wooden race bike.
I am not saying that a wooden bike is two seconds slower than the newest versions. However, it is pretty close. Add to that he was well within himself, plus the Meadowlands surface overall is, at least, one second, maybe more, faster than it was in the '90s.
On the other hand, Continentalvictory raced on sheer guts and was not an easy girl to restrain. Winning both heats in 1:52, with two recalls, truly did not help. I am not sure how much faster she could have gone. Between the wooden bike and the new track 1:50.1 was a likely number.
Victory Dream, a dream horse, was not in their speed league but certainly in their heart league. Therefore to answer the original question, Self Possessed wins by three in 1:49.2. Continentalvictory is second and Victory Dream is third.
Joel Kravet asks: I have been watching racing from Scandinavia and notice they don't use head poles. What do they do to make horses go straight? When a horse uses a head pole does it mean they are hurting?
For part one of your question they do not permit the use of headpoles in Sweden.
Personally, not being a believer in the use of them myself, I find a Murphy Blind used properly will suffice. I find a headpole restricts the head movement of a trotter that he uses to maintain proper balance.
The tracks in Europe are mostly bigger and with wide sweeping turns. Even many of the half-milers are laid out very much like Delaware, Ohio — all turns no straightaway.
I am sure there are a few horses that trainers find it difficult to make go straight but European racing is so different than in the U.S. and you can get away with much more because of the bulky fields. When you are in mid pack, two or three wide, a headpole is not nearly as important and when you are sending a horse with the rail to the front in the first turn. All horses will have more of a tendency to go straight if following a horse, it's the front end that can be a little troublesome.
As for part two, it is this writer's opinion that 90 per cent of the horses that wear headpoles especially on the left are sore right front most likely in a knee; not always so for poles on the right. I am truly not fond of most horses that need a pole on the right because I have found that much of their problems are attitude not lameness. This may not be as evident on one mile tracks as there are more left front problems with the long straightaways. But, for sure, horses wearing a pole on the right on a half or five-eighths could well be a little mental.
Gary Kay asks: Why do you say the thought of not racing 2-year-olds is "so far out there?"
BECAUSE IT IS… Unfortunately, since I wrote that piece, I have received too many complaints: Two-year-olds are too immature to race. We are killing the babies. The bones are soft. There are no more 4-year-olds to race.
STOP. STOP. STOP.
To begin with, the overall premise of these chronic complainers is incorrect. The standardbred is a hale and hearty animal that has not only been racing at two, but somewhere in the back of my mind I owned a mare that had a yearling record, as well.
Horses are going to fall apart, no question, but to a much lesser degree than publicized by PETA and the thoroughbred mess. I have trained horses for six decades and have I had horse break down? Of course I have, but not that many in comparison to the numbers I have trained and way fewer at 2 than at 3.
The incidence of death is close to zero in comparison to our thoroughbred counterparts. Racing as a sport provides a wonderful platform for the public's enjoyment and although diminished by the expanse of sport in general and the lack of major media attention it will remain a viable product in some form or other forever.
This is no time to change the model. Why make the hill we have to climb even steeper.
I predicted years ago standing at the Red Mile after watching Snow White's amazing 2-year-old performance that one day all the world records would be held by 2-year-olds because that is where the breed is headed.
I will not get back into the ridiculous costs involved in the elimination of the 2-year-old year as I have done that before in a recent column and it doesn't need repeating.
Our sport is in the middle of a courageous comeback against all odds. Let's try not to break the mold.
Thank you all for the kind words. Hopefully racing will return shortly and life can resume. Please keep your questions coming in. There are major thoroughbred races Saturday with two divisions of the Arkansas Derby from Oaklawn Park. Full Derby points to the first four finishers in each event. Stay safe and have a wonderful week.
Have a question for The Guru?
Email him at GurfTrot@aol.com.