LeWayne Miller: from a kid dreaming by the rail, into the thick of the action at Hoosier
by Chris Lomon
LeWayne Miller knew he was destined for a life in the race bike.
Whenever he stood by the rail at Hoosier Park, the kid in his early teens from Shipshewana, IN would envision the day he could be the one holding the reins.
The odds of that happening, at least back then, was a longshot at best.
Raised in an Amish home in a town of some 700 people, Miller eventually found career opportunities, albeit limited, in Shipshewana, home tothe Menno-Hof Amish & Mennonite Museum, which showcases the history of the Amish and Mennonite peoples.
But any job that wasn't horse racing just wasn't for him.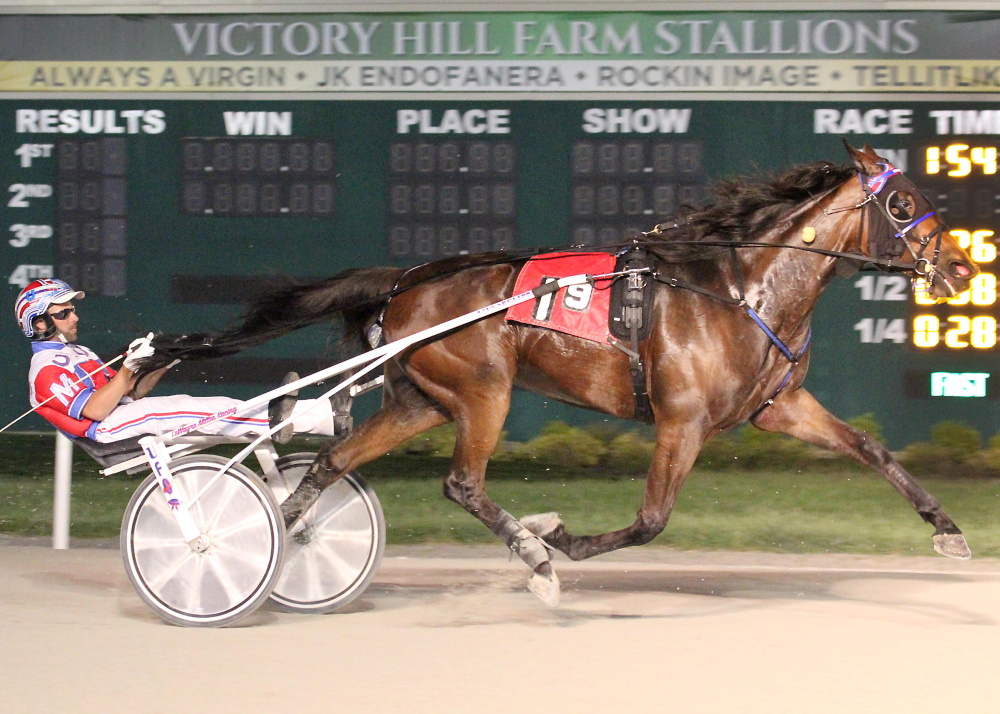 "I remember the times before I even turned 16 when we would go to Hoosier Park and I'd always watch the races, dream, and see myself out there. But I never really thought it was possible. I thought it was way out of reach."
A high-profile standardbred trainer thought it was well within Miller's grasp.
Erv Miller (no relation) saw plenty of potential in the young man who began his driving career sitting behind trottingbreds on the Indiana state fair circuit from 2003 through 2008.
"My brother and I went to Florida to drive for Erv, who ended up convincing me to stay. When I started working for him, he recommended that I get my driver license, and then start driving at fairs.That's when it hit me. I thought, 'Wow… he really thinks I can do this.' He gave me a lot of confidence."
As it turns out, the longtime conditioner was bang-on in his evaluation of the young man who chose red and blue as his driving colors.
"I guess I kind of went off (Hall of Fame reinsman) Ron Pierce's colors. I mixed it up a little bit, and switched up a few things, but I like the way his looked, and I kind of went from there."
In 2009, Miller, in his first pari-mutuel appearances, drove in 25 races. He won seven of those starts, accompanied by 17 top-three finishes.
After six wins the following year, the number jumped to 40 in 2011.
Fast forward to present day, and Miller has posted 1,096 career wins, along with 149 more victories as a trainer. He's also enjoyed success as an owner.
On June 20, 2019, he had an evening to remember, a five-win performance at the racetrack he often frequented as a teenager.
Three of the five triumphs came with horses also trained by Miller, including Gotwuteverittakes in the second division of the $48,000 Indiana Sires Stakes for three-year-old trotting colts.
The card also delivered him his 1,000th win in the sulky.
Miller hit the coveted four-figure mark in the fourth race with Madeline's Cray Cray, another horse from his stable.
He would drive 158 winners in 2019, which yielded $2.7 million in purse earnings.
"When I first started out in 2009, I wanted to have a very competitive barn and be able to drive very good horses, stakes-caliber horses. As far as where I'm at now, I just want to continue to grow and get better horses, branch out, and be able to race on the Grand Circuit as well."
Success hasn't gone to Miller's head.
Small-town values, a quiet resolve and competitive edge continue to serve him well.
So, too, does a particular piece of advice he received over 10 years ago, something that still resonates with him to this day.
"Back when I was racing ponies, I had a lot of people tell me to remain patient, especially with young horses. Patience and dedication – those are the two things that so many people would share with me. And I haven't forgotten that."
The words have taken on a different meaning in current times.
With live racing on pause at racetracks across North America due to the worldwide COVID-19 pandemic, horsepeople, Miller included, have had to contend with a loss of income, the absence of doing what they love, and question marks about unraced horses.
"Not being able to drive is tough. I'm very anxious to see what kind of horses I'll get to sit behind. Some of the horses are in the barn – I'd like to see what they really are. They can train down, but you never really know what they are until you put them behind the gate. I'm training a couple times a week and that helps a little bit. Other than that, we haven't been doing too much."
When he does get the call that racing is back on, Miller, admittedly, will have a new appreciation for the sport, and for the Indiana standardbred scene.
Competing in the Hoosier State continues to be a source of pride for the horseman who notched a career-best 188 wins in 2015.
"I love racing in Indiana because it's where I grew up, and I really enjoy the stakes program. They go for pretty good money. What I would like to see is the overnight races being a little higher. It's tough to race overnight horses here and make money. But you can make pretty good money with stakes horses."
Miller, whose favorite racing memory to date is winning his first sire stake with Andi's Alana in 2013, also acknowledged the challenges that come with a life in standardbred racing.
Finding consistent quality time to spend with his girlfriend and son can sometimes be an issue.
"I would say one of the toughest things is making time for yourself and your family. I like playing basketball during the summertime. After work and before racing, we'll go out and play a bit. Other than that, I like swimming with my son and girlfriend, just spending time together. As far as with the horses, the biggest challenge is staying patient, and let time do the telling. But that's the approach you need."
It's an approach that has served Miller well from the moment he tracked down the career he had long dreamt of.
While plenty has changed since those childhood days as a racing spectator, his affinity for all things standardbred has not.
"I recall those days at Hoosier Park, standing as close as I could to watch the drivers and horses flying down the stretch, hoping that I could be out there one day. Now that I am, I couldn't be more grateful."