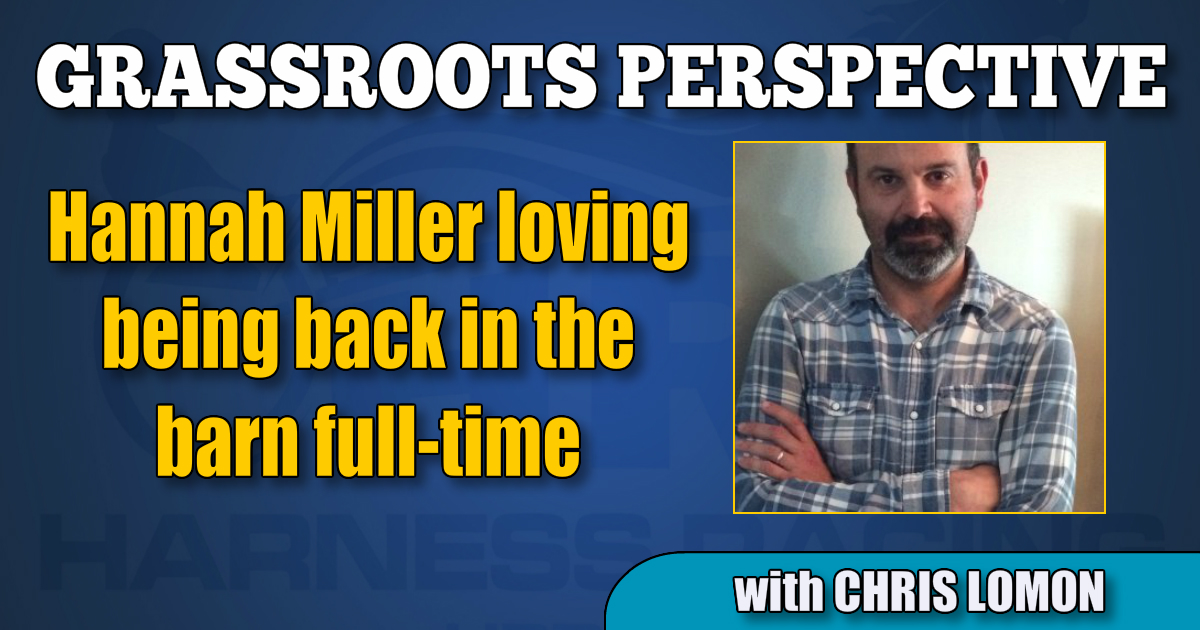 Hannah Miller loving being back in the barn full-time
The first woman to be named National Amateur Driver of the Year is now a trainer, driver, groom, trucker and much more.
by Chris Lomon
Even when she went the "wrong way," Hannah Miller still managed to make a trip to the winner's circle.
Family ties in the standardbred world are unavoidable, but the 28-year-old amateur driver – and just about any other harness racing job you could think of – has worked hard to make a name for herself.
Just like she did four years ago.
Miller, daughter of standardbred trainer Erv Miller, and brother of fellow driver, Marcus Miller, caught the horse racing world's attention at the 2016 World Cup of Amateur Racing in Budapest, Hungary.
"Going to different countries and competing is something that stands out as one of the biggest career highlights for me," she said. "Depending on where you are, racing can be completely different than what we're used to in North America. One of the standout trips for amateur driving championships definitely had to be in Budapest. That was amazing. It was the first time I ever went to represent the United States – I was actually the first female to go – and it was awesome."
While plenty got lost in translation, literally, Miller, although admittedly nervous, had her game face on the moment she sat in the sulky.
"The first race I won – we raced clockwise in Hungary compared to counter-clockwise here – there were 12 horses in it. There's definitely not enough room for that many on the gate, so there was a second tier. You have to take all of that in very quickly. And understanding the language… it's tough, even with a translator. You have to take all of that in stride. The start is different, and the post parade is different. You have to take in all of that information and process it quickly. You aren't able to read the program, so you have to rely on instinct and trust yourself when you are on the racetrack."
That approach proved to be a winning one for Miller, who was joined by her father on the Budapest trip.
Although she was told by the Hungarian trainer, who happened to have two horses in the race, that her chances at hitting the line first was a legitimate longshot, Miller (who would eventually finished second in the overall competition, missing top spot by one point) went into the race convincing herself she was partnered with the prohibitive favorite.
"The trainer, she came up to me and said, 'of my two horses, this one isn't as talented as the other one.' She explained the horse hadn't been racing well. My dad told me, 'this is the first time you've driven the horse, so regardless of what everyone else tells you, go out there and do it your way.'
"I got a feel for the horse, warming up, and we went out there and won it. I think we dropped the lifetime mark by about three seconds. I didn't know much about the horse, so judging by how he felt, I was aggressive with him at the start and it paid off. I ended up being Facebook friends with the trainer and she let me know he went on to win two or three more races in a row after that."
Miller's magic touch was evident early on in her career, one that was sparked by her father's suggestion to give it a shot.
After one win and a second in two starts in 2012 (her first drive came at the Illinois State Fairgrounds), she went 2-1-1 in six races the following year, and then posted a 6-2-2 mark from 12 drives in 2014.
It was 2015 when Miller stamped herself as one of standardbred racing's top amateur stars.
She won 32 races, finished with a .425 UDR in 118 starts, and became the first woman to be named "National Amateur Driver of the Year."
Miller, who would win the award again in 2016, also dominated the C.K.G. Billings Series, winning the East Regional final at The Downs at Mohegan Sun in Poconos.
Having raced at nearly 30 racetracks since she began her life in the race bike, the Illinois-born driver, who has also competed in amateur events in Australia and Spain, is looking to add more venues to her impressive list.
"Everywhere you go, there are differences, big or small, in the way they race compared to here. It's an excellent way to learn more about the sport, and to also help expand your own skill-set."
And not just in terms of driving.
Miller, who first owned a racehorse at 15 when her father bought her a standardbred, is also well versed in other areas of the industry.
That affinity for all things racing recently brought her back into the fold after she took on a job outside the sport.
"I was working for a company as a sales rep, and I quit just before the coronavirus pandemic hit. I was missing being at the barn every day, and being around the horses. I'm now back training, full time. So, I'm a driver, and I've also owned several horses over the years, including (multiple stakes champion, Canada's 2018 Horse of the Year and recent Canadian Horse Racing Hall of Fame inductee) McWicked. I co-owned him in his first year and we ended up selling him. It's nice to say that you were a part of his life.
"I also drive the truck and trailer, I go to the paddock and groom, I groom in the barn, I'll clean stalls – whatever needs to be done, I'm happy to do it. I actually got into photography, so I bought a camera and started taking pictures of horses. I do some videography as well. My fiancé and I have done some video of when we are actually out on the racetrack during training."
Although having a myriad of roles might seem like Miller's biggest challenge, that's not what first comes to her mind.
Rather, it's the obstacles associated with being a female driver in a male-dominated sport.
"At first it was hard, but I've trained a lot of horses, and working with my dad, he's always taught me how to be safe. I just learned how to stick up for myself out there. Having success, that definitely helps, and when you win races, people will back off. When people see you can handle yourself on the racetrack, you earn that respect.
"Being a woman on the racetrack, you also get a lot of advice. A lot of the time, you have to weed through it and see what works for you and what doesn't. My dad has always taught me to be patient in anything I'm doing, driving included. Be patient training horses and be patient racing horses – he told me that will always pay off in the long run."
For now, Miller, who has an "A" Full Driver License, will continue on in the amateur driving ranks.
There is, however, always a chance she'll one day test her talents on a different playing field, so to speak.
"Now that I'm back at the barn, who knows? For now, I'll just keep my amateur status. It's fun to drive… I love driving. I never want to get far away from it. I'm just glad I'm back in the barn now. I feel like myself again."