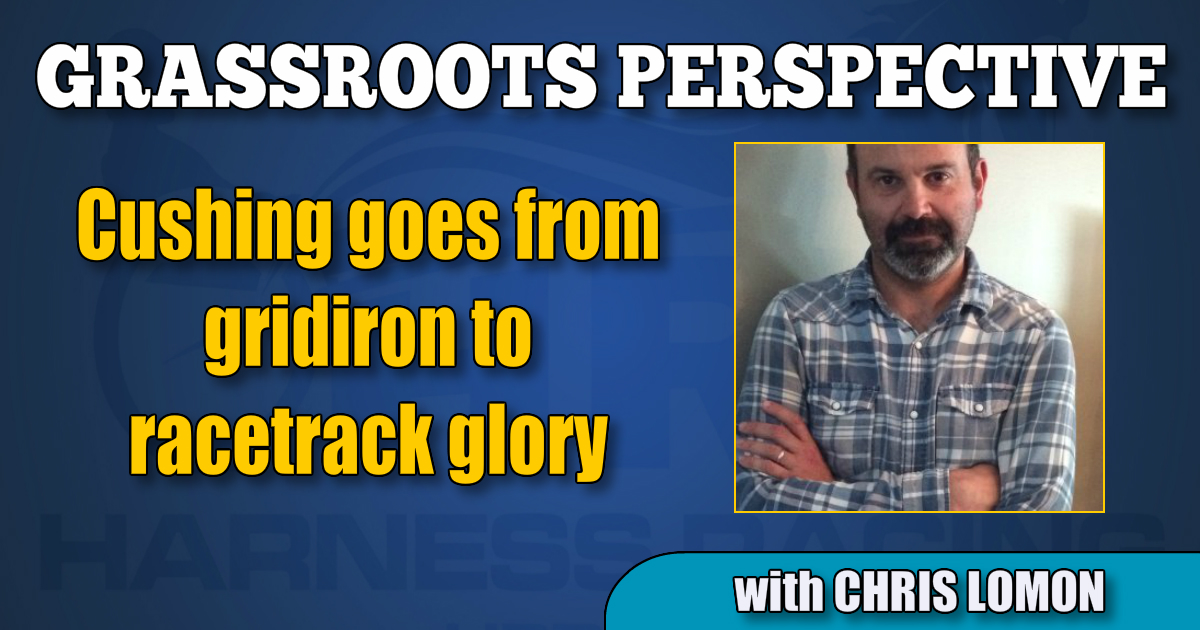 Cushing goes from gridiron to racetrack glory
Maine native Mitchell Cushing is making a name for himself on the track now that his football days are over.
by Chris Lomon
Mitchell Cushing's pursuit of gridiron glory took a hit, but with standardbred racing, he wouldn't be foiled again.
He remembers the moment as if it happened yesterday.
It was during his junior year of high school when Cushing, on pace to break several football records in Maine, tore his ACL in a crucial game against a long-time state rival.
After he absorbed the hit, the Lawrence High running back (he also played linebacker) knew the injury was serious.
He also knew what it likely meant.
"I tore it in the last game of the regular season, and we were going to the playoffs… I had worked the entire off-season," said Cushing. "I had never worked so hard in my entire life, the whole six or seven months we weren't playing football – I had taken that commitment to a whole new level. I just couldn't stop crying when it happened. I had never cried like that in my life. It was the first time that I realized that no matter how hard you work, there are things that you can't control."
What he could control, however, was directing his energies into another passion.
Cushing, whose father, uncle, aunt, grandfather, great-uncle and great-grandparents all have ties to standardbred racing, also had an affinity for horses and the sport.
Even during his football days, he always found time to spend time around the horses his father, driver/trainer Ron, and uncle, driver/trainer Mike, were associated with.
"Football, I really love it, just like a lot of kids do and I worked hard at it," said Cushing. "At the end of the day, when I walked out of the school or the gym in the summer, I was always going back to the horses. I would do what I needed to do at the gym, and do it the right way, in preparing for football. I was dedicated to football, but I was always finding ways to spend as much time as I could with the horses."
Fascination with harness racing would eventually into pursuit of a full-time career in the sport.
In 2014, Cushing drove in 15 races, winning four and posting nine top-three finishes. The following year, he posted three victories in 35 starts, going on to make 42 trips to the winner's circle in 2016.
A jump to 92 victories the following year was proceeded by a breakout campaign in 2018, one that saw Cushing win 247 races.
There wasn't one moment that sparked the surge in victories, but rather, according to Cushing, a few pivotal events that launched him into the standardbred spotlight.
The first came courtesy of a now 13-year-old son of Badlands Hanover.
"I think the first game-changing moment was the time I really figured out what I was doing and how do it the best possible way I could. I had to lot to learn. I was 18, and my dad and I had a horse we owned, Amazing Quest. He's actually still going on and is closing in on 100 career wins. We bought him out of Monticello. He's just a good, classy horse. We got him for $2,400, and we had him from the $3,000 claimers to the $7,500 claimers, up in Maine, at Plainridge. I started to learn to drive the race with him, not just drive the horse, and learning how to react to all different situations within a race.
"He would teach me and took care of me. I was able to gain confidence from him. If I read the race and thought, 'Okay… I'm going to be first over today,' we might be clear on the backside because the other guys used hard, and we were able to capitalize on that. Other times, it might be, 'Shoot, no one is leaving today, so I'm going to get this guy off the car.' I'd put him on the lead and he'd win the race. He allowed me to learn how to react, and it gave me the confidence that when I'd do something, he'd respond. He gave me that first idea that maybe I'm not a fish out of water, and I can do this because it's something I care about."
Another career-changing moment came when Cushing connected with veteran trainer Jimmy Nickerson.
It was just ahead of the 2018 Plainridge Park racing season when the young reinsman met the New York-based horseman.
"I'd been driving for my uncle when the meet started, and the drivers really hadn't started coming in yet," said Cushing. "There were only three or four guys that were considered catch drivers. There were more trainers than drivers. Guys started looking around at the drivers and making their choices. I was fortunate enough to start picking up horses for Jimmy. There was a horse by the name of Sports Lightning, who was in a $12,500 claimer series. Jimmy said, 'Kid, this is a tough horse to drive. He doesn't steer well and he doesn't make up ground in the turns, but he's classified.' I couldn't lose with the horse. We'd get away last in a nine-horse field every week and he won the series. This horse made me feel like I could do that sort of thing again."
And that's precisely what Cushing did.
His 2018 campaign was a bona fide thrill ride, including the opportunity to sit behind one of the sport's all-time great pacers.
He drove Foiled Again to victory in a Farewell Tour race at Windsor Fair (Maine), won a Massachusetts Sire Stakes title with I'm A Clown, and was second to Dan Patch Award-winner Shartin N with Apple Bottom Jeans in the TVG Series championship for female pacers.
"Throughout that 2018 season, Plainridge was wonderful to me. I was really fortunate and got to drive Foiled Again. That was followed by me going to The Meadowlands – Jimmy had asked me to go because everyone was gone for Breeders Crown at Pocono – and Shannon Murphy, Ron (Burke's) second trainer in New Jersey, took my phone number after I drove Foiled Again.
"I texted him to let him know I was coming to The Meadowlands for the weekend, and if I could come hang out at the barn to kill time, I'd really appreciate it. He said that would be great because they needed to train and get horses ready for the Breeders Crown. He texted me back after that and said that Ron had put me on everything for that weekend at The Meadowlands. I ended up winning four races, in about 15 starts, that weekend. That makes me you feel good. Just getting to go there and win multiple races when I had one win in about 35 starts there the year before… that was a huge moment for me. It made you feel like you were going somewhere, where you had always aspired to be."
And now that he's there, Cushing, who won 212 races last year, isn't about to rest on his laurels.
He'll also continue to take the lessons learned on the football field and apply them to his life in the sulky.
"The first connection between the two sports would be reaction, the ability to read things quickly and react to it. As both a running back and a linebacker, you are either reading the offensive line or defensive line, and you need to react as quickly as possible, and faster than the guy across from you. If you can get to the hole first, either as a running back or linebacker, it can make all the difference on the outcome. It's the same thing when it comes to horse racing. Whether you're coming from the back of the pack, or when you leave the gate, you're trying to be one step ahead, mentally, you are looking to make the right decision in the moment to get the advantage. I had never thought of it that way until now."
He's glad he did.