The Ohio-based trainer was on the cusp of 200 career victories when the COVID-19 pandemic shut racing down.
by Chris Lomon
Kris Hinchcliff will likely reach a personal milestone – one he wasn't aware of – sooner rather than later. But that's not where the standardbred trainer's thoughts are at the moment.
Seven wins away from 200 victories for his career, Hinchcliff, who lives with his wife Allison in Columbus, OH, had no idea he was closing in on the mark.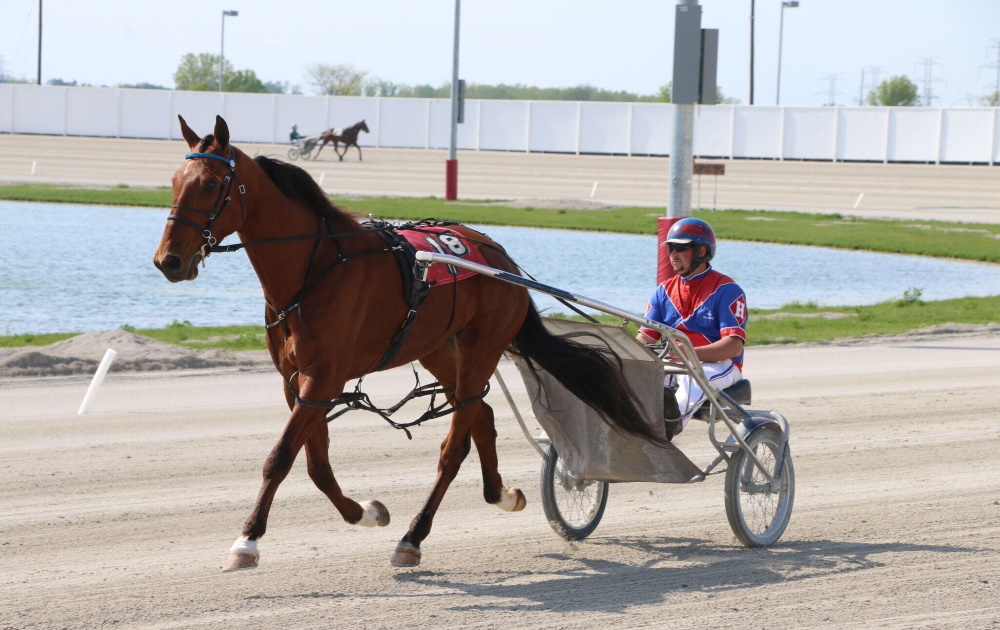 Understandably, his mind, like millions of others, is on other things, specifically, the global COVID-19 pandemic.
"Right now, life, it's pretty boring," said Hinchcliff with a laugh. "The weather hasn't been great where we are in Ohio, and with all of the self-isolation and social distancing associated with the coronavirus, we haven't been able to get out much. The horses have, but me, personally, it's a pretty uneventful time with so many things closed."
Standardbred racing in Ohio went on temporary pause a little while after certain other states and jurisdictions halted live racing.
Hinchcliff, who has seven horses under his care, was grateful to have had that extra time to race.
"Racing-wise, we got the benefit of the doubt compared to some other people because it was just about two weeks ago that we shut down officially. We got to race another two to three weeks compared to people on the east coat. I didn't prepare any differently than I would in normal times, other than staying committed to thoroughly washing equipment and things like that, making sure everything was that much cleaner and tidier. The paddock, it seemed normal. Everyone was talking about the coronavirus and doing all of things that were being asked – keeping your distance, ensuring everything was properly washed and cleaned. We just went on doing what we do to make a living."
With that now on hold, an already challenging industry to be part of has become even more difficult to navigate.
The horses have helped keep Hinchcliff's spirits up.
"I get to see them every day, and you're grateful to have that opportunity when so many other parts of your life have changed with everything that is happening in the world now. We can show up to the barn, my help can show up to the barn – we've been able to do that constantly, every day. I'm giving my horses a little bit of a break. I gave them a Tuesday, Wednesday and Thursday off not too long ago because it was nice weather here. I took them to a farm with a turnout field and left them there for three days so that they could get freshened up, get some sun and enjoy the grass. And then I brought them in and started jogging them again. I'm happy we haven't had to stay away from the horses."
Before live racing was cancelled, Hinchcliff fashioned a record of 4-4-4 from 34 starts in 2020.
His last start before the decision was made to put the season on hiatus happened to be a winning one.
John Mac, a 4-year-old gelded son of Ponder, notched a 2 ½-length score on March 16 at Miami Valley with Brett Miller in the bike. It was the fourth career win for the pacer bred by Robert and Al McIntosh.
"The year was going okay. The horses were racing pretty well. The lower-level claiming horses for me this year – we haven't had as many people wanting to claim as we normally would. That's fine. A couple of my horses were just getting ready to be qualified, so that kind of hurt. I guess we'll just wait until they reopen and we'll go from there once they tell us we can race again."
And when it happens, Hinchcliff can pick up the pursuit of 200 wins.
"Really? I didn't even know that. Hopefully, we can get that before too long."
Perhaps he can find another star like Angelo J Fra to add to his barn.
It was the gelded son of The Panderosa, a now 30-time winner with nearly $450,000 in career earnings, who delivered Hinchcliff his most memorable win.
"The Burkes gave me a horse to train. They had too many on the trailer that night because they had claimed a couple. So, the funny part is that they were going to leave one for me to train. And the one they left me was Angelo J Fra."
It would be a win-win for Hinchcliff, punctuated by a 15-1 upset at Scioto Downs on March 10, 2016.
"My biggest highlight was probably the open pace they had at Scioto, which attracted some pretty nice horses. Angelo J Fra won the race. He wasn't supposed to. He was a longshot and he ended up beating some really good horses. I was just getting started and it was a great to win to get."
Always on the lookout for another Angelo J Fra, Hinchcliff admitted it's tougher than ever to accomplish that goal.
Even so, it doesn't stop him from trying.
"The biggest challenge of late is trying to find horses to buy without overpaying, horses that you really like and want to bring back to Ohio to race. We only have certain types of classes compared to Yonkers, where they have other classes and race for more money. Those people are willing to spend more money on horses, so when we go to the sales, it's that much harder to buy the ones you want.
"It's also a challenge to keep them sound and race-ready. They're on their toes here. They race pretty hard here every quarter… there are no breathers."
Hinchcliff can't wait to feel that adrenaline rush again.
"When we restart, I just hope everyone is healthy, this has all moved on and we can return to our normal lives and our livelihoods. Not just for horse racing, but everybody. A lot more people than just the horse racing world have been affected by this. But it will be a great feeling when you finally see your horses out there again for the first time in a while."
A time that will signal the start of a chase for a personal accomplishment Kris Hinchcliff – the one he didn't even know he was pursuing.