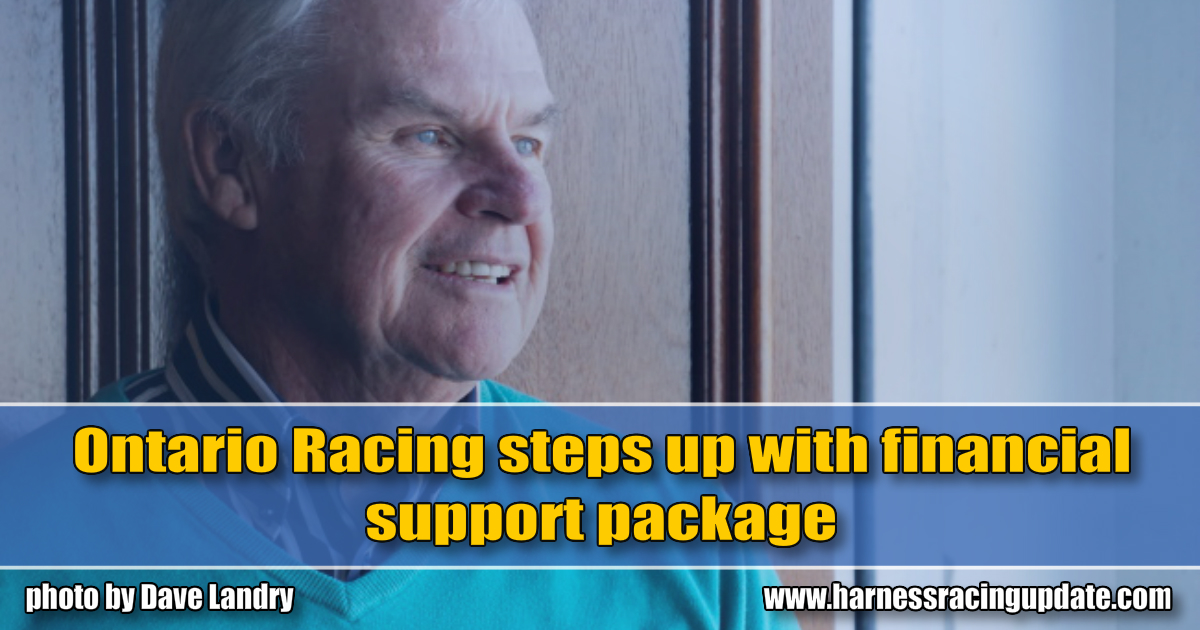 Ontario Racing steps up with financial support package
Independent chair John Hayes provides further details about payments for standardbreds scheduled to race and the ongoing work to provide further assistance during the COVID-19 pandemic.
by Chris Lomon
John Hayes, independent chair of Ontario Racing (OR), spoke with HRU about the current state of horse racing in Ontario, including the recent financial support package unveiled to support the province's standardbred horsepeople.
Hayes also discussed the efforts of the newly formed Ontario Racing task force, comprised of a cross section of participants in the industry who are proficient in dealing with the complexities and consequences of the sport's shutdown in Ontario.
The financial relief, a total of $300 per horse, is being offered to those involved with standardbred racehorses that were in-to-race at operational racetracks from March 19 to March 24.
"Via our task force, we will continue to discuss with government the further financial support that might be available to Ontario horsepeople," said Hayes, in an Ontario Racing press release sent out on March 27.
How is Ontario Racing playing a pivotal role during the COVID-19 pandemic?
"Ontario Racing was formed to be one single racing voice to government and given the current circumstances, government not being inundated with racetracks, three horse associations, breeders, etcetera, all at the door, is a plus for the industry. It lets racing's united voice be heard. So, the fact that we are Ontario Racing has been an extremely positive force to present one voice to government."
The pandemic has created numerous challenges for the racing industry. Why is it important for Ontario Racing to show its support to horsepeople during this time?
"We are an industry with anywhere from 30-50,000 individuals and 7,000-plus horses making their living from horse racing and supplying the industry with goods and services. We're a little different from other industries, with more uncertainty right now than perhaps if we were a company that's temporarily laid off its workers. Those workers, the bad news is they're unemployed, but there is hope that when this clears in two, four, eight weeks, whatever that may be, they'll be back to work. At the backbone of the industry, our workers are out on the farms and on the backstretch – most in the horse racing business are not wealthy and need that monthly income to feed their families. There's a lot of concern among the individuals in the industry about their future if there is no support right now."
In terms of the support package, what other considerations are being discussed by both Ontario Racing and the task force?
"The first step was to get horses that were entered to race at various tracks closed across the province compensation for cancellation fees. It's not a lot of money, but it is a start and we wanted to, as a group, get as much out as quickly as we can, while we're working away at what we can do in the longer term, and the longer term being the next 60 days. We are working well beyond the $300 initial payment. No one is going to get everything they want or need, but hopefully they get something that will help them stay in the business."
How is OR dealing with the ever-changing world created by COVID-19?
"The task force has met four times. Katherine Curry (executive director Ontario Racing Management), Jonathan Zammit (vice-president, racing finance / associate executive director Ontario Racing Management) and Madia Jeddi (director of accounting and programs Ontario Racing Management) have been literally working around the clock to put this stuff together… a huge thanks for their efforts. I'm happy the task force has taken a big-picture approach with an unprecedented amount of cooperation working together for the good of the industry as a whole. Literally, at the end of the day, all three breeds (quarter horse, standardbred, thoroughbred) need each other."
Any final thoughts you'd like to add?
"It's kind of easy being an old retired guy, to say to everybody, 'Take a deep breath, stay safe, and we'll work through it.' But when you're faced with an uncertain situation like this, those words sort of ring hollow. Let's work together.
"At our first meeting, I made the observation, 'Guys, this is going to be a daunting task and whatever we can do, we're going to be as fair and as equitable – given the various nuances of the business – as possible.' We will be criticized for whatever decision we come to and all I can ask is that we work together and come up with a plan that we believe is most fair and most equitable to help racing survive."