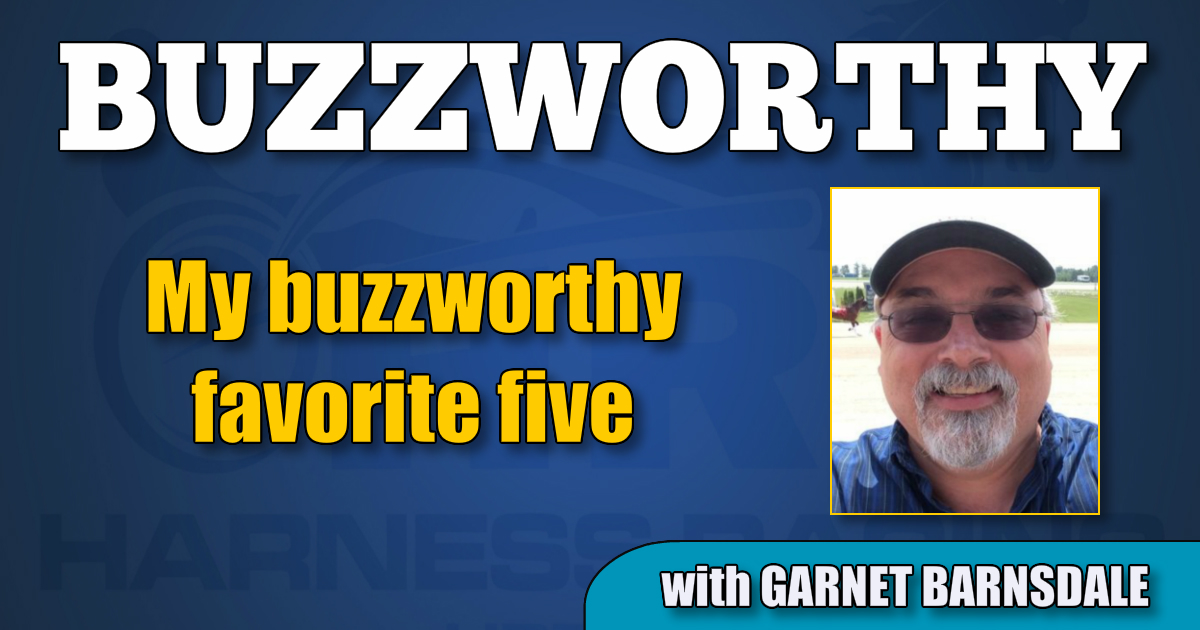 My buzzworthy favorite five
by Garnet Barnsdale
Everyone has their favorite races, but, seeing as this column is "Buzzworthy" I thought about the top five races that I have seen live that created a buzz for any number of reasons.
Topping the list is the 2015 Little Brown Jug, won in stunning fashion by indefatigable Wiggle It Jiggleit. To this day, I consider myself lucky to have been asked by HRU's Editor at the time, Bill Finley, to cover this historic event.
You can read my account of WIJI's courageous win here.
What made this race stand out was WIJI's sheer will and refusal to lose despite looking beaten as they turned for home. It's rare to see a horse come again after having a first-over bid repelled in any race at the Delaware, OH 1/2-mile oval. To do it in the iconic Jug was nothing short of special.
All the way down the lane, I had my phone's camera trained on the leaders trying to capture a photo of the finish, and even through that smaller view I could see that race leader Lost For Words widened his advantage out to about a length and appeared an almost sure winner as the duo turned for home. When they hit the wire in unison and I could see that WIJI had poked his nose in front just in time, I stood stunned. All I could ask rhetorically to Jug publicity director Jay Wolf was: "Did we just witness the greatest race ever?" To this day, this race still creates a buzz any time it is mentioned, and it would be hard to convince me that we didn't watch the greatest race ever.
Number two on my list is the 2011 Breeders Crown Open Trot, won by the great Canadian trotter San Pail on his home turf at Woodbine Racetrack. What made this race buzzworthy was the international flavor provided by European standouts Rapide Lebel and Commander Crowe. But for me — at the time a devoted member of the San Pail Posse — this race always sticks out in my memory because of the vocal support the Posse brought to the event. You won't find any harness race that was contested at Woodbine that had a louder crowd, cheering for their hero from start-to-finish. Have a listen:
Two other details stick out in my mind: the slick move by driver Randy Waples to make the split-second decision to drive on from between horses early which left Rapide Lebel hung the mile, and track announcer Ken Middleton's call at the wire of: "San Pail…U DA MAN!" Amongst a throng of more than 300 in the winner's circle following the iconic win I found Waples and commented on his early race tactics. "If I don't make that move, I don't think I win," he said matter-of-factly. Considering the huge mile trotted by Rapide Lebel uncovered on the rim, I imagine many might agree.
Race number three on my list is the 2015 Breeders Crown Open Pace won by the irrepressible Always B Miki, which was buzzworthy for a few reasons. Always B Miki was a personal favorite of mine and an easy horse to root for considering he battled back several times from injuries and was racing with some serious hardware in his left hind pastern which he fractured the year before in a stall accident. The Always A Virgin stallion out of the Artsplace mare Artstopper had also overcome an injury to his right hind leg in the spring of 2015.
There was a steady downpour that made it hard to see the field from the 5th floor Woodbine Racetrack press box, but through the raindrops that were continuously hitting the widow, I could see Always B Miki pull away from his foes with authority, pacing a :26.2 final quarter in less than ideal conditions to win the Breeders Crown Open Pace in 1:49.2 What made this gutsy win more buzzworthy was the milestones it set for Hall of Famers trainer Jimmy Takter and driver David Miller. This was the sixth Breeders Crown final win on the night for Takter and fifth for Miller, both Breeders Crown records for finals wins in one year.
"It's amazing the horse overcame all the obstacles he faced," Miller said in the winner's circle. "And to perform the way he did, you can't say enough about him."
Fourth on my list is the great Cam Fella's farewell race at Greenwood Raceway.To fully understand the buzz around this race you would need to have lived through it and felt the atmosphere at the lakeside 5/8ths mile oval. This was December, 1983 in Toronto. There were no Raptors and the Blue Jays weren't playing and even when they were, they hadn't been very good to that point. So the local sporting fabric was dominated by the Maple Leafs, but horse racing was still a big part of the scene. Cam was as close to a household name as there was in Canadian racing having been named Horse of the Year in North America the previous year, and the fans showed up to see their equine hero off to stud duty, fully expecting to see him easily record a 28th consecutive win to end his storied career.
Cam and regular driver Pat Crowe didn't disappoint the gathered throng and when Cam was paraded down the Greenwood stretch following the winner's circle presentation with a special tune playing that had been written specifically for him and the occasion, my eyes filled with tears. I wasn't alone. That's what Cam Fella meant to us.
The final race on my list was also contested at Greenwood Raceway and it was thought at the time to be the sendoff race for arguably the sport's greatest pacer of all time, Niatross. The event was widely publicized and well received. When you consider that a crowd of 15,744 braved 21 degree Fahrenheit December weather to watch the great son of Albatross become the first harness horse in history to go over the $2 million mark in earnings, you start to understand his popularity. The bettors also broke five track betting records and set a Canadian record for the overall handle. The Greenwood crowd wagered $1,775,732, eclipsing the track mark by some $200,000 and the former Canadian mark held by Montreal's Blue Bonnet's Raceway. A crowd there had wagered $1,742,514 the day of that year's Prix d 'Ete — at which Niatross set the all-time Canadian record for one mile of 1:53.4.
Ontario Jockey Club open pacer stalwarts Banker Fretz, Armbro Turk, Baron Reve, Aileens Tour and Holland were no match for the great champion who was steered to a 1:58.4 score by regular driver Clint Galbraith. At the wire, Greenwood announcer Earl Lennox bellowed: "It's Niatross, Niatross, Niatross," perhaps playing off the program cover that had that design. It didn't matter that Niatross would race again at Pompano Park later in December. The buzz generated by the first harness horse to break the 1:50 barrier is remembered by anyone who was there.