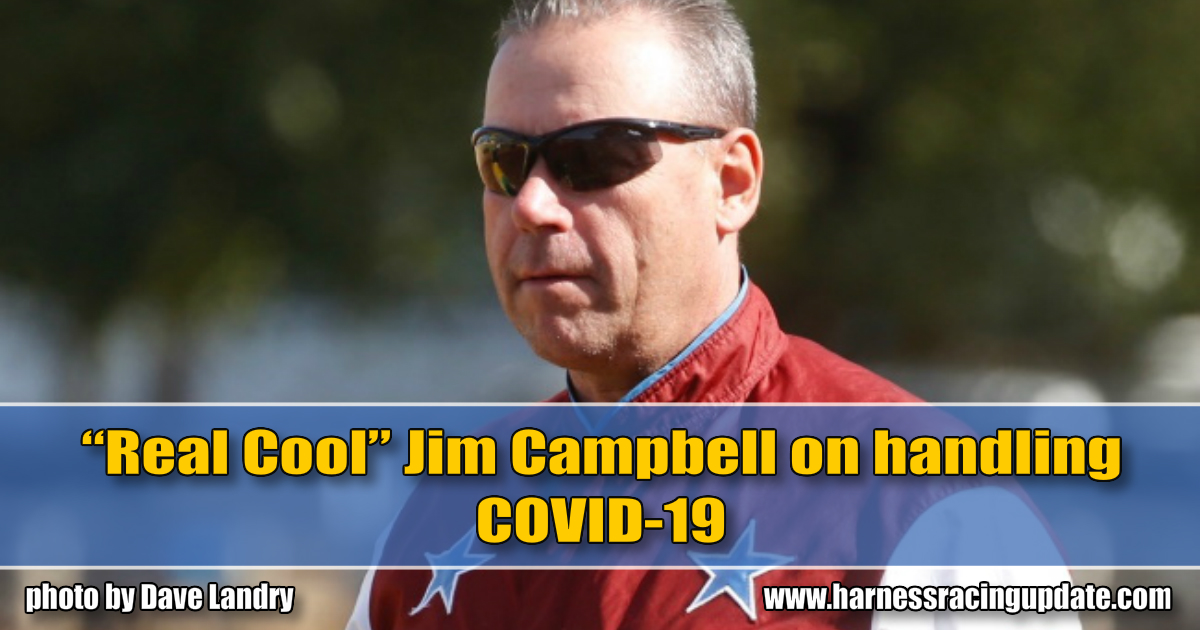 "Real Cool" Jim Campbell on handling COVID-19
by Jerry Connors
Trainer Jim Campbell has posted 1,268 training victories and over $46.3 million in earnings in a career that saw him post his highest single-season money total ever in 2019, with over $3 million won by the likes of divisional champion Real Cool Sam, Next Level Stuff, Sherry Lyn's Lady, Crystal Fashion and Millie's Possesion.
With many of those powerhouse performers coming back to the races, in addition to the freshmen that Campbell almost inevitably develops into stars every year, the barn is busy, getting ready for the 2020 season.
"Whenever that will start," Campbell said.
The COVID-19 pandemic is affecting every form of working and living virtually everywhere, including our North American harness circuit.
"I've never seen anything like this," Campbell said. "Every single facet of everybody's life is affected. The owners of horses are having their 'regular' businesses and income in such an unstable position." Remembering back to his short time as the proprietor of a pizza establishment, Campbell said, "With the (New Jersey) government order (no sit-down business, a curfew), all a place can be is open for takeout during certain hours now, and that has to hurt them. And they worry about whether they can get their supplies.
"Catch-drivers in our business, they don't get paid unless they're racing, and there's not much they can do. They're like the rest of us, hoping to find out as soon as possible for more news, for some sort of possible timetable to emerge, to give them something to plan towards. The uncertainty of 'What's coming up next?' is a really difficult thing."
Campbell may have it a bit luckier than most of his fellow conditioners, in that most of the members of his stable are either continuing to learn the ropes as 2-year-olds, or putting the final touches towards their upcoming seasons in the stakes and free-for-all ranks. "I only have three racing right now; two of them we're aiming for the Weiss Series (at Pocono) in April," Campbell said. "They were ready to go, and now they are still in training, but only getting light work while we see when they will get back in action.
"My owners know that the vast majority of their horses are being conditioned to race from May until towards the end of the year. It's different from being an owner of overnight horses – those owners have expenses because horses eat regularly, but they are expecting income from the purses their horses would normally be bringing in. Some might have to make some hard owner business decisions if we don't race for a couple of months."
Campbell said that all of his 2-year-olds are "still on their regular schedule, still training as usual (over the 5/8-mile oval at Magical Acres in New Jersey). Many of them have been in 2:30 or 2:35, and we'll just go on with them. We'd rather have them ready 'on schedule' and then have to deal if there is any delay rather than back off with them now."
The stable's returnees are, of course, topped by Dan Patch award winner Real Cool Sam, a winner of all but one of his 10 starts at two, and the setter of five world records. "We're looking to qualify him in May, so he's getting the normal preparation he'd regularly get for that type of schedule, the same as the rest of our returning horses.
"Real Cool Sam is coming back well, but in my opinion, this year's crop of 3-year-olds is going to be a very good one, deep, and with a lot of ability. Everybody's going to have to be ready to be at their best in his division this year."
He said he knows that he has the stock to take a run at the money his stable won in his personal-best year of 2019, and so far the horses are on developmental schedule. Like the rest of us, Campbell said he is learning to adjust to that great indefinite that is the end of COVID-19's current pandemic stage. But he does carry a little bit of an advantage on many people – under that trademark hat of his lies a calm and calculating brain, capable of adjusting his horses' schedules as news becomes known and the calendar eventually firms up.