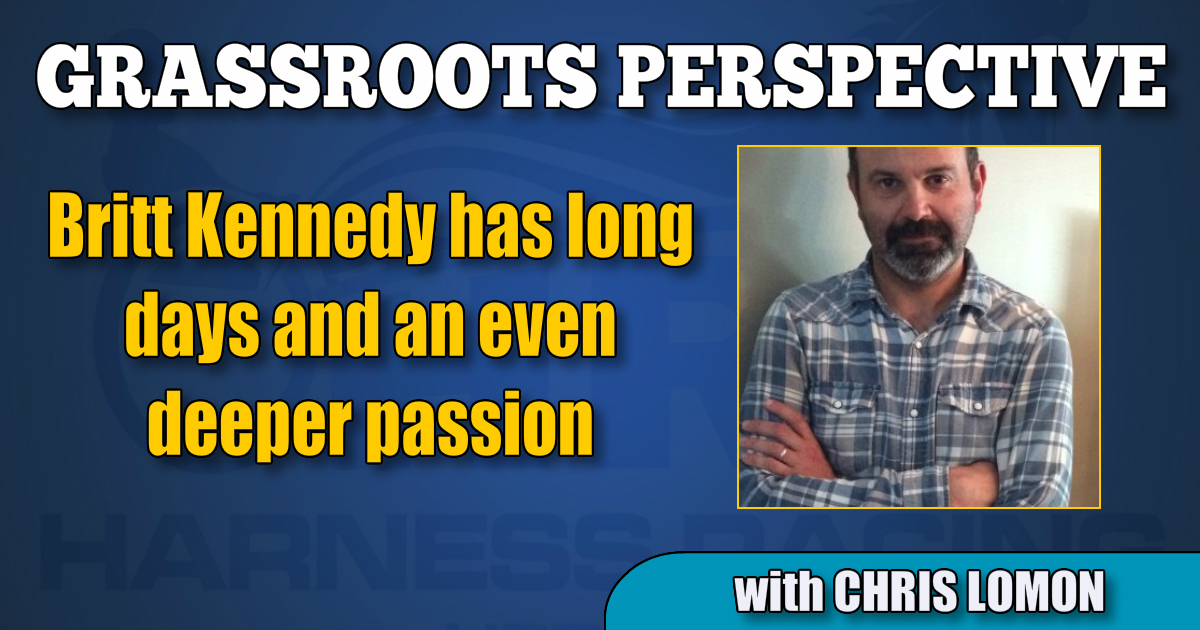 Britt Kennedy has long days and an even deeper passion
Ontario-based horsewoman is a full-time massage therapist, as well as an owner, trainer, breeder, driver, rider and much more.
by Chris Lomon
Despite demanding hours, long days, late nights, and early mornings, Brittany Kennedy always finds time to do what she loves.
It would seem a longshot to expect any type of interesting response from the 32-year-old. But even through laughter at the question, she does have an answer to it.
So, what does Kennedy, a full-time massage therapist and jack-of-all trades standardbred horseperson, like to do when it comes to unwinding from a hectic work life?
"There's not a great deal of time to do much of anything, but when I do make time or find time, I'll go out to dinner with my friends, things like that," said Kennedy. "There isn't a ton of down time. Concerts are actually my big thing. I like to go to heavy metal concerts. I've seen Linkin Park about 15 times. My dad (standardbred trainer, Todd) would go with me to see Korn. That's his all-time favorite. My dad actually has a Korn tattoo… I don't think there are a lot of 60-year-old men with Korn tattoos."
And there aren't many young people in horse racing making their mark like Kennedy is.
Owner. Trainer. Breeder. Driver. She does it all and more.
Literally.
"I have my driving license, which I use mostly for qualifying, and I do a little bit of the Billings with the amateur driving," she said. "I also do Racing Under Saddle (RUS)."
Ahybrid form of racing, combining standardbred and thoroughbred racing, jockeys ride trotters with a saddle as opposed to the conventional style of sulkies and drivers.
Although she didn't participate on-track in any Ontario RUS races in 2019, Kennedy still played an active role in the sport.
"A couple of races at Mohawk were really big steps for us. I'm not just involved through riding – although I didn't ride last year – but I'm also on the board. Working behind the scenes, I've seen the strides we've made over the years. It's come a long way. We didn't have a great year last year because there was a lack of horses, trotters, especially."
She's ready to saddle up this year.
"I've gone behind the gate in both a cart and under saddle. It's totally different. When you a leave the gate under saddle, it's a real rush. Not having done it for a year, I can't wait for it to get started. We're hopeful that this year we have enough riders and horses to maybe run a series."
It will be one more addition to an already busy life.
That said, Kennedy, whose uncle, Rick, and grandfather, Jack Duck, both drove standardbreds, isn't concerned about fitting that – or anything else – into her schedule.
"I chose a profession that would allow me to make my hours around the horses. I originally wanted to be a chiropractor in high school, but then realized I wouldn't make it through the eight years. My attention span wouldn't be able to deal with that. I'm a registered massage therapist. The chiropractic clinic I work at is seven minutes from the farm, so that makes it easy to dash from one place to another. There's a lot of dashing. I don't think there's a time when I'm not doing that. I work with the horses in the morning, then work all afternoon and evening, except on race nights, where I'll finish a bit early and then I can go race."
On occasion, she does get by with a little help from her friends. And also with some welcome assistance from her father, who lives in the town of McGregor, ON, just outside of Windsor.
The only thing that keeps father and daughter apart at times is Mother Nature.
"When I was at university, I would go back and forth and help him as much as I could. I went to school in London on Monday, Tuesday, and Wednesday, so I started going back and forth, helping him the other four days. That started to be too much, so I started working for a trainer in London instead. I compromised and I was allowed to have one horse here in London when I was in school. My dad moved up here for a little bit when Windsor Raceway closed. He would come up here in the summers to race, just to cut back on the driving. We did that a couple of years in a row, and just tried to keep the horses that were on holidays, or the young ones training down, in Windsor with him.
"We would just rotate with the ones that were racing. He didn't want to be on the roads during that stretch in the winter. This is the first year we closed down everything in Windsor. The training center he was at – he was going to be the only guy there – it was sold, and they turned it into more of a riding facility. He'll split the week, where he'll come here when I'm working, and that makes everything a little easier. But that's weather-dependent as well."
In spite of the odd bad day or a bad result, Kennedy — who has eight horses, six in training and two retired, in her barn right now — maintains a sunny disposition when it comes to horse racing.
Even though a particular affinity for trotters can be, at times, quite frustrating.
"The biggest joy is when you've taken a horse that has needed a lot of work, put in a lot of time, and then you see the reward at the end. I, unfortunately, have chosen the route to go with mostly trotters. They are more challenging, but it can be so rewarding when you figure out what's bugging one, and then see them progress."
One particular horse, ironically, a pacer, is a perfect example of Kennedy's penchant for a patient hand.
Joe Canadian, a son of Armbro Operative, made headlines and the cover of The Canadian Sportsman after a horrifying incident at Hiawatha Horse Park.
"He hit the water truck head-on at Hiawatha," said Kennedy. "He seemed destined to never come back from it, but he somehow did, and won 10 or so races after that. I love those type of things… a horse that had no chance, but was able to come back."
She wishes Winzel could have that same opportunity.
The 15-year-old trotting son of Royal Strength, bred by Brian Newman (Chatsworth, ON), won 51 races over 303 career starts.
Kennedy, who co-owns (along with Nancy and Jack Holmes), trained and drove the bay gelding. Last year, on May 26, she was in the bike when the duo pulled off a 15-1 upset at Dresden Raceway.
"He's my favorite horse. He stopped racing because of the mandatory retirement rule, but he didn't want to retire. He's hating every second of it. He trots up and down the fields, alongside the horses on the track. He actually still has to jog a couple of times a week because he has way too much energy. He keeps on going."
Just like Kennedy does.
"There's not a lot of sleeping involved, that's for sure. The time factor is definitely an issue. I really do enjoy my other job. I like fixing things… solving problems. It works out well with both jobs because I can apply what I do at work with the horses."