by Bob Heyden
Ron Pierce hung it up for good in 2015 during the first week of March due to neck and back issues that forced him to the sidelines. As it turned out, he never returned to the sulky.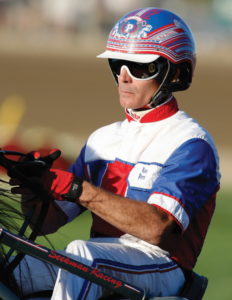 He was the second leading money-winning driver in the sport at that time ($215,803,884) and had 9,570 wins. He is now number four on the earnings list as Dave Miller and Tim Tetrick have surpassed him.
Was it really five years ago that he hung up his colors?
"It seems like it was just last year to me. It really does," he said. "Hard to believe time goes by that fast." Now living in Montana, Pierce was reached at the beginning of March at start of a typical day.
"Let's see, I think I'll take a hike for 4-5 hours — that means about 5-8 miles — up and down the coulees. I have my metal detectors. Plus, if I want, I have my gold mining equipment, fishing poles, bow and arrow. I'm set up to do what I want to do. I wouldn't give this up for anything. Life's good."
Still, on the five-year anniversary of his departure from the sport, it seemed fitting to pick Pierce's brain about his career.
Would you have raced longer into 2015 IF Sweet Lou had returned for his 6-year-old season?
"No. I was done. It wouldn't have made any difference."
Pierce won 10 in a row with Sweet Lou — six of those in sub-1:48 miles in a row — a record not topped since.
Could you be a spokesperson for the sport of harness racing?
"No. I don't express myself well enough to do something like that."
Are you still news?
"Just barely."
Do you watch the Hambletonian every year?
"I do whenever I can."
What do you miss the most?
"Being competitive. Being around guys like Mike Lachance, Cat Manzi and Bill O'Donnell. I remember when I was starting out sitting on the sidelines with Stevie Condren on our coolers with whips in hand watching the other drivers. We both knew WE should be out there. I also miss the top colts and fillies, the stakes races."
What don't you miss?
"The travel for one, especially because I did a lot of it. I remember one night at Dover, myself and Corey (Callahan) each had 16 in. It was about 33 degrees, raining very hard with the wind kicking up big time. We had no time to change our colors because every time we went inside we'd have only a minute or so and then have to go right back out. The management didn't work with us, and it was rough. I remember that night I had an 8 hole with a horse wearing flip flops. It wasn't fun at all. No I don't miss any of that."
Were you better with a pacer or a trotter?
"A trotter."
Why don't you ever hear Donato Hanover's name in the discussion of the best trotters of all time?
"He should be in there. He was head and shoulders above his competition (and was the 2007 Horse of the Year). He won a whole bunch in a row, and he was always well within himself. Only in the Kentucky Futurity can I remember stretching him out-the owners wanted to get a good record on him (1:50.1 in the final his lifetime mark). He was a little sick at the end of the year when he got beat in the Breeders Crown, and it's not like he got beat by a nobody, it was Arch Madness."
Your first few drives were with…? (First win at Freehold 1975)
"Split Decision, SEP, Snowball N, Yankee Twinkle. For guys like my dad (Don), Ernie Spruce, Art Unger. I didn't take the route that most guys do. When I started, John Campbell was in full swing. I took a different path, traveled all over and it wasn't until 12-15 years later (1990) that I started to really get going. But I wouldn't change anything about that period of time. I really had a good time."
How important was winning the 1989 Woodrow Wilson with Sam Francisco Ben for you?
"Very important. Horsemen could then see that I could handle myself in that situation; drive top horses. Right around that time I wound up with Casino Cowboy, Prince Ebony and then American Winner. Kelvin Harrison (the trainer of Sam Francisco Ben) sure helped me out back then."
Rainbow Blue — need I say anything else?
"So dominant. She and Shady Daisy were by far the best two 3-year-old pacing fillies I ever drove. And it was a good crop that year, too. You could make a mistake with her, like move too early or get out too late, and she would compensate for it and win anyway. I over-raced her a couple of times, but it didn't matter."
We were talking about Stephane Bouchard's record of 11 straight winning drives set in March 2003. How impressive is that to a fellow driver?
"Incredible. I didn't know it actually. Wow. Stephane was a top driver. I remember many times how tough it was to get by him. He not only could make speed, he did it every easily, very naturally."
Will you ever open a driving school?
"No, but I have lots to say to the up and coming horsemen. A lot of the advice I got early on from Stanley Dancer and Ernie Spruce wound up helping me a lot — keeping my nose straight, being patient and waiting my turn, things like that."
When you were driving, what did you not want to do late in your career?
"I didn't want to finish any way but on my terms. That is not always a guarantee in this business. I had a fear of being in the way, of driving too long, of not being used any more in the bigger races. Staying around too long is what I mean. I wanted to be able to drive and when done be able to take care of myself. Get out and get on with my life. I was able to do that."
No conversation with Ron Pierce can go without a mention of the Somebeachsomewhere-Art Official world record Meadowlands Pace of 2008. A few questions if you don't mind. In 2004, when Smarty Jones was going for the first Triple Crown in 26 years and got beat in the Belmont Stakes, there was a collective moan throughout the sports world. Did you sense a little of that when Somebeachsomewhere suffered his first defeat to you and Art Official? Did you feel even a little bit sad?
"No, not at all. Not with Art Official. With Smarty Jones, yes. But with Art Official, Joe Seekman could not have had him any better. He was in peak condition. I drove the colt the way he felt. No pregame strategy or anything like that. When we got to the half in :51.4, he went right on. At the 5/8ths, he was still on the bit and wanted more. He told me how to drive him. I was not about to argue with him. Drove him according to how he felt. I do want to say that Paul MacDonell was committed to the front. Like anyone in that situation would have been. He did nothing wrong, he was just a victim of the circumstances. It took a new world record (1:47) to beat him."
Because Pierce is one of the more unique personalities/drivers ever, let's take a look at one Ron Pierce stat. One that it may take decades to equal:
Can you think of anyone else who, in their last full year of driving, handled both the Pacer of the Year Sweet Lou and the Trotter of the Year Shake It Cerry? Ron Pierce did just that in 2014.