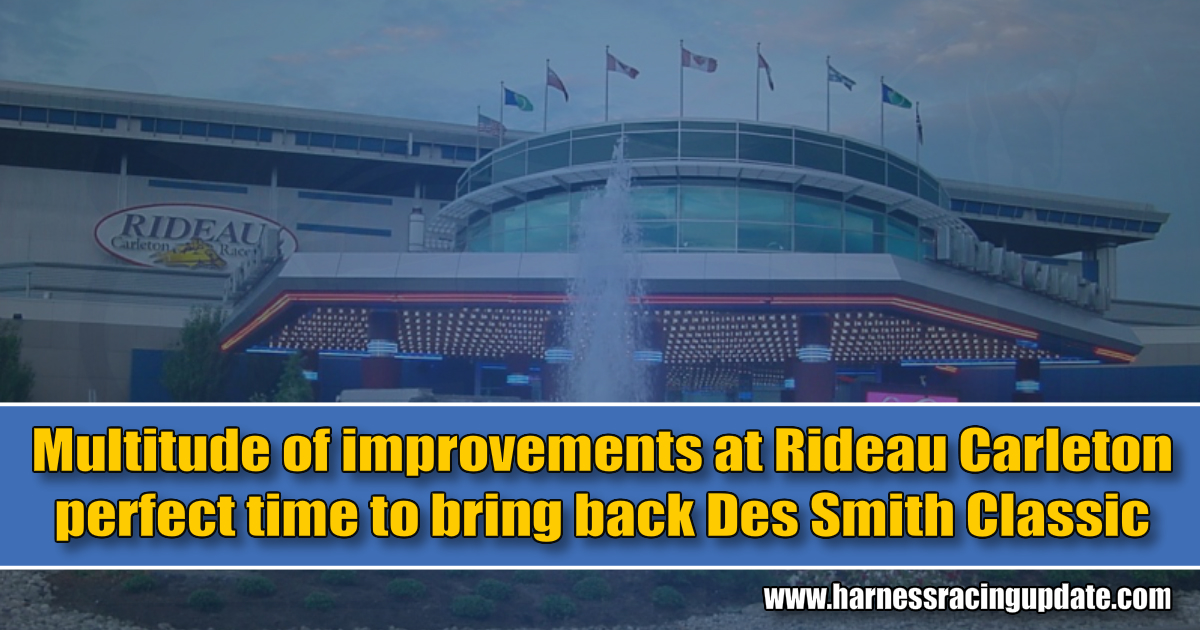 Multitude of improvements at Rideau Carleton perfect time to bring back Des Smith Classic
by Dave Briggs
Peter Andrusek said he's excited about the return of the Des Smith Classic open pace to Rideau Carleton Raceway in Ottawa, ON this summer, mostly because the track will have completed a number of important capital projects first.
"I want to kind of create the 'wow' effect," said Rideau Carleton's racing manager. "That's why I was hesitant to adopt marquee events until now, because I kind of knew we were making these investments (in infrastructure)."
Last year, Rideau Carleton installed a new video tote board and high definition broadcast equipment. Over the winter, the old sports bar betting area — which Andrusek referred to as having the aesthetic of "1978 racetrack" — has been refurbished into a modern sports bar.
This year, the track — which opened its live season on Feb. 9 — will spend about $1.2 million on improvements, including upgrades to the tarmac that will transform the outer ring of the winner's circle into a bar. That means one will be able to belly right up to the winner's circle and have a drink. Rideau Carleton will also start taking patrons for a ride in its new limousine starting gate, which will debut when the weather improves in the spring.
"We retrofitted an actual limousine," Andrusek said. "We intend to take people for rides in the car. It has leather upholstery, there's a TV in there. What we're trying to do is not just create a horse racing experience, but more like a Disney experience. The TV (in the limo) will come on, it'll play the history of harness racing with a touch of Rideau Carleton and in there we're going wire up the car so that you get all the sounds occurring outside the car… If the horsemen are yelling at each other, the mic is going to pick that up and put it right into the cabin. The limo will really get you close to the action, but this makes it even better because you can hear all the hoof prints and the action.
"We are really focusing our investments to create an experience that is similar, if not superior to, your other sports entertainment options."
In Ottawa, that includes competing with the National Hockey League's Ottawa Senators, the Canadian Football League's Ottawa Redblacks and the Ontario Hockey League's Ottawa 67s.
"Compared to other professional sports, nobody's walking out (of Rideau Carleton) with their two empty pockets out. You don't need $150 to get in and out," Andrusek said. "If you go to a Senators game, it can cost you $400. If little Johnny wants a popcorn, it's $4 here, but it's $14.50 (at the Senators' game). Here, a beer is $5, not $9, $10… You could come to Rideau Carlton on a Sunday afternoon with your family and it's free admission, free parking and you get the full experience of horse racing. That's how you get interested in the sport.
"Ottawa is a major metropolitan market, we're not a rural community… and in order to attract a new (horse racing) customer you have to provide a modern sports experience, you have to provide amenities that are comparable to other professional organizations."
The Des Smith Classic for open pacers was last contested at Rideau Carleton in 2012.
"When the Slots at Racetracks Program was discontinued (in 2013), our purses literally went from $17 million to less than $4.5 million. This is a dramatic drop. Obviously, we could not support our premium events we used to host, the Frank Ryan Trot and the Des Smith Classic."
The Des Smith will return on Sunday, Aug. 16 with an estimated purse of $75,000 thanks to funding support from Ontario Racing.
"I had some wonderful support from (Ontario Racing)," Andrusek said. "I started making the plea about six months ago that in order to… get us back into the main stream of sports entertainment I wanted to make it a step by step process. I wanted to get the amenities in place first… because, at the end of the day, I'm bringing in a new crowd and I can't show them 1978."
Andrusek said he's also hoping the media will return to the track and be impressed with the improvements. There really hasn't been a reason for the media to come to Rideau Carleton Raceway since its signature events were halted. That loss of coverage has had a negative impact on horse racing in the nation's capital.
The further hope is the Des Smith can be contested on the same day as Georgian Downs' signature event, the Earl Rowe Memorial trot and be "marketed together for simulcasting purposes," Andrusek said. "That's the reason why we went with the Des Smith because the Earl Rowe is a trot and we're going with a pace."
Des Smith and his family also hold a treasured place in Ottawa and at Rideau Carleton.
"Des Smith was our track announcer for 22 years and he has a special appeal to Ottawa in that regard," Andrusek said. "He is in the Ottawa Sports Hall of Fame and so on, but there's also a bigger story and it revolves around one of his children, Brian Smith… He played in the NHL for the Los Angeles Kings. After his career was done he was the sports commentator for CTV. One night (in 1995), he was gunned down by some lunatic and at a young age lost his life… We have a solid connection with the family and Brian was very well respected.
"The reason (the Des Smith) is important for me — as somebody that's been at the track for 27 years — is because the Smith family is so prominent."
The Des Smith has a rich history of attracting some of the continent's very best open pacers, including: Apaches Fame, Artsplace, Staying Together, Riyadh, Ball And Chain, Boulder Creek, Our Lucky Killean and the most recent winner, Betterthancheddar.
Track broadcaster and handicapper Graeme Mitchell said the Rideau Carleton all-age track record of 1:49.2 was set in the 2006 Des Smith Classic by Lis Mara and equalled in 2011 in the Des Smith by Lisagain.
"We had a couple of horses and drivers that have won back-to-back," Mitchell said. "Red Bow Tie did that in 1998 and '99 with Luc Ouellette. Also, we had Silent Swing back in 2008, 2009 that won in back-to-back years.
"I think will break the track record this year. Our track is super in the summer right now so I think we have a good chance of breaking that mark… With the current purse structure, we don't have the classes to bring horses in regularly to break that record, but now (with the return of the Des Smith we) can and it can be a good story."
Rideau Carleton currently races Sundays only through June 7, but will add Thursday night live cards beginning June 11 — and those will carry a special 4 p.m. first race post time.
"Thursdays were becoming very challenging because it was becoming very crowded on the simulcast schedule," Andrusek said. "The more tracks going for the dollar means you can only spread so far… Basically, we're betting one third on Thursdays of what we were betting on Sunday and we felt that there was a real opportunity by going at 4 p.m. instead."
Mitchell said the 4 p.m. Thursday posts will likely entice more patrons to jump on the regularly-scheduled bus from Montreal because they will be returning home earlier.
Through the first two live cards of 2020, Andrusek is already pleased with the betting numbers for the track's 59th season of live racing.
"We opened up to a pretty good crowd and we bet $171,000, which was significantly higher than the previous two years when we opened up," he said. "Last Sunday (Feb. 16), we did $252,000."
Solid numbers for winter racing, but Andrusek said he can't wait to see the handle figures once the weather improves and fans can check out all the new amenities and improvements.