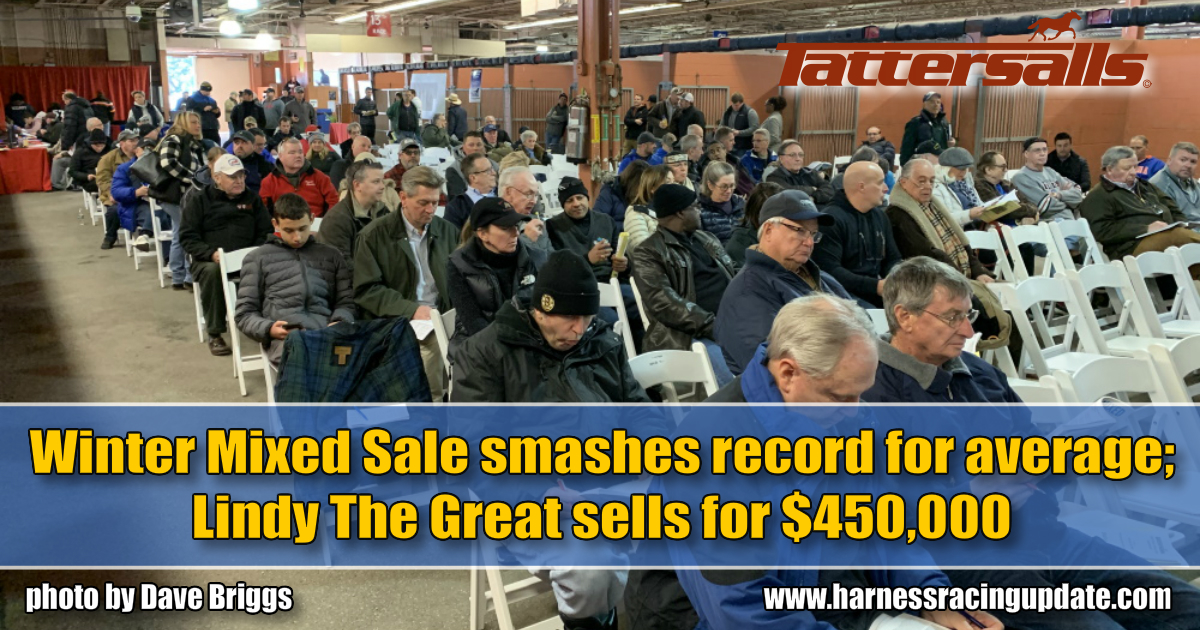 Lindy The Great topped Monday's Tattersalls Winter Mixed Sale with a bid of $450,000 and the average soared by 41 per cent to a record $41,244.
by Dave Briggs
Monday's Tattersalls Winter Mixed Sale held in the paddock at the Meadowlands Racetrack in New Jersey, set a record for average of $41,244 and the sales topper was the highest in 12 years. Even the gross was up almost $1 million from a year ago despite 22 fewer offerings this year compared to last.
"This is the highest average that we've ever had here," said sale manager David Reid, "but I guess that goes back to a smaller catalogue, having higher quality and condensed offerings. I think the highest average we've had here before, in the last 10 years, was $30,000. I think one year, back in 2008, before the (economic) crash, we were at $35,000, so overall I am very happy."
Exactly 128 horses / stallion shares were sold, grossing $5,279,200 for an average of $41,244 that was up 41 per cent from the 2019 auction which saw 150 offerings gross $4,395,300 for an average of $29,302.
"It was a good horse sale," said Northwood Bloodstock's Bob Boni. "A lighter book than usual, but the ones that were okay and were racing, as always, sold very well."
For the second year in a row, trainer Rene Allard led all buyers. This year, he spent $647,000, total, on three horses. Allard purchased this year's sale topper, Lindy The Great, a 6-year-old son of Crazed out of Highscore Kemp consigned by Preferred Equine, as well as Captain Malicious for $105,000 and Cool Clifford for $92,000.
"I came here to buy three horses and we got all three of them, so I was happy," Allard said.
As for Lindy The Great, the trainer said he tried to buy him privately in October.
"I went to see him in Kentucky before I left, in the early morning, and I asked to try to buy the horse," Allard said of the trotter bred by K R Breeding LLC (the Antonacci family) of Enfield, CT and owned in partnership with Robert Rudolph of Vineland, NJ.
"I wanted to buy him before the Breeders Crown and they said that they wanted to race him in the Breeders Crown and they weren't going to sell. So, I've been trying to buy the horse since October. Then, he ends up at the sale and qualified really well, so that probably cost us $100,000, but I'd rather have him qualifying well and have to pay a little more than qualify bad.
"Since we started buying yearlings the last three years, now I know how hard it is to get one like this and I appreciate more these kind of horses when they come on the market. You go to the yearling sale and you could buy 15 babies and that doesn't mean that you're going to get one. So that makes you really appreciate it when you see a horse like (Lindy The Great), that's already made and can race at that level. He's already made $650,000 and he's a good, big-looking, strong horse, it makes you appreciate when you have a chance to get something like that. I've seen it every year, those babies, it's a tough game. So, we're excited."
Allard said he thought Lindy The Great would sell for around $400,000 and his limit was exactly the $450,000 the horse sold for.
"The bidding was going really fast. I didn't bid right away, I was waiting, waiting, waiting. When he was at $420,000, I bid $450,000. I put one bid in and said, 'Whatever happens from here on… if somebody else bids, that's their horse,'" Allard said.
"We're going to stake him to a lot of Grand Circuit races, obviously. We'll try to win a Breeders Crown with him and those sort of things. We'll talk it over a lot in the next year days and map out the schedule, but those kind of horses, they have so much opportunity to race for so much money that… when you look at the money that they get to race for, ($450,000) sounds like a lot of money at first, but there's a lot of it in the end.
"I think the horse is coming into his own. He's lightly raced with 47 starts. Trotters seem to do their best at that age — six, seven, eight, so I think we bought him at the right time and he seems really sound. I was here yesterday and we vetted him out and everything, so we did our homework. I'm just glad we were able to put it all together and I'm looking forward to the season."
The $450,000 bid is believed to be the highest at the Tattersalls Winter Mixed Sale (formerly the Tattersalls January Select Mixed Sale) since 2008 when George Teague, Jr. and Only Money Inc. paid $900,000 for Total Truth to dissolve their partnership with Rodney Mitchell Inc.
Reid said he was, "happy to see the number of parties interested in (Lindy The Great). That shows health of the market. There were legitimately four or five different parties that you could tell were ready to fire at a certain level. I was very pleased with that."
Somebeachsomewhere—Shelliscape gelding Escapetothebeach was the second highest horse sold on Monday. He fetched $250,000 from trainer Virgil Morgan on behalf of owner Dana Parham.
Morgan said he loves Escapetothebeach's pedigree, and his, "miles at Yonkers were scary good, :51 there and that's a real mile. He raced against the best in the country this year and was competitive. He's a horse that I'd like to race for a while.It's not the first good horse that Dana has had, so we'll sit down and get a game plan for him and map out a schedule for him for whatever is best for the year. I would imagine The Graduate is part of that, for the 4-year-olds. Then we'll try to pick some other spots.
"Obviously, you'd like to get him a little cheaper, but at this sale the good ones just stand out and you're going to have to pay a premium for a horse like that."
The third highest priced horse sold was trotting mare Jezzys Legacy (Donato Hanover—Jezzy) that sold for $150,000 to Beachy Brothers, agent, of Berlin, OH on behalf of an owner that wishes to remain anonymous.
Bobby Beachy, who signed the ticket, said he liked Jezzys Legacy's pedigree.
"It's a great family. Of course, the gentleman buying her, wants to breed her, in Ohio."
Stallion shares brought the next eight highest bids. Captaintreacherous shares sold for $137,000, $135,000, $132,000 and $130,000. A lone Father Patrick share sold for $136,000. Muscle Hill share sold for $127,000, $125,000 and $124,000.
Reid's Preferred Equine — which led all consignors with gross sales of $4,792,800 — sold 108 horses/shares, including the 12 highest priced offerings that went through the ring.
Boni's Northwood Bloodstock was the second leading consignor with gross sales of $476,700 for 18 sold.
"I was pleased. We sold well, I was very happy," Boni said.
Reid said the results indicate the overall strength of the business.
"I appreciate the Midwest participation and it's growing over the years and continues to grow," he said. "Seems like it's going to continue to grow in 2020. I'm happy to see those guys become so active in the game. It's good for the business and it's good for them. I'm thrilled with their enthusiasm."
As for differences from year to year, Reid said the absence of 3-year-olds selling is noticeable.
"We only had about a dozen 3-year-olds," Reid said. "Years ago, with the winter series going on (at the Meadowlands) and maybe the bigger foal crops, there were more 3-year-olds around. That's one section, I feel, it's either a good sign that a lot of the owners that buy them as yearlings and race them at 2 are carrying them over to 3…. Or it could be there's just fewer horses. I'm trying to figure that out, but, despite that, I thought the crowd was very good and the breeding stock sold well enough, the shares sold well enough and I think the racehorses sold very well.
Again, in 2019, 150 horses/stallion shares grossed$4,395,300 for an average of $29,302.
In 2018, 221 horses/stallion shares grossed $6,694,000 for an average of $30,290.
In 2017, 233 horses/stallion shares grossed $6,288,400 for an average of $26,989.
In 2016, 258 horses/stallion shares grossed $5,849,400 for an average of $22,672.
In 2015, 269 horses/stallion shares and breedings grossed $5,971,500, for an average of $23,291.
In 2014, the gross of $5,971,500 for 234 horses/stallion shares produced an average of $25,519.
In 2013, 206 horses and stallion shares grossed $4,549,600, an average of $22,085.
"It's a good time of year to start planning. We'll start strategizing when our next mixed sale will be here. It's either going to be spring or summer. We'll definitely have one here," Reid said. "We might fool with the timing a little bit… sometimes it's Meadowlands Pace weekend, sometimes we've had it when it's Hambletonian eliminations weekend. We're going to play with it, but we'll be making some announcements soon.
"Tattersalls, as a sales company, appreciates everyone for coming here today."