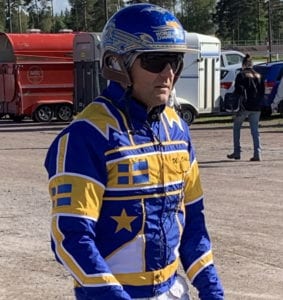 by Thomas Hedlund
Swedish driver Ulf Ohlsson won the most races in Europe 2019, at least in races in the sulky. Ohlsson's 314 victories put him highest on the podium, even if France's Eric Raffin noted 345 wins during last year's program. Sixty of Raffin's victories came under saddle and he got help from 100 different trainers to be the best in France. Sébastien Guarato, Philippe Allaire and Jean-Michel Baudouin were the most important trainers for him in the chase for number one spot.
World champion driver Ricke Ebbinge from The Netherlands was best in his home country and ended 2019 with 76 victories.
In summary, European drivers are still not close to reaching the number of victories that North American drivers record year after year.
Best drivers in Europe 2019, by wins
Country — Driver — Wins
Austria — Gerhard Mayr — 63
Belgium — Kristof Depuydt — 94
Denmark — Birger Jörgensen — 248
Finland — Santtu Raitala — 279
France — Eric Raffin — 285
Germany — Michael Nimczyk — 161
Hungary — Veljko Mazsity — 33
Italy — Antonio di Nardo — 296
Malta — Rodney Gatt — 89
The Netherlands — Rick Ebbinge — 76
Norway — Eirik Höitomt — 228
Sweden — Ulf Ohlsson — 314
Bazire tops trainers
Jean-Michel Bazire dominated among the trainers in France and his winter meeting in Paris 2018/2019 was something extraordinary. Bazire's horses performed on top during the whole winter and the Prix d'Amérique victory with Belina Josselyn was in many ways significative for his season at the tracks. Several major stakes races were conquered by Bazire and his stable also suffered a tragedy when star trotter Aubrion du Gers (runner up in Elitloppet at Solvalla in May) was killed in a training accident at Bazire's farm in July.
Bazire's stable made 948 starts in 2019 and 219 of them ended in the winner's circle. His horses earned approximately $7,950,958 in 927 attempts.
Timo Nurmos was the best trainer in Sweden in 2019. From 757 starts, he had 210 wins and $3,890,326 in earnings, which was enough to keep runner up Robert Bergh in safe distance on the list.
Bilibili tops in Prix du Calvados
The $145,000 Prix du Calvados was held for monté trotters in Paris on Sunday (Jan. 5) and Bilibili, last year's winner of the $723,000 Prix de Cornulier (the biggest racing under saddle race in the world), showed great condition when he claimed the victory in mile rate of 1:57.2 over 1.7 miles.
Alexandre Abrivard sat in the saddle and the duo had to travel a pretty tough road before the victory was sealed. Bilibili traveled three wide almost all the race, but still, he had power to catch leader Bilooka du Boscail in time before the wire.
Bilibili pushed his lifetime earnings to over $1,650,000 and he will be the one to chase when $723,000 Prix de Cornulier is scheduled at Vincennes on Sunday Jan. 19, the week before Prix d'Amérique.
Elitloppet winner tries Paris
The last of four B-races ahead of Prix d'Amérique later this month is scheduled in Paris on Sunday, Jan. 12. The $121,800 Prix de Belgique has attracted 15 trotters and among them, last year's winner of Elitloppet, Dijon, will make his first attempt in the preparation races before the main gig happening on Jan. 26.
Dijon made two starts in France after the big victory at Solvalla in May last year and the 7-year-old son of Ganymede hasn't raced since the end of July, 2019. The established quick front runner is more used to autostart than the French volt system nowadays and Sunday's start might be an indicator that trainer and driver Romain Derieux are really aiming for the PdA 2020.
Prix de Belgique
2.850 meters
Horse – Trainer
Alcoy – Vincent Martens
Epic Julry – Jean Paul Gauvin
Estola – Emmanuel Ruault
Excellent – Laurent Claude Abrivard
Detroit Castelets – Jean Luc Dersoir
Looking Superb – Jean-Michel Bazire
Enino du Pommereux – Sylvain Roger
Delia du Pommereux – Sylvain Roger
Tony Gio – Sébastien Guarato
Davidson du Pont – Jean-Michel Bazire
Erminig d'Oliverie – Franck Leblanc
Dijon – Romain Derieux
Carat Williams – Sébastien Guarato
Uza Josselyn – Réné Aebischer
Belina Josselyn – Jean-Michel Bazire
Undefeated super mare quits
Five-year-old Norwegian-bred Hillary B.R. (Muscle Hill) made 15 starts in her racing career, and won all of them. The Geir Vegard Gundersen-trained mare was in many ways the new star in Norwegian harness racing business, but unfortunately, an injury stopped her from continuing racing.
"I was very optimistic regarding her injury that she got last year and I really had a hope on that she would be back at the tracks. But now I'm not that optimistic anymore," said Geir Vegard Gundersen to Norwegian media tgn.no last week.
Hillary B.R. was undefeated in 15 starts and won the highest staked races in Norway as a 3-, and 4-year-old. She earned $440,000 and noted a record of 1:52.2 over the mile. Her first partner as a broodmare will probably be a French stallion.
"The fact that Hillary B.R. is 5-year-old is positive for her new career," said owner Arne Sandbaek Jr to tgn.no.
Sandbaek said he hopes that he can pair Hillary B.R. with either Ready Cash, or his son Face Time Bourbon.