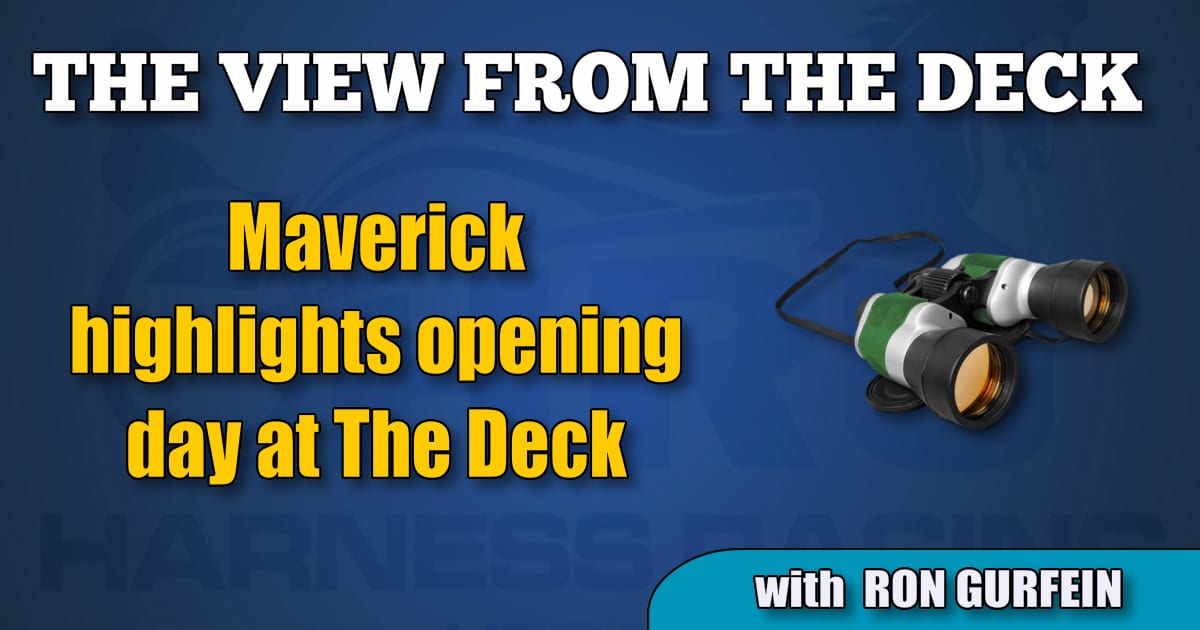 Maverick highlights Opening Day on The Deck
Babies start taking to the oval at Sunshine Meadows in Florida.
by Ron Gurfein
It felt wonderful to get out early Saturday to watch the new residents of Sunshine Meadows go through their morning works.
At this time of the year I equate the first trips around the oval to watching grass grow or waiting to see a parking meter violate itself. However, no matter how you want to look at the early reports, it's nice to see some of the high-ticket items looking like money in the bank.
With pacing horses it is very hard to tell much till they start going very fast, or better yet, beat somebody in a race. Trotters on the other hand are by far more likely to catch my eye early on. Can I tell a world champion in January or February? Most likely not, but I can tell which ones have a chance and which ones don't.
Jimmy Takter all decked out in training gear was a pleasant surprise and seeing him train the only two trotters that I selected for Lindy Farms this year was entertaining. Being the proud daddy that I am, they both looked wonderful. The first was Creedom, a Swan For All filly the first foal out of the Muscle Hill mare Cree sold by Peninsula Farm for $95,000. The second was Goodashim Hanover, A Cantab Hall colt from Gala Dream and thus a full brother to Father Patrick and Pastor Stephen, purchased from Hanover for $240,000.
A pacing colt by Captaintreacherous, first foal from Pink Terror and the family of Worldly Beauty, rounded out the morning in fine style. Purchased from Hunterdon Farm, agent, for Myron and Stephanie Bell, the youngster marched home with Domenico Cecere in the cart. Purchase price $150,000.
The Tony Alagna Show didn't disappoint. Home to Maverick the $1.1 million highest priced yearling of all time, he looked fabulous walking a mile in 2:50 about a 2:30 shot at the Meadowlands or any track with a normal surface. He is a full brother to 3-year-old trotting colt of the year Greenshoe.
I asked Tony who else he thought was outstanding, aside from Maverick, and he added:
• Odds On Roxette a Captaintreacherous filly from Teenage Paige, purchased by Dana Parham for $130,000, a sister to Agent Q.
• Plaid And Pearls, a Father Patrick filly from Domestic Diva, purchased by Daniel Plouffe for $390,000. She is a sister to Modern Family and the second dam had Maven and Lanson, two real special horses.
• Beach Front Babe, a Betting Line filly from My Little Beach bought by Caviart Farms for $95,000. She is the first foal of a sister to the $2.3 million wining My Little Dragon.
• Captain Le Blanc a Captaintreacherous colt from Evelix AM bought by Brad Grant for $50,000 from the immediate family of Deliquent Account.
Others that caught my eye were:
• Roberts Hanover, a Cantab Hall colt from Rule of Hall purchased by Alagna himself for $45,000. I personally loved the colt from the immediate family of Muscle Hill.
• Warawee Will looked like a $200,000 colt should look. Myron Bell signed for him for The Captains Court.
Unfortunately, the Coleman Stable dislikes early publicity. Therefore, I am forced to wait on alerts from Mr. Herlihey in order to properly report their progress. That will be available shortly, as will the rosters of all the stables. Hopefully in the next few weeks.
I did see a beautiful Swan For All 3-year-old fully owned by David McDuffee with a big fabulous gait go a mile in 2:24 last half in 1:10. She was a $135,000 yearling that David said was the highest price ever for an Indiana bred. Evidently, she got hurt as a 2-year-old and has relocated to the Peter and Melanie Wrenn barn. She looked awesome getting over the ground like a swan (don't beat me up for that, sometimes I can't help myself).
McDuffee was lamenting the loss of year-end honors for his Papi Rob Hanover and I could not agree with him more. Plently to discuss next Friday as Ask The Guru dissects some of the oddest votes I have ever encountered. DONT MISS IT.
Please take note View from The Deck will only appear every other week during the winter just to keep it fresh. Have a wonderful week.