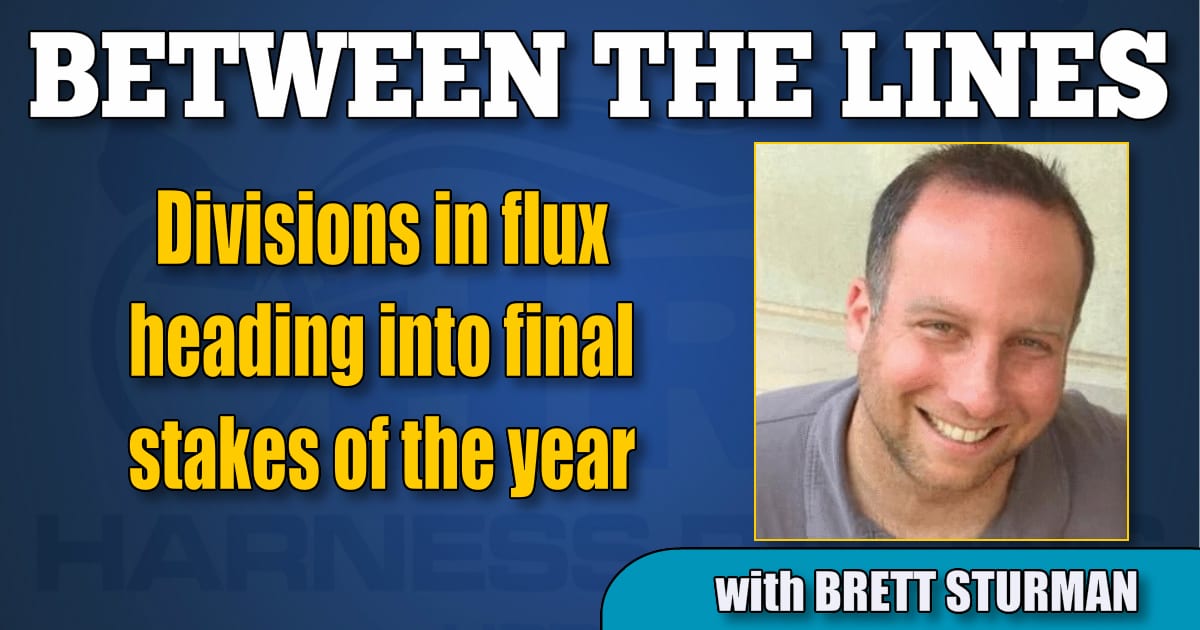 Divisions in flux heading into final stakes of the year
by Brett Sturman
Traditionally divisional and year-end honors come down to the Breeders Crown, but this year there's still much to be decided heading into the latter stages of November. Due to a series of upsets in Breeders Crown races last month that provided little clarity in many of the divisions, the TVG Series Finals, to take place at the Meadowlands next weekend, could have a final say in determining Horse of the Year. That same night, the Fall Final Four races for 2-year-olds could still influence the outcome of the freshman divisions.
Beginning at the top, Shartin has been the top-rated horse for every single week this year in the Hambletonian Society/Breeders Crown poll and if voting were today, she would win Horse of the Year and do it rather comfortably. But, at this time, there remains four other horses in addition to Shartin that have garnered at least one first-place vote in this week's Top 10 poll. Most interestingly are big late seasons surges from Warrawee Ubeaut and Manchego. The thing with the TVG races is that they provide unique year-end scenarios where conceivably 3-year-old colt Bettor's Wish could take on older horses, 3-year-old filly Warrawee Ubeaut may take on older mares, and similarly, Manchego may give it a go against males in the TVG open trot. Wins from either of those three would be huge resume enhancers and depending on how other races shake out, a TVG win could vault potentially any of them all the way to the top.
Controls own destiny: As has been said, the 6-year-old pacing mare Shartin has reigned atop the leaderboard all season. She avenged her defeat in the Breeders Crown to Caviart Ally when she won earlier this week at Dover over that rival, and indications are that she'll race next weekend in the TVG mares pace. If she races in and wins that race, she'll be Horse of the year no matter what else happens. If she doesn't, her hold on the top spot isn't a foregone conclusion. The fastest mare of all-time by virtue of her 1:46.4 win in August, she has 18 out of the 35 first-place votes. With just about half of those votes currently to other horses, more could slip away based on outcomes next weekend. The only possible knock is that there was chatter earlier in the year about her taking a shot against the boys and that never materialized. I'm sure that a sickness she went through had something to do with that, and it would have been memorable to see her stacked up against the likes of McWicked. Overall, though, her season can be categorized as sensational and she'd be a deserving Horse of the Year if it ends up that way. A win next week gets it done.
Needs help: Everyone else's hopes for Horse of the Year are entirely dependent on Shartin losing in the TVG mares pace, but there are available paths for others should that happen. Beginning with Bettor's Wish, his resume is comparable to Shartin's in terms of his consistency. Through 17 starts (same as Shartin), he's won 12 and finished 2nd the other five times. He's been a bit of tough luck horse considering that all his defeats have come by the narrowest of margins and all in stakes finals after he won eliminations the week prior. At the time of this column being due, he was set to race later Thursday evening at Dover in the 3-year-old Matron, a race he'll be heavily favored to win. If he were to win the Matron as expected and then follow that up with a win against seemingly more seasoned open pacers, he'd could lay an awfully good claim to move up from his current spot at #3. With a single first-place vote as of now, he'll get a lot more attention with a win in the TVG.
Ranked 4th in the current poll with four first-place votes, Warrawee Ubeaut was the only one of the top-rated horses to win in the Breeders Crown. She's now won eight in a row and is another that races later in the Thursday card at Dover in her Matron stakes for 3-year-old fillies (Editor's note: she finished fourth). Provided that she can beat familiar foes, a date against older pacing mares in the TVG – including Shartin – is a next-up possibility. If she were to close out the year with 2 more wins to make it 10 in a row, including what would have to be monstrous effort to beat Shartin in the process, she would be given very serious consideration as the new #1.
To a lesser extent, Manchego enters the waning weeks of the season in career form. Though she's lost half of her 16 races this year, she's currently on six-race winning streak and has been relentless in nearly all of those wins including that 1:49 mile in the Allerage at the Red Mile. It's hard to say if a win against the open male trotters in the TVG would be enough to take her all the way to the top, but it's clear that she has a ton of momentum on her side. On the topic, a reader recently pointed out to me that I omitted Atlanta in a recent column when talking about older mare trotter. I unintentionally did, but I think that speaks more to the tale of two seasons that those rivals have had. There's no question that Atlanta was her dominant self earlier in the season and perhaps their overall body of work is comparable, but Manchego has been in a world of her own the second half of the season. Things could get interesting if she were to win the TVG open trot.
Needs a miracle: The horse not mentioned thus far is the one who sits closest to Shartin in the current poll. With 11 first-place votes, Greenshoe isn't that far off Shartin. He's been the most electrifying horse this year, but his three losses have come in three of his biggest races. With his season and career now over, at the very least he would need all of the above horses to lose for him to move up. And even that may not be enough, which is too bad considering how quick the career went of one of the more talented trotters seen in memory.
Fall final four: The $401,850 Governor's Cup drew only six horses, though one of them is Papi Rob Hanover who likely contributed to scaring away more than a few would-be entrants. Assuming there's no surprises and he wins the Governor's Cup, it will be interesting to see how close things get between him and Tall Dark Stranger. Tall Dark Stranger is sitting out the Governor's Cup presumably with what his connections consider a cinch for divisional honors, but a win from Papi Rob Hanover would make things closer than first expected and makes that Breeders Crown disqualification the defining moment in their battles this year.