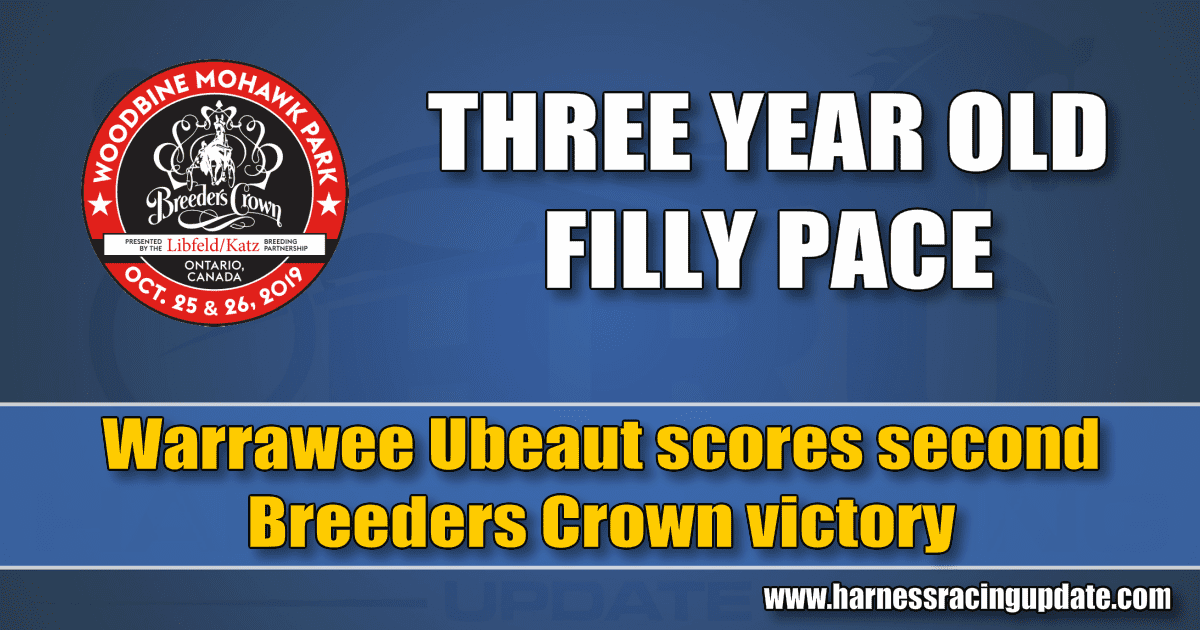 Warrawee Ubeaut scores second Breeders Crown victory
by Frank Cotolo
Warrawee Ubeaut designed back-to-back Breeders Crown victories, this time as a sophomore at Woodbine Mohawk Park, winning the $720,500 Breeders Crown for 3-year-old pacing fillies on Oct. 26 in 1:50.2.
Yannick Gingras guided the 1-5 favorite trained by Ron Burke.
The speedy daughter of Sweet Lou—Great Memories (Sweet Lou was also trained by Ron Burke), left smoothly behind the early foot from Stoneridge Soul (Tim Tetrick) from outside post 8, but quickly challenged by Treacherous Reign (Dexter Dunn) with a burst of speed of his own from the inside.
Dunn tried to keep Treacherous Reign on the lead after the brief duel and cut a :25.3 first quarter when settled, though not for long, because Gingras steered Warrawee Ubeaut first over to pursue the lead. Gingras took his filly to the top with a firm brush and cut a brisk :54.4 half as Stonebridge Soul took a few steps ahead of Treacherous Reign.
After that shuffle, Treacherous Reign returned into the second spot as Stonebridge Soul became trapped in third in front of the anxious threesome of Sunny Dee, Tall Drink Hanover and Beautyonthebeach, each preparing to use the best of what they had left in them to catch Warrawee Ubeaut.
Warrawee Ubeaut, however, was full of pace. She cut three-quarters in 1:23.1, tossing off the very idea of being challenged. Gingras sat back and his charge showed once again why she was the best in the division through the long stakes season.
Still in full stride, she crossed the wire in 1:50.2 for her second Breeders Crown championship.
Tall Drink Hanover was next best, paving her way from the outside mid-stretch, while Stonebridge Soul got the show spot.
The win was Warrawee Ubeaut's 19th as a 2- and 3-year-old. With the 2019 Breeders Crown championship, her earnings were boosted to $1.68 million.
Warrawee Ubeaut is a local filly. She was bread by Warrawee Farm, just a gallop or two away from Woodbine/Mohawk Park. Her caretaker is Jennifer Thomas.
Burke Racing Stable LLC, Phillip Collura and Weaver Bruscemi LLC own her in partnership.
"She was much the best and she is so sharp right now," said Gingras, adding he had to go to the lead but was concerned about the move at first. "Then she relaxed in the third quarter," he said, "and was fine [holding the lead]."
Burke said he thought the race was going to go exactly as it did.
"We didn't see Stonebridge Soul leaving that hard but Yannick did a good job getting in and [getting the filly] settled," Burke said. "He knew when they were going to take a break in the second quarter and move into it."
Burke, who led Warrawee Ubeaut to her championship freshman season in 2018, said she is "an incredibly strong and talented filly" and has always had "high speed" on her side.
He admitted that having consecutive winning seasons is tough, but said, "She's one of the better 2- and 3-year-olds ever. She's the whole package. It's hard to repeat, for sure. I'm proud of her. That's back-to-back years on two terrible nights [of weather] that she overcame. I think she's doing everything we could ask of her right now."
Her future is being planned, as well. "I think you'll see she's going to race the aged mares hopefully at the end of the year," he said, "and I think she'll show that she can go with them, too."

Not only that, but Burke said he feels Warrawee Ubeaut will race "at least the next two years, God willing, as long as she stays sound all the way until five" and for one great reason, he said: "She can go faster. One of these days it will set up where somebody cuts huge numbers and she can sit in, just like last year when she went forty-eight, and she'll do something special then. She's just a very special horse."
Tony Alagna trains both Tall Drink Hanover and Treacherous Reign.
"Warrawee Ubeaut has been dominant," Tony said. "She was very good the second part of the season."
In the Breeder Crown final, Alagna said, "Treacherous Reign got stung pretty good getting to the front. I thought the other filly raced great first over. She came first over from fifth, which is very tough to do, especially into a headwind, so I thought it was a great effort for her."
The favorite throughout the wagering, Warrawee Ubeaut paid $2.40 to win.