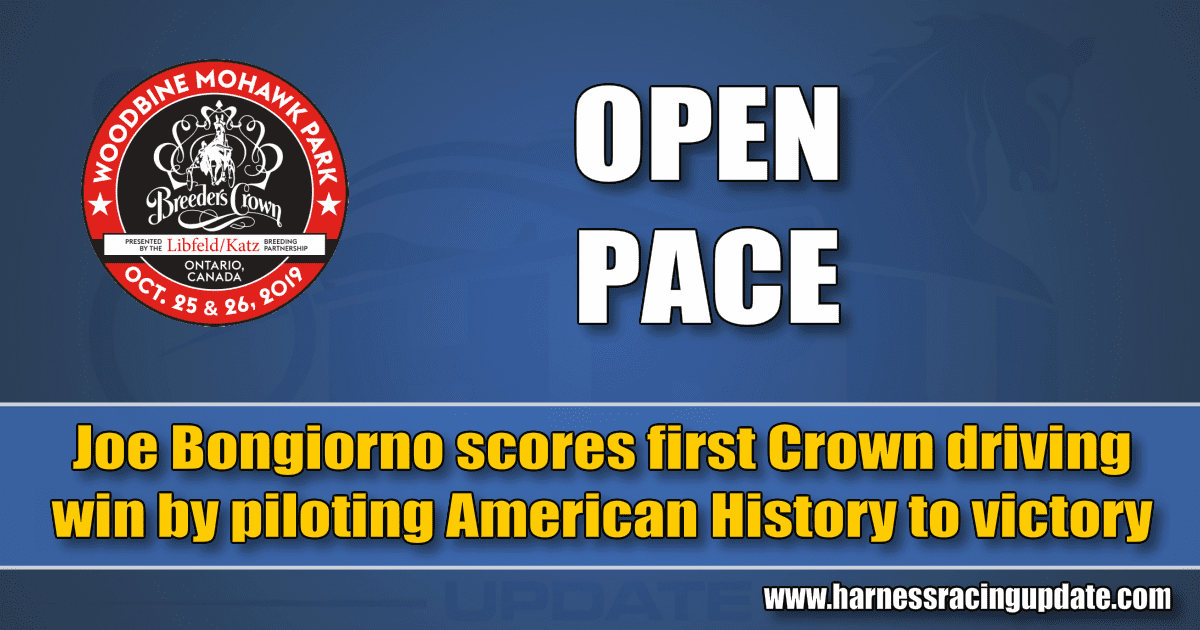 Joe Bongiorno scores first Crown driving win by piloting American History to victory
by James Platz
When the connections of American History ponied up $150,000 three years ago at the Lexington Selected Yearling Sale, they had high expectations for the son of American Ideal—Perfect Touch. Saturday night, the 4-year-old delivered in the $500,000 Breeders Crown final for open pacers, scoring the victory for trainer Tony Alagna and driver Joe Bongiorno in a time of 1:48.3. Dorsorduro Hanover raced second with a hard-charging Always A Prince finishing third. Favorite and defending champion McWicked, steered by Brian Sears, paced fourth.
Making only his fifth trip to the winner's circle in 18 seasonal starts, Alagna said the win at Woodbine Mohawk Park was the culmination of a maturation process that has transformed the Brittany Farms-bred product into a horse capable of beating the best.
"Early in the year, even though he wasn't getting the wins, he was third, fourth with the aged horses and he was putting in great miles and pacing huge last halves. Now he's a mature 4-year-old. He's later in the year and he's going with these guys," Alagna said. "He's showed that he's so versatile; he can do it on any size race track and he's just a special animal. He's finally showing everybody he's the horse we thought he was all along."
Bongiorno, one of the sport's young drivers on the rise, has proven a good match for the stallion. Before the gate folded Saturday night, the reinsman called an audible that turned out to be the move of the race. It set the duo up for a stretch drive where they overtook leader Dorsoduro Hanover, driven by Matt Kakaley, and collected a victory for the partnership of Brittney Farms, Marvin Katz, and American History Racing.
"I totally aborted my game plan behind the gate. I looked over to my left and saw that Scott (Zeron) wasn't leaving with Jimmy Freight. I said to myself, 'If I don't go out of there, I have a feeling these Burke horses are going to line up and they are going to walk around there and I'm not getting put in that situation,'' said Bongiorno. "I took a shot out of there and I was able to seat Yannick (Gingras and This Is The Plan), and I thought I was going to end up being able to stay on the front."
Kakaley moved from third after a :25.4 opening panel to take control, setting fractions of :53.4 and 1:21.3. Bongiorno was happy to sit and take his shot late in the mile with the pacer, cared for by Fiona Reynolds.
"I watched his replay and he was phenomenal last week, so I said, 'He's going to get me to where I have to go and there's a long stretch here.' So, I took my chances," said Bongiorno.
It was a calculated risk, but the late change in strategy paid off handsomely for all connected to American History, as he became the sport's newest millionaire in victory. The win pushed the four year old's career earnings to $1,043,895.
"He's got a lot of confidence in the horse," the trainer said of Bongiorno. "A lot of guys wouldn't have done what Joey did. It was the winning move and it worked."
The victory also continued a big weekend for Alagna and Katz. The conditioner picked up two Breeders Crown victories Friday with freshman filly trotter Ramona Hill and 2-year-old pacing filly Reflect With Me. Katz was part of the partnership behind freshman pacing colt final winner Tall Dark Stranger. Victories on one of the sport's grandest stages are not new to Alagna and Katz, but a Breeders Crown triumph is a breakthrough moment for Bongiorno.
"What a thrill. To win a Breeders Crown at my age, you know, it's not even something that I dreamt of, to win a Breeders Crown in the aged pace," said the 26 year old. "It's a thrill and to do it for Tony, it's even that much more special. I'm just so thankful."

The race marked a disappointing finish for McWicked, 2018 Horse of the Year and defending Open Pace champion. However, after the race trainer Casie Coleman said multiple factors led to the ageless wonder coming up short Saturday in a bid to add a third Breeders Crown trophy.
"He had to leave hard out of the outside post, 25 (seconds) and a piece, and ended up first over again and Brian said that headwind is pretty strong out there. He raced good, that's just a big mile in a big headwind first over into it," she said. "He also hit his tendon tonight, which he's never done before. I don't know why, but that's going to cause him to slow up a little bit too. That's new for him. He doesn't wear any boots and he usually doesn't hit, so I'm not sure why he did that tonight but he did. That's obviously going to falter him a little bit also. Obviously, I'm disappointed he didn't win but with an outside post and the headwind, the conditions, I thought he raced good enough. Now knowing that he hit that ankle, he'd be affected by that a little bit."