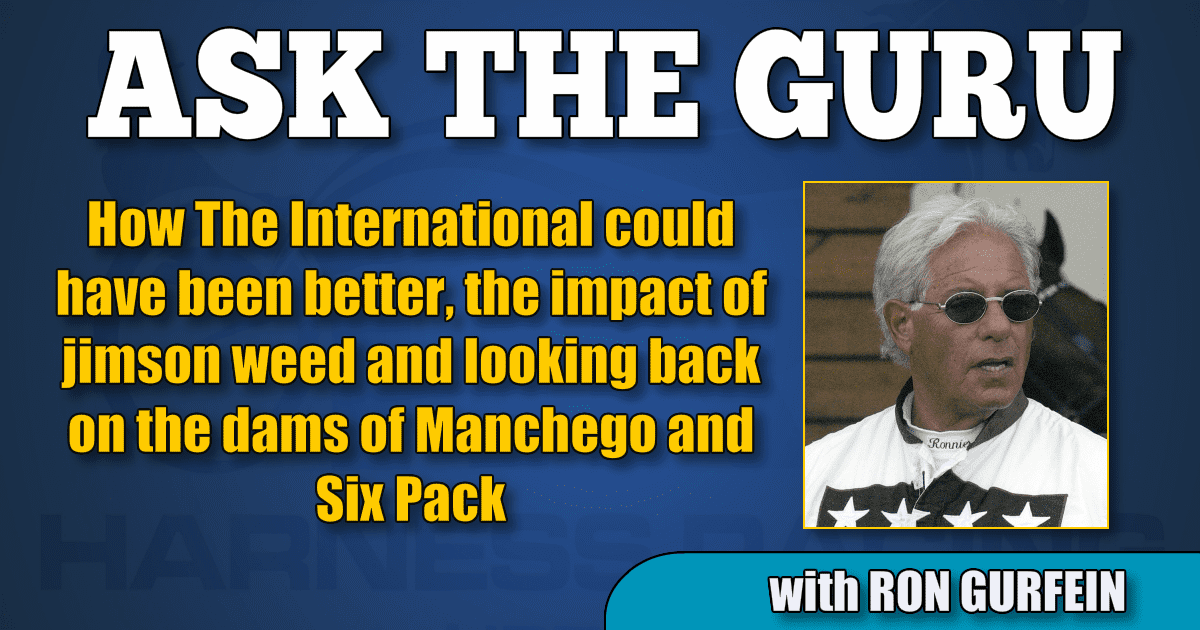 How The International could have been better, the impact of jimson weed and looking back on the dams of Manchego and Six Pack
by Ron Gurfein
Tidbits: The judges' mental lapse at the Yonkers International Trot could have caused an international incident.
What were the judges doing for the almost 10 minutes that lapsed while the celebration of Zacon Gio's connections in the winner's circle proceeded and the announcement that there was an inquiry. It was evident to this writer that the party on the track was never phased by the announcement most likely because of the language barrier.
In my 60-plus years in the business I have never witnessed a stranger occurrence.
I am only thankful there was no disqualification.
The difference between the coverage and the pomp and circumstance of the Roosevelt International and the Yonkers version are light years apart.
I like Frank Drucker a lot and feel he is well spoken and very knowledgeable, but he is so relaxed with a microphone in his hand he makes the presentation much too down home and matter of fact. Then after the race he interviewed the winning trainer and driver and never asked about the interference inquiry. In the debacles at the Kentucky Derby and the Haskell, the announcers covered the inquiry almost too well.
I still can't believe they never bothered to show the replay of the troubling incident.
The morning line for the race brings up another question. How can the morning line maker in a $1 million race be soooooooo wrong. Zacon Gio was tied with two others for sixth choice in the morning line. He was undefeated this year with eight in a row and wins in 11 for his last 12. The announcers said he had never left Italy but never explained that all his races were not indigenous Italian events. In May, he raced in an open event in Italy for $375,000 and defeated FaceTime Bourbon a top European horse. The betting public was not fooled by the 8-1 morning line sending him off at 1-1.
The International hopefully had a world-wide audience and there is truly a language barrier. Why the announcer at Yonkers chose to waste words editorializing on drivers and other nonsense when there were 10 horses in the field and it would have been nice if he informed the patrons of the position of their horse.
I was educated by truly one of the best, my late partner the golden voiced Max Brewer who was determined to make me an announcer (to no avail). The first lesson in his repertoire was that you must mention every horse at the quarter, half and three quarters. NO EDITORIALIZING COMMENTS… They take up precious time.
Eric Cherry posted on Facebook he thought that the $1 million Yonkers International money could have been better spent in other ways that would prove of more value. There were many that thought he was wrong, but after watching every minute of the amateurish presentation in comparison the elegant show at Roosevelt Raceway in years past I would understand his point. However, I would not jump to eliminate the race. Instead I would change the presentation completely. The Meadowlands has great personnel in their television department but when it comes to their signature event the Hambletonian they bring in real professionals like Gary Siebel or Dave Johnson. It would be smart if the new Yonkers management learned from the Big M and hired accordingly for their world famous race. While on the subject, it would also be nice to have some network television or at least TVG, as the quality of the image on the Yonkers simulcast is less than good.
* * *
Congratulations to George Napolitano for win number 10,000. You're fabulous at what you do.
* * *
Interestingly, Woodbine Mohawk Park have taken a page from the thoroughbreds and made the Breeders Crown a two-day event. I like it much better that way as it highlights all the champions in a better light not by the dozen. It will prove to be trainer torture next Friday as some important smaller races are carded at The Meadowlands, Hoosier Park, and Harrah's Philadelphia. There will be a lot of new faces in the sulkies on that evening.
* * *
I recently read an article in NBC Sports on the Baffert positive that was purely environmental. I have written about this before and will not be repetitive but there was a very interesting point made by Bob Baffert's feed supplier Larry Bell a third generation supplier, that I thought was worth mentioning. "The culprit in this case is called jimson weed, an invasive foul smelling plant that grows aggressively among plants harvested for horses' feed. It's a hearty plant almost impossible to get rid of. Plow a field the first thing that comes up is jimson weed. Burn a field first thing that comes up is jimson weed. They are small in number but impossible to get rid of. You would have to inspect every inch of the field on foot. That is why my supplies unavoidably contain the weed."
Dr. Tom Tobin a very good friend of mine, a veterinarian and world famous PhD pharmacologist at the Gluck Equine Research Center at the University of Kentucky, considered one of the pioneers of equine drug testing, was co-author of a jimson weed study. He said of the matter that the concentration was a little high but could have been caused by the PH of the urine at the time. Dr Tobin also brought attention to the fact that this was what is called a cluster (when more than a few positives appear at the same time) in this case seven. Add to that the fact that another drug was also present (atropine) in all the horses that were positive, "This is consistent with a finding of environmental contamination," he said.
We face similar problems in our sport, it's to bad that we don't have a Dr Tom Tobin to rectify matters.
* * *
I am about to write my 100th Ask The Guru column, that in the beginning Dave Briggs and I wondered if it would work at all. Something you don't know, is that very often I get notes of praise from my editor that always brings a smile to my face.
Believe me, if it wasn't for that faith and the great thought-provoking questions you have sent to me, the success of this column would have been short lived. My sincerest appreciation to HRU and to you my readers.
Paul Shelton asks: Last week you applauded the performances of Manchego and Six Pack. I am aware you trained both their dams, could you please tell us about them?
Both mares as race fillies were completely opposite. Manchego's dam Secret Magic was small and quick. She had a better pedigree being a sister to Possess The Magic, a million-dollar winner and Breeders Crown champion at two, defeating the prominent filly of her day Pampered Princess. She also had more ability on the racetrack than Pleasing Lady the dam of Six Pack who was a very large filly that could trot fast for 15/16 ths of a mile. Both fillies earned almost $200,000, but Secret Magic got a record of 1:54f which was the track record at Harrah's Philadelphia at the time. Pleasing Lady was an underachiever at 1:56f.
It's interesting how when you are purchasing yearlings you let these past experiences guide your decisions and they really shouldn't. I would never have bought a foal from Pleasing Lady because of past history, but I learned a great lesson buying Continentalvictory. I was told by many, including Jan Johnson the trainer of her dam Intercontinental, that she was very slow. Thank God these stories reached me after the hammer fell. You all know the rest of the story.
Joel Kravet asks: I find the current era of yearling buyers short on patience and long on capital. Europeans seem to let a horse mature before expecting to see his best performance. Their reward is older racehorses of high caliber. Is it possible to turn out a 2-year-old and not race at all and bring him in as a 3-year old and have him be competitive with 3-year-old stakes horses?
First of all, you are comparing apples and oranges. European Racing is geared to older horses There is little financial opportunity for 2-year-olds on the continent.
At two in the U.S., you have around 35 per cent of the stake money.
I do agree that the longevity of our horses is severely stunted by the speed of the 2-year-olds today, but unfortunately, it's a hole we have dug for ourselves. The amazing speed of Greenshoe at 2 never did him in because his fractious attitude shortened his early career that turned out to be a major plus to his soundness this year. His female counterpart, Mission Brief, crucified her career with crazy speed at two.
Please take note that all horses are different, but the bone density in all 2-year-olds is far less than it is at 3 and older, so fast times at two represent a great deal of stress on their limbs. As far as buying a yearling and not racing till three I am sure it is possible but not advisable from my experience. With the speeds that horses are going today, missing a month at two makes catching up very difficult. Missing a year leaves a mountain to climb.
Thanks again for all the kind words. Don't miss the fabulous show from Mohawk this weekend and best of luck to all the starters. Special thanks to Dr. Bridgette Jablonsky and Jim Simpson for making my visit to Hanover Shoe Farm Tuesday a wonderful experience. They have some great horses selling in Harrisburg. It was so difficult to buy a horse in Lexington I feel there is a ton of underbidder money left on the table and we could see some more records fall.
Have a wonderful week.
Have a question for The Guru?
Email him at GurfTrot@aol.com.