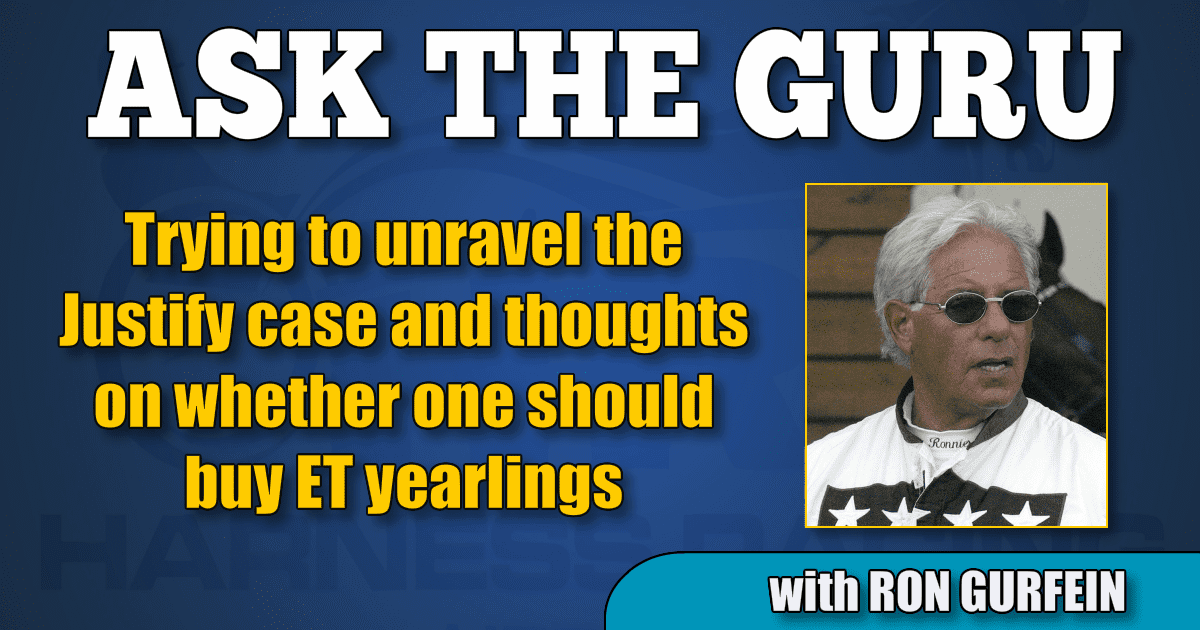 Trying to unravel the Justify case, questioning the judges at Century Mile and thoughts on whether one should buy ET yearlings
by Ron Gurfein
Tidbits: Let's believe for a moment that professionals that write to me in regard to a particular situation are all sincere and are educated in the area of their comments. If this is true, then when it comes to decisions involving positive tests WE ARE LOST.
Since the story appeared last week that Bob Baffert received a scopolamine positive after Justify won the Santa Anita Derby, I have received many letters from veterinarians and professionals defending Baffert. Dr Clara Fenger said on local TV that "there is zero chance that anyone would give that to a horse before a race."
Dr. Stephen Reed from the world class animal clinic Rood and Riddle said there are way too many side effects for a drug like that to be considered a performance enhancer.
Now, just when I am totally convinced I have a grasp of the situation, I received the following letter (I am omitting some of the small talk that is not pertinent):
"I am an anesthesiologist and I can tell you in no way were detectable scopolamine levels a product of contamination. Drug must be injected intravenously for proper action. Additionally, very doubtful detectable levels could be achieved by oral injection from a plant product. If taken to court none of claims of contamination would hold up. Drug is a cholinergic, which dries up secretions and reduces airway resistance. Pure performance enhancement. The sport should clean itself up before outside forces start to do it, i.e.: the federal government."
What's right and what's wrong, I do not have the expertise to answer but I will say that if you read between the lines the above letter seems to be written by someone with an axe to grind. How can anyone say that it is "impossible" for our tests to find detectable levels of any substance without proper experimentation. I also find that in an instance when the positive tests number as many as six in a short period of time that contamination is the only logical answer. What I am sure of is that clarity and a speedy solution to the matter is of great importance.
To my good friend Jimmy Takter, I wish you a full and speedy recovery from your spinal surgery next week my thoughts and prayers are with you and your family.
How about the Yannick Gingras show Sunday at Red Mile. Eight $250,000 Sires Stake Finals. He won four and finished second , third and fourth in eight attempts. Not bad for the rising star.
Greenshoe and Bettors Wish continue to show they are very special. And speaking of rising stars Gai Waterhouse and Catch The Fire were impressive in the 2-year-old pacing ranks. Brad Grant May have another budding star in his arsenal of top horses, the Drew Monti driven Put To Right 109-1 from post 10 finished a fast-closing third in only his fourth stake attempt with a blistering :26.3 last quarter… Stay tuned.
Congratulations to Dr. Bridgette Jablonsky and Hanover Shoe farm for landing Greenshoe in their stallion barn. In this writer's opinion, he will prove to be the fastest trotter of all time. With his innate ability and his fabulous pedigree he has a good chance to be a great sire. I remember my conversation with Dr. J at the Hambletonian this year and loved the way she spoke about how talented Greenshoe was comparing his gait and speed to that of a pacer. I, too, have been a fan from his first qualifier and wish all involved good luck for the rest of his career.
The 2-year-old trotting stakes at Mohawk threw a bit of a tilt in the yearling sales market. The Peaceful Way was won by a Donato Hanover filly and the William Wellwood was won by a Royalty For Life. The Donato filly was the favorite and the Royalty For Life was the third choice so it's not like they weren't well respected.
Shows there is always hope buying outside the mainstream. Note: the filly was a $52,000 purchase by Linda Toscano and the colt was a homebred.
Dennis Fawcett asks: Ronnie please watch the replay of Century Mile's 9th race (the $150,000 Don Byrne Memorial on Sept. 15 — https://www.cnty.com/centurymile/live-stream/ – select replays, Sept. 15 and race 9) and tell me what you think of the stewards decision?
The disqualification was ridiculous. There is a rule that states you can't score ahead of the gate but that really wasn't the problem. There was little or no gate in front of the horse. First of all, it was a six-figure stake race where prudence should prevail. That said, it looks like the starter lost his way. When you see the head on shot, the one horse was in the two position and still didn't have enough room to have his horse properly behind the gate without hooking wheels with the two horse. Actually, the end of the gate was in the three horse position in relation to the hub rail. When the man said go the 9 horse that was a trailer was on the rail and way inside the one. This will never stand up on appeal no matter how tough they are in Canada. The oddest thing watching the replay from the head on view is the starting car is actually closer to the outside fence than the hubrail. It will be interesting to hear how the judge explains his decision. If it comes down to following the rule about scoring ahead of the starting car he should find another occupation.
D. Romano asks: I know that you said Greenshoe was the fastest trotter you have ever seen, but Mission Brief's 1:50.3 win at the Red Mile five years ago still sticks in my mind. Where do you rate her amongst all the great trotters you have seen?
As far as pure speed is concerned at two and three she was one of the top four and may well be the fastest. The other three being Muscle Hill, Continentalvictory and Snow White.
All three could trot a hole in the wind. Unfortunately, speed is not the only criteria for greatness. Class, heart, longevity and earnings also play a part. There is an old saying quite pertinent here, "It's not how fast you go, it's who you beat."
That said, in my list of greats along with my honey Continentalvictory, I would include, Moni Maker, Mack Lobell and Muscle Hill. My filly consistently beat the boys, Moni Maker beat everyone, and Mack Lobell and Muscle Hill we're both more than dominant.
Paul Augustine asks: I have been looking at yearling catalogues all month and find, to my surprise, a lot more embryo transplants than have been available in previous years. What is your opinion as to why this is happening and whether you would advise buying one?
I equate embryo transplants to trotting hopples. We are more of a business in 2019 than we are a sport so Katy bar the door when something can make us money.
That said, I am far more prejudiced against hopples than against embryo transfer, although I am not fond of them either.
In a perfect world, we would not be faced with either as the purists would prevail. But we have to play the cards we are dealt, so let's discuss the ramifications.
I am a purist and personally feel that the development of a foal's talents or faults are not solely genetic but a combination of genetics and environment. Therefore, when you buy an embryo transplant you are not receiving the whole package. This doesn't mean you can't get a great horse or even a better one, just one that will differ from the true mating.
We are in a tough financial business and anything we can legally do to accomplish success is necessary to employ. I hate trotting hopples but my dear friend Skip Lewis (R.I.P.) asked me to use them on a horse I was training for him that had no chance to make a racehorse at two because of the fact that he severely interfered. That chance was a $65,000 swing from disaster to profit.
Similarly, why shouldn't an owner with a mare a bit too frail to carry a foal or two, yet still healthy with a great pedigree be deprived of a surrogate to carry her baby. It is purely a matter of financial gain.
Why there are so many today is just because the cost of the procedure has become more palatable through the years and has become more readily available to the average breeder. In years past you would only see them at Brittany or Walnut Hall or similar large operations. Would I buy a transfer is a good question. It would depend on a lot of things. The horse, the breeder, and the price. I wouldn't go the limit dollar wise for one, but if I loved a yearling and the stars were aligned I would definitely jump in.
Thanks for all the kind words. Please keep the questions coming in. Great week ahead with the Grand Circuit card at Hoosier Park tonight, as well as continued big Grand Circuit action at Mohawk Saturday evening. That should keep you busy.
Next week a special column dedicated to some insight into my children and what they are up to, I get so many people asking it's time to show and tell, and a new updated version on how to buy a yearling. Have a wonderful week.
Have a question for The Guru?
Email him at GurfTrot@aol.com.