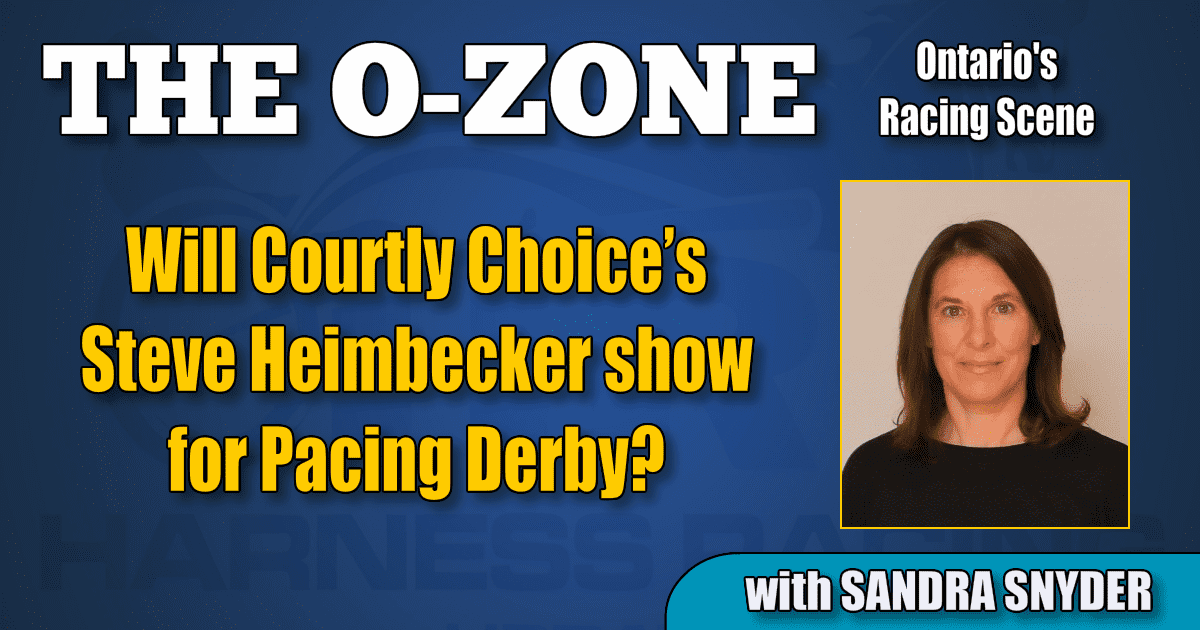 Will Steve Heimbecker show?
The superstitious part-owner of Courtly Choice said it will be a game-time decision whether he comes to Woodbine Mohawk Park on Saturday to see his champion try to win the Canadian Pacing Derby.
by Sandra Snyder | Sponsored by Ontario Racing
Grand Circuit action gets underway in earnest at Woodbine Mohawk Park this weekend with the finals of the Maple Leaf Trot and Canadian Pacing Derby and while Courtly Choice will definitely contend for the Pacing Derby title, co-owner Steve Heimbecker's attendance is more questionable.
"To be determined, can we say that? To be determined," said Heimbecker with a laugh. "You might see me in the stands and I might not be there."
Heimbecker joined the Courtly Choice ownership group at the beginning of the Art Major son's 3-year-old campaign in 2018, but the Conestogo, ON resident was not in attendance for the two biggest wins of the colt's $922,158 sophomore season.
"I'm very superstitious so believe it or not the two biggest races that Courtly Choice won, the Meadowlands Pace and the Little Brown Jug, I didn't go. I know that sounds completely weird, but I'm so superstitious that I was literally on my way to the Jug and didn't have a good feeling and went back home," said Heimbecker, who shares ownership of the 4-year-old with trainer Blake MacIntosh of St. George, ON, Hutt Racing Stable of Malvern, PA, Daniel Plouffe of Bromont, QC and Touchstone Farms Inc. of Guelph, ON. "And as it turns out it's one of the most epic Jugs, probably top three, just the way Courtly did it — with his elimination break at the gate, the comeback to make the final and then to win the way he did — and I wasn't there for it, but I enjoyed it immensely, just on Canadian soil."
While the lifelong harness racing fan certainly enjoys winning races, he might derive more pleasure from interacting with his horses, calling it a form of therapy and a reflective place amidst the bustle that comes from life as an entrepreneur, husband and parent of three.
"I think definitely I'm known for just cruising into the barn and kicking the hay around and saying Hi to my horses, sometimes when people are around and sometimes when they're not. I've been known to have conversations with them too, but those are all privileged," said the owner with a chuckle.
"I love the business. Being around horses of any kind is a real relaxant for me, it's therapy to be honest. If you're fortunate enough to hook onto a good one like Courtly it really just makes everything go perfect, right?"
Heimbecker was introduced to harness racing by his father Fred, who used to take his son to Elmira Raceway in the 1980s. Heimbecker has fond memories of the former half-mile oval and going to the barn to visit horses his father owned. As an adult he continued to go to the racetrack and around 2005 made his first investment as an owner.
"For me it was always a dream, and thankfully after a lot of hard work and success in the business world I was able to fulfill that dream and get involved in some horses. Originally it started with overnight horses," said Heimbecker, who runs a mortgage broker business and a private mortgage company. "In years after that I got more involved and interested in the yearlings, because the Sires Stakes program in Ontario was good — is still good — and I think it's just great to promote the homegrown."
In addition to Courtly Choice, Heimbecker currently owns 25 to 50 per cent of about 25 horses, primarily 2- and 3-year-old pacers, with trainers Blake MacIntosh, Casie Coleman, Tony Alagna and Pat Lachance. While his father has a passion for trotters, Heimbecker prefers pacing colts and says that current 2-year-olds Hushabye (Chapter Seven–Banbury Cross) and Hetalkstoangels (Archangel–J Marie) could be the last two diagonally-gaited horses he owns.
"I can tell you right now, I'm not buying any trotters this year at the sale. They just break your heart, they really do," he said ruefully. "I like the pacing
colts. It's basically the furthest thing away from a trotter, right? And you know what, as a business owner and as an entrepreneur, let's face it the pacing colts go for more money."
While none of them will be trotters, Heimbecker does intend to acquire shares in additional yearlings at this fall's yearling sales. While his involvement was moderate, and at some points non-existent, while he and wife Joanna were raising small children, now that Calum, 13, Carys, 11 and Rori, 8, are a bit older Heimbecker is ready to increase his investment.
"My intent is to get in on every horse that Blake purchases, other than trotters, and the same would go for Casie," he said. "I think I'm going to try and ramp it up a little bit this year and get involved with a lot of horses and hopefully — they're good at what they do — we can pick a good one.
"There's a lot of big races I want to win and hopefully I've got the North America Cup winner in my barn for next year, but if not we'll go and pick the NAC winner for 2021 this year. I would love to win the North America Cup. Winning the Jug was a dream come true, but NAC is home soil, it would be a pretty special night."
If one of this year's 2-year-olds should make the North America Cup final next June, you might even find the superstitious Heimbecker and his family in the grandstand enjoying the moment.
Elsewhere in Ontario
In addition to the Grand Circuit stakes action at Woodbine Mohawk Park, it is a busy Labor Day weekend at Ontario racetracks.
Georgian Downs presents its final card of the 2019 season on Saturday, Aug. 31, with racing shifting back to Flamboro Downs on Tuesday, Sept. 3, and Clinton Raceway wraps up its season on Sunday, Sept. 1.
Clinton's season finale will be highlighted by the 39th annual Charity Drivers Challenge, which has contributed $310,000 to a variety of community groups over the last four decades. This year's challenge will benefit the Royal Canadian Legion branches in Clinton, Seaforth, Brussels and Wingham.
The top four drivers from Clinton, Colin Kelly, Scott Wray, Natasha Day and Ryan Holliday, will go head-to-head with four of the top reinsmen from Woodbine Mohawk Park, Sylvain Filion, Louis-Philippe Roy, Jonathan Drury and Jody Jamieson.
Jamieson has won the last two driver challenges at Clinton and said earlier this week that he will be looking to make it a hat trick on Sunday. Kelly makes his debut in the event this year and was not prepared to be quite as aggressive in his predictions.
"I'm just more excited to be part of it. It would be nice to hook a good bunch of horses and hope we have some luck with the draw, and then it all goes from there," said the reinsman, who moved to Ontario from Nova Scotia three years ago.
"I just hope everyone has a great time on Sunday. It's very nice that everyone comes together to give back to charity, and hopefully they get a great crowd and some good weather and everyone will have a blast I hope," added the diplomatic youngster.
The drivers challenge takes place in the first seven races on Sunday's card, which gets under way at 1:30 pm. The last four races feature the fourth Ontario Sires Stakes Grassroots Leg for 2-year-old pacing colts. Programs for Sunday's event are available here https://clintonraceway.com/programs.
Stakes action Aug. 30 to Sept. 5
Aug. 30 – Woodbine Mohawk Park – Champlain Colt Trot, OSS Gold Series (2fp)
Aug. 31 – Woodbine Mohawk Park – Canadian Pacing Derby & Maple Leaf Trot Finals, Simcoe Colt Pace, OSS Gold Series (2cp)
Sept. 1 – Clinton Raceway — Charity Drivers Challenge, OSS Grassroots (2cp)
Sept. 2 – Woodbine Mohawk Park – OSS Grassroots (3cp)
Sept. 3 – Woodbine Mohawk Park – OSS Grassroots (2ct)
Sept. 4 – Grand River Raceway – OSS Grassroots (2ft)
Sept. 5 – Woodbine Mohawk Park – Peaceful Way eliminations
Ontario handicapping picks
A deep selection of handicapping picks for Ontario racetracks — featuring the talents of Garnet Barnsdale, Michael Bozich and Michael Carter — is available on the Ontario Racing website.