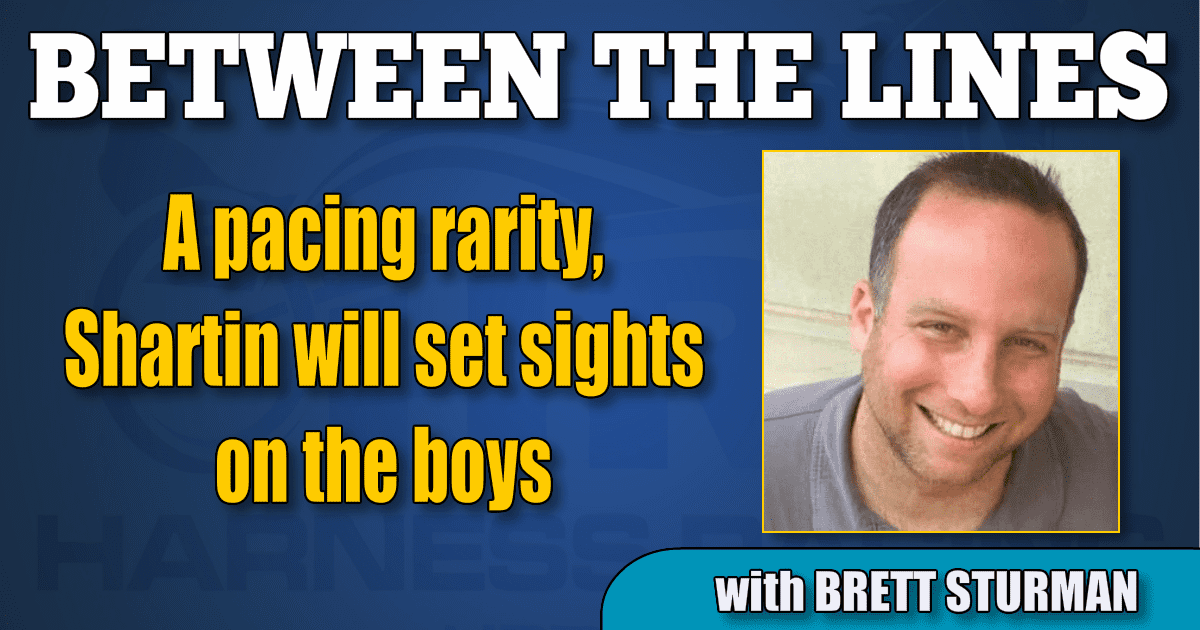 A pacing rarity, Shartin will set sights on the boys
by Brett Sturman
Since her arrival to the Northern hemisphere last year, New Zealand-bred mare Shartin N has reigned supreme in the older pacing mare ranks. That dominance earned her last year's Dan Patch award for older pacing mares while finishing runner-up to McWicked for overall Horse of the Year.
This year, the 6-year-old Shartin (Tintin In America–Bagdarin) has been even better. She was 11 for 12 on the year heading into last week's Lady Liberty, she had been routinely pacing in 1:49 this season as if it were nothing, while only winning by as much as regular driver Tim Tetrick would let her. In the Lady Liberty, under favorable race conditions on Hambletonian Day at the Meadowlands, she paced to a 1:46:4 mile, the fastest ever by a female in the history of harness racing.
Joann Looney-King co-owns Shartin and also trains alongside husband Jim King Jr., and she notes some key differences between their star mare between this year and last.
"She's just an average, good-looking sized mare, but she's stronger now," she said. "She's stronger, bounces back faster, and she's much smarter.
"She's handy now and this time last year she wasn't. When I look at her and Tim (Tetrick), they really have a good partnership. She's handier now, he can pull her out of holes, and he can do a lot more with her. It's a combination of all those things."
Shartin repeated from last year in winning the Lady Liberty, and for King this year's win was especially sweet. "Last year for the Lady Liberty, she also had the 1-hole but there was a trailer and I was worried about it because she still wasn't that handy. She ended up racing okay and got the win, but this year she's just a different horse. And we've been wanting for her to set some kind of record because Tim just let's her win by whatever it takes. Why push and make it hard for her and make her go any faster than she needs to. But I was just really thrilled the other day. Hambletonian Day was the perfect showcase and it couldn't have gone any better."
With overmatched rivals and an all-time record behind her, what should be next for Shartin? Heading into the unofficial second half of the season, Shartin sits atop the Hambletonian/Breeders Crown top ten poll. With 32 out of 35 first-place votes (Lather Up has 3), she has a major edge at the moment for Horse of Year honors. According to King, Shartin's next race is scheduled to be the Allerage at Tioga. She could probably go on for the rest of the year beating the same group of mares en route to claiming year-end honors and it wouldn't diminish her in the slightest. But Shartin has an opportunity to do something even more special.
An older pacing mare taking on male counterparts is nearly unheard of today. While it's commonplace on the trotting side for females to take on and beat males at the highest of levels, it's rarely attempted on the pacing side. Off-hand the only recent instance that comes to mind is Drop The Ball unsuccessfully taking on colts in the 2011 Meadowlands Pace. There have been pacing female successes such as Fan Hanover in the Jug or Handle With Care or Countess Adios, but by that point we're going back 60 years.
Shartin has proven that she's good enough to take on the best male pacing horses around, and from the sound of it she's going to get that opportunity.
Asked if any thought's been given to Shartin taking on the boys, King said, "Oh, it's going to happen. We were invited to the Dan Patch this week. But she's raced two weeks straight in a row and six days apart, and coming off a long trip on the heat, it wasn't attractive to me right from the start just because of that. Would I love to go out there and do that with her? You bet I would.
"But yes, it's coming and we're going to end up racing with the boys for sure one of these days. We've been invited to a few of the male races and I'm pretty sure we can go in any of them that we want to. We're going to give them boys a go one of these times."
If Shartin does come together in a race with Lather Up or McWicked or any other top colts and geldings it would be a win-win situation for her. A win would be historical, and even a loss wouldn't be pinned against her in the eyes of voters for Horse of the Year. If anything, she should earn points regardless for willing to take such a rare shot.
In addition to driving Shartin, Tetrick also co-owns her and King gave the indication that he's all-in for taking on all comers. King speaks glowingly of Tetrick and credit's him as a huge part of Shartin's success. "He has been so good with her and he's a master," said King of Tetrick. "What he has, they just don't make anymore. I'm always very confident when he and her go out there. He's just amazing and she's amazing and I don't know how it can get any better."