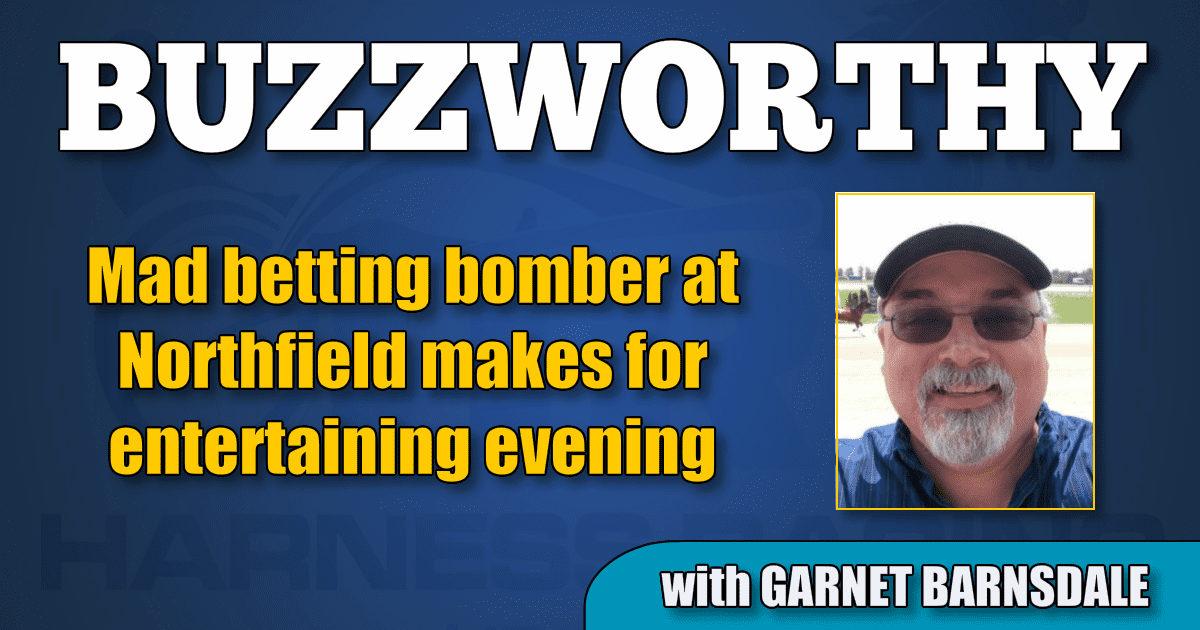 Mad betting bomber at Northfield makes for entertaining evening
Last Friday night, while I was sitting at a stag having just won the laptop I'm using to write this column, I checked my phone to see what was happening in the harness racing world and immediately noticed social media blowing up over some strange – and it seemed not very smart – wagering at Northfield Park.
It seemed that there was a "mad bomber" of sorts betting large sums of money on favorites across the board, and not all of them were winning or even finishing in the money. This led to some lucrative betting opportunities for regulars willing to take a shot against some of these favorites.
The fun started in race 7 where it appeared that a wager of $40,000 was bet to show on the morning line favorite Rockmatic, who left from the innermost post with Tony Hall driving. When Rockmatic finished second, he returned the minimum $2.10 to show to our mad bomber. No harm, no foul and a quick $2,000 made.
It looked like the bomber took two races off, but came back swinging in race 10 as the #2 horse, Brillo Camarillo, finished the wagering period with just over $23K bet on him in each of the win, place and show pools. Although he was 12-1 in the morning line, Brillo Camarillo certainly didn't look like a hopeless longshot, having finished third in his most recent start with wins in his two previous starts to that one. He also inherited the coveted rail post due to a scratch.
He finished third which meant that the mysterious plunger – who likely had bet $20K across the board on the horse – had lost about $38K on this race. That ignited harness racing Twitterverse. Phil tweeted from the Twitter handle @Phil01045843: "Did the computer guys screw up or are those real bets on the #2?"
Former HRU regular contributor Dean Towers (@pullthepocket) replied that the bets were real and some of his followers got in on the act of betting against whichever horse the bomber was hammering at the windows. Buck Swope from the Twitter handle @shottakingtime tweeted out: "Thanks PTP, caught this just in time. Did not even have a chance to look at the PPS but gunned in a Ulysses on #5 to place and show solely based on ML"
Race 11 produced an even bigger loss for the bomber who chose the #7 horse, 3-1 morning line shot My Caroline to lay it in on. When that mare finished out of the money, a $25K win, place, show bet went down the drain and it resulted in some nice payoffs for those who once again took a stand against the plunger, and all you had to do was look to inside posts. The winner, #3 Miss B returned $61.80, $39,80 and $26.50 across the board. Two horses that were 7 to 2 in the morning line followed with #2 Myeyesadoreya paying $14.10 to place and $7.60 to show. The eerily aptly named #1 Bet Er All paid a handsome $12.70 to show.
So, this mad bomber was now in the hole more than $100K. Would that be it? It appeared so when no large bets were made on race 12, but the bridge jumper came back firing hard in race 13 with what looked like a $30K win place and $40K show bet on the #1 Don't Dally Sally, the 3-2 morning line favorite who would be driven by perennial North American leader in wins Aaron Merriman. If the 1-5 could pull off a win, our hero would recoup about $10K of his losses.
But Sally did dally and when she finished off the board, this unknown punter was in the hole for more than $200K in one night. Buck Swope correctly predicted that would be it for the giant plunger at least for this night with this tweet: "Have to think it's lights out party's over for Senor Shot taker after Race 13." There would be no more giant bets at Northfield Park on this night.
There have been cases of some large show bets being made on no-hope longshots to drive up payoffs on logical horses so that those that made the bets could hammer the chalks in offshore accounts that pay track odds. But these large bets on favorites made no sense, especially spreading the money across the board when the sheer amounts would result in $2.10 payoffs in all slots. Why risk more than a large show bet in that case?
We may never know who was making these obviously foolish bets. Perhaps it's an extremely rich person amusing themselves. Or maybe it's just someone that hates money. But for one night, it got the usual suspects from the wagering world on social media buzzing and helping each other to grab a piece of low-hanging and juicy fruit.