by Dave Briggs
Ted Gewertz said his best guess is he has owned nearly 1,000 horses, yet he said he never tires of seeing one he owns storming to victory in a major stakes race.
"I've seen a lot of people in this business, who are fairly passive, and I've seen them get so excited with their horses. I've seen them getting their arms going, trying to simulate pushing the horse," Gewertz said, laughing, admitting that is still how he reacts after all these years.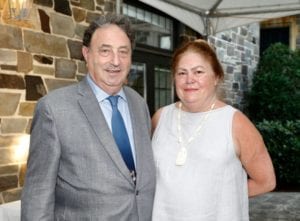 "It keeps you in the business. It really does. (Though) it diminishes some as you get older, because there's no novelty going to the races anymore and you become very picky as to when you go and there are a lot of other factors, including traffic and everything. So, you watch on your phone."
On Sunday in Goshen, NY, Gewertz will become one of the few pure owners inducted into the Harness Racing Hall of Fame. He said he has the horses and trainers to thank for the honor.
"Obviously, the (three) Hambletonian winners come to mind – Giant Victory, Windsongs Legacy and Deweycheatumnhowe," Gewertz said. "I had a whole bunch of Giant (named) horses with Per Eriksson. Giant Force won the International Trot. I always thought the first Hambo (with Giant Victory) was the biggest thrill for a variety of reasons."
Gewertz campaigned Windsongs Legacy, Housethatruthbuilt and Strong Yankee with trainer Trond Smedshammer; Deweycheatumnhowe and Huntsville with Ray Schnittker; Shebestingin, Somwhereovrarainbow, Zero Tolerance, Rainbow Room and Driven To Win with fellow Hall of Fame inductee Joe Holloway and Fancy Filly and Custard The Dragon with George Teague, Jr.
"If you count Strong Yankee, I have nine Breeders Crowns. That's pretty good," Gewertz said, proudly.
The 80-year-old sports-loving Brooklyn native and successful lawyer said he made his first trip to the races in the spring of 1960.
"It was on a date with a girl, whose father sort of went to the racetrack from time to time. At that time, it was the thing to do and I always tell people, if they haven't seen it, to watch the movie The Flamingo Kid with Matt Dillon. In the movie, forget about the details, but at the end of the summer at some beach club in New York or Long Island or wherever it was, they get a tip on a horse and take all of their summer earnings and go to Yonkers and play this horse, and that was fairly authentic in terms of what I remember. They had $10 windows and the horse they bet on looked like Carmine Abbatiello was driving him, he broke mid-stretch, you know, and they lost all their money. That's not the end of the movie, they make it back," Gewertz said.
"In those days, Yonkers and probably Roosevelt, to some extent, had 20,000 during the week and about 30,000 on the weekend. You couldn't even get into the parking lot at Yonkers. You had to park off track, that's what it was like. Once I started going, I went three or four times per week. I lived about 15 to 20 minutes by car after from Yonkers and could make Roosevelt in less than an hour or 45 minutes from the Bronx."
The commute was helped considerably after Gewertz cashed a Twin Double bet that earned him enough to buy a new 1965 Chevy Impala convertible.
He bought his horse in January of 1983 — a 3-year-old Nero mare named Antholena D formerly trained by current racing publicist Nick Salvi. For Gewertz, Anthloena D was trained by Elmer Looney, Jo-Ann Looney-King's father. Looney-King's husband, Jimmy King, was the first person who drove for Gewertz.
Antholena D later foaled one of Gewertz's first horses named for his beloved New York Giants — Giant Defense — as well as 1:51.3 winner Sister Tami.
It wasn't long before Gewertz found himself in stakes company when a group he was involved with called Five Aces Stable, purchased trotting filly Davidia Hanover as a yearling in the autumn of 1983. Davidia Hanover earned more than $1 million and was voted the Two-Year-Old Trotting Filly of the Year in 1984.
"That was the first really good, top horse that I had. So I got used to that part of the business," Gewertz said. "I got an education a little bit, from my participation in there."
Gewertz said growing up in New York City also provided quite an education in both practicing law and professional sports.
He now calls himself "sort of a retired partner" from Wachtell, Lipton, Rosen & Katz, a firm started with seven people in 1965 — just four years after he graduated from the New York University School of Law.
"There were five partners and two associates and now it's one of the most prestigious and profitable firms of its time in the country. It's what we call 'Big Law' here. We only have a New York office, so we're not that big, but 250 or so lawyers. A lot of the big firms have offices all over, but we do a lot of the high-profile stuff, especially mergers and acquisitions. I was a litigator specializing in bankruptcy litigation."
On the sports side, Gewertz has been going to New York Giants games since he was 10 in 1948. At that time, he used to go by himself to the games.
"You could get to a football game then, and also pro basketball for 50 cents because you had a student card. So then you sat in the bleachers for the football games and tried to sneak into the other areas of the stadium. Pro football didn't really take off until after that famous Giants-Colts game in '58, which I did not go to because I was studying for finals in my first semester of law school, but I did follow it though. Other than that, I did try my best to go. It wasn't televised, so you had to go. A couple of times we drove to the Jersey shore or Connecticut because New York was blacked out (for TV coverage). Those things were just part of the experience," said Gewertz, who has been a Giants season ticket holder since 1967 or '68.
"When I was a kid, there were three baseball teams (in New York). My father was a Giants fan, but my sister was a big Dodger groupie and we lived in the Bronx, so she used to bring in all these photographs of players… I was a St. Louis Cardinals fan, somehow, growing up in the south Bronx. My first game was at Ebbets Field and we sat right by the Cardinals bullpen. They were good and the Dodgers stunk. This was in the '40s."
Gewertz remained a Cardinals fan for many years, but has since abandoned them for the Yankees.
"I watch the Yankees a lot. Brian Cashman is, of course, the GM and I worked with his father (John Cashman) at the Hambletonian Society," said Gewertz, who is also a trustee of the Harness Racing Museum.
On a personal sports front, Gewertz has played handball at a high level for much of his life.
"I guess it came naturally to me. I started playing and, in New York, they have all these outdoor courts. I started playing that in the schoolyard, lunchtime at junior high school. In high school, I was the captain in singles and we won the city championship. It was the first city championship that school had ever won… I still have this little article from the New York Post," Gewertz said.
Despite time away to get his legal career started, Gewertz has played most of his adult life and even won the National YMCA title for his age group in 1981. Gewertz said he "stopped playing competitively less than 10 years ago and I haven't really played at all in the last year-and-a-half due to physical problems. I had my knee replaced in January."
For Ted Gewertz, it's been a sporting life, though he said never could he imagine himself enshrined in a sports hall of fame, particularly one in which he serves as a trustee. Goshen, he said, always brings back strong memories.
"I've been going to (the races at) Goshen since the 1960s. The good thing about Goshen is that they had betting in those days, but you got to be up close with the horses and the trainers. Some of the stables were in the back of the stands, by the stretch. Some of the more well-known stables, including Castleton and I do remember talking to Frank Irvin as a fan. It's sort of like being able to chit-chat with a baseball player on the field or things like that. Here I got to mingle or at least talk along with the people who were the stars of the sport. I was just a fan, a bettor, just someone who liked the sport, so Goshen was always a special place," he said.
Instrumental — as was Yonkers and Roosevelt — in planting a seed that turned Ted Gewertz from fan to both super owner and Hall of Famer.