by Melissa Keith
Not many people land their dream job — twice. But that's the experience of 2019 Communicators Hall of Fame inductee Dave Little. He explained how his introduction to racing began with a (literal) lucky break: "I broke my leg junior year in high school and I had a lot of time on my hands at home. I used to read the entries from Aqueduct Racetrack in my local paper and try to pick the winners."
In the summer of 1978, Little was invited by a friend to a still-new racetrack, The Meadowlands. "My friend's father was a track-goer, and he took us to the races one night," remembered the long-time United States Harness Writers Association (USHWA) director. "His dad loaned me $20 and I plunked $2 on the daily double by the guy in the Bergen Record." This was his first-ever wager.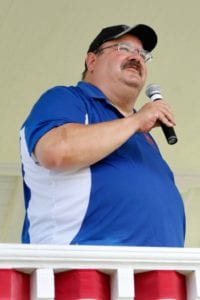 Little had visited a Puerto Rico racetrack with his mother roughly five years earlier, although his family wasn't involved in racing. He was familiar with handicapper Bob Raimonto's selections in the Record, and got to know Raimonto personally after being hired by the newspaper at age 15. Little worked there from 1978-1986, learning about the game through osmosis: "I got to be a little bit exposed to racing because I put the race results in the paper, in the scoreboard pages beside the baseball standings, the hockey standings and everything else, and we also obviously formatted the race results."
About that Meadowlands ticket: "Lo and behold, the daily double comes in and pays $66!" said Little, chuckling. The new bettor was a winner, at the track which would come to define his career. He began assisting Record back-up handicapper Jim Cornelius, although never under his own name. In 1986, he was hired at the New York Post, initially offering picks under a pseudonym.
He quickly earned the right for his selections to appear under his own name. Little recalled his proudest achievement: "I was 24 years old and it was the fall of 1986, and my beloved New York Mets had just won the World Series… Roosevelt had matinees on Tuesdays, and double-headers. On the matinee card that afternoon, there were 9 races and I picked the winner of every race. I remember very clearly that I was calling Dial-a-Stretch-Call every 20 minutes, to see if I got beat."
An incredulous Little discovered that while a similar feat may have taken place at Monticello decades earlier, no New York tabloid handicapper had subsequently matched it. "After I had picked the winner of the ninth race and gone 9-for-9, I called my best friend on the phone and said, 'I've done it!' He said 'What?' Then I explained to him what the situation was."
Little's skills expanded beyond the printed page and the betting windows. "I had always loved sports announcing," he told HRU. "My dream was to be the play-by-play man for the New York Mets." Regularly listening to the race calls of Bob Meyer at Yonkers and Jack E. Lee at Roosevelt convinced him to practice with a micro-cassette recorder. "I would quickly run to the TV and watch the replay to critique myself," said Little. "I got pretty proficient at it within the first year. About 14 months later, I saw Howard Oil, who was the first one to put me on a microphone, for qualifiers at Monticello."
Little is the longstanding voice of Goshen Historic Track's Grand Circuit races. He's called the races at Orleans County Fair in Barton, VT since age 49, and also filled in as Meadowlands back-up announcer.
His association with The Meadowlands followed a near-association with a different New Jersey venue: "I'd come very close to being named the track announcer at Freehold in the winter of '91." (Roosevelt's Jack E. Lee ended up with the position.) "It set my career on a completely different trajectory," said Little. "Had I gotten that job… I can't imagine that I would have done anything else."
Little returned to the site of his first, winning bet. "My first go-round, when I was at the (New York) Daily News, I worked every single Wednesday at The Meadowlands, from 1995 to 1999. It was a great run," he said. A highlight was "The Duelling Littles", a 1996 simulcast feature in which Dave would compete against another well-known handicapper/racing scribe: his wife, Debbie. "We'd go on camera and she would give out one horse and I'd give out another," he said. "Son of a gun if I didn't give out the favourite for 2 weeks in a row, and her horses beat me at like 8-1!"
Later hired as morning-line oddsmaker for The Meadowlands' 2016 Championship Meet, Little was dissatisfied with his early results, so he worked harder at the demanding craft. Track programming temporarily shifted to a younger demographic, which led to a parting of ways. But the dedicated horseplayer returned in late 2017, alongside host Dave Brower. He currently co-hosts the track's simulcast show and the SportsNet New York (SNY) "Racing from The Meadowlands" replay show.
Little worked 25 years at the New York Daily News, becoming racing editor in 1991 and departing one year after the newspaper dropped regular racing coverage. Now he annually assists Clyde Hirt Journalism Workshop co-chairs Debbie Little and Ken Weingartner with educating the next wave of harness racing media.
While he writes Meadowlands media releases, Little said he has no plans to follow Brower's example by writing a handicapping book. "I was a newspaperman from 1978 to 2015, so that's almost 40 years. For me, a long story is 1,500 words," he said.
"Earlier this year, in this meeting, I gave out a Pick 4 with my favourite driver Eric Abbatiello scoring from off the pace at 10-1 in the final leg, and that paid $841," said the new Hall of Famer. "When you can do those types of things, and you know that there are some people out there who are interested and following along, hopefully betting the same ticket —it's extremely gratifying."