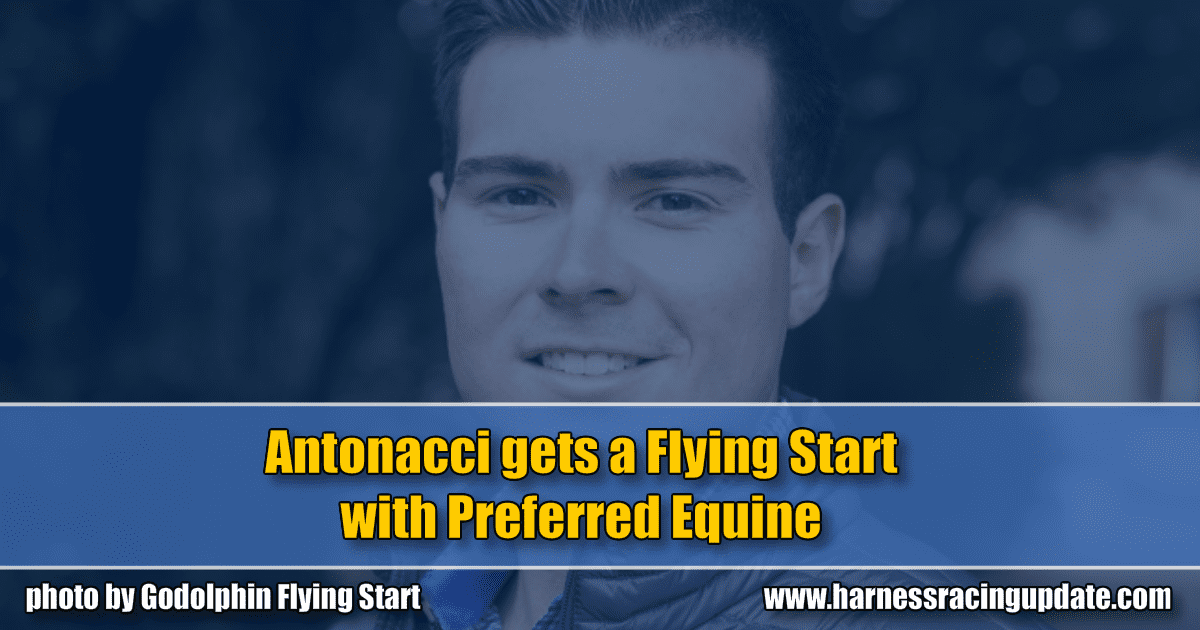 Antonacci gets a Flying Start with Preferred Equine
by Sue Finley
Originally published in Thoroughbred Daily News
One of the many positives about Godolphin Flying Start – the two-year international thoroughbred industry training program devised by Sheikh Mohammed – is that it offers a way into the business for talented young people without pre-existing family or industry connections.
If, indeed, that is an unstated goal of the project, it showed that it had hit the mark again with the 2019 graduating class with the revelation that Philip Antonacci, an Ivy League graduate with deep roots in the standardbred, not thoroughbred, industry, had been hired by David Reid at Preferred Equine to fill the role of director of sales for its thoroughbred division. That job is a newly-created post for Antonacci, who finishes the course this week.
"It's an amazing program, especially for people from relatively outside the industry," said Antonacci. "I think it accomplishes all the goals Sheikh Mohammed set out and it gives young people like me the opportunity to go from being a history major at Penn to launching a career in global bloodstock."
Preferred Equine was formed by Reid and his late partner, Geoff Stein, over 30 years ago. The largest consignor in the standardbred industry, they have sold over 20,000 horses at auction. They also operate a series of standardbred auctions, syndicate stallions, and conduct private transactions for their clients.
In 2013, they made their thoroughbred consigning debut, offering two yearlings at the Fasig-Tipton Saratoga New York-bred Yearling Sale, and they have continued to expand that consignment, as well as offer a consignment for clients at the Saratoga Fall Mixed Sale.
But even before that time, they were dipping their toes into the thoroughbred waters, starting Ice Wine Stable in 2009 and campaigning No Nay Never, among others, in partnership with Coolmore. Two of the Ice Wine principals were Philip's father Frank "The Elder" Antonacci and Frank's brother Jerry. Frank and Jerry raced standardbreds for years, and established Lindy Farms in Somers, CT in 1972, a comprehensive nursery and training center. The Antonaccis have owned more Hambletonian winners than anyone in history.
Longtime clients of Preferred's, the Antonaccis enlisted Stein and Reid to run the Tattersalls sales business that came along with their purchase of Lexington's Red Mile standardbred track in 2000.
Philip Antonacci grew up on the farm, riding and driving horses and serving as a sort of assistant trainer to his brother, Frank M. Antonacci, the farm's head trainer. They traveled together in the summers to races, and Philip had vague ambitions of becoming a trainer himself.
But with more and more exposure to the thoroughbred business, he started to feel the lure of that breed. He was a second-year history major at the University of Pennsylvania when he met Gai Waterhouse at a party his father and David Reid were throwing at Saratoga.
"She asked me what I wanted to do, and I told her I really liked thoroughbreds," Philip said. "She said, 'Why don't you go to the Flying Start program?' I had heard of it because of all the people who have come out of it; you meet some of the most successful people in the industry and they're Flying Start graduates. But she said, 'If you're going to go on the course, first you're going to have to come work for me.' She does such a good job training people and I credit her with getting me to a level that Clodagh and Joe Osborne would expect.
Philop graduated from Penn in May, 2017, was accepted to Flying Start, and spent the next two years traveling the world and learning the business. He did placements with Todd Pletcher, Boomer Bloodstock, Doug Watson and Mark Johnston, and while he briefly toyed with training, in the end, it was bloodstock that called to him.
"I want to have a handle on everything. There's no part of the industry I like or dislike more than an another," said Philip, a well-spoken, well-read 24-year-old with a serious and steady demeanor. "I'm open to everything, but for me, bloodstock made the most sense. I think I'll always have a bit of a training bug, and I don't know if it's something that might surface again or not. The bloodstock business fascinates me. I love action, I love the deals – what's going on behind the scenes. It's a good opportunity for someone with a business mindset, and so it seemed like a logical route for me."
Clodagh Kavanagh, Flying Start's general manager, said she expected Philip to put what he learned to good use.
"Coming from a highly successful standardbred racing and breeding family, Phil had a great grounding in horsemanship and business before he joined Godolphin Flying Start," she said. "He was able to take in all of the opportunities that Flying Start offered to learn, experience and develop himself and his network in the thoroughbred industry and I have no doubt that he will apply those learnings, and build his network and expertise over the coming years. David Reid and Preferred Equine look like the perfect fit for Phil as his first role following his graduation. I wish him the best of luck in his career as an alumnus of the program."
At Preferred, he'll pretty much be carving a new path for himself. "Dave and Preferred Equine is the largest agent in the standardbred industry," said Philip. "He has a level of professionalism and a reputation that few people have in the industry and in the bloodstock business have. He has international experience in the thoroughbred industry in the short time that he's been involved, 10 years now or so, and he's made significant progress. I'm really looking to assist him in building on opportunities."
While Philip will look to create new pathways in the thoroughbred business, he can rely on Preferred's existing back end staffing and systems to give him a leg up on others starting from scratch.
"We'll start with consigning horses for some clients at the New York-bred sale at Saratoga," he said. "We'll try to work some private deals, represent some clients at yearling sales. I really do think it's going to be the perfect kind of relationship. He has the auction experience, experience managing bloodstock and livestock, as well as systems set up in his back office and employees working for him that are some of the best in the world. With Flying Start, it builds contacts and a level of global knowledge, and I think if you pair that with Dave's experience, his reputation and what he's started to build over the past few years, it's a really exciting opportunity."
Reid has long been a believer in cross-breed ownership, and the addition of Antonacci to his team should smooth the transition of some of his standardbred contacts to thoroughbred, and vice versa, he said.
"I've been a very strong advocate for dual-breed ownership and participation, and even in light of the current challenges within the thoroughbred industry, I still feel as strongly as ever that the dual-breed participation and adding that thoroughbred aspect to a portfolio is important," he said. "Part of the reason for bringing Phil on is to accelerate that process."
Reid said he has also been impressed with the professionalism and knowledge of the Flying Start graduates with whom he has done business in the industry, such as GBRI's Amanda Bossom, Melissa Jordan at Tattersalls, SF Bloodstock's Caroline Walsh and the TDN's own Gary King.
Reid has been on his own at the helm of Preferred for the past seven years. He operated the company with Stein for almost a quarter-century, until Stein, a seemingly healthy and fit 58-year-old, collapsed and died in March, 2012 after his morning run.
"When Geoff died, it was very shocking and unexpected," said Reid. "He was the only business partner I had had in my adult life. The only thing you can really do at that time, and we said it upon his death, was continue the values we had had together into the future. As years have gone by, people would say, 'Why didn't you take on a new partner?' But it was one of those things where you had a perfect marriage and it wasn't going to be replaced.
"But now it's seven years removed, and it's probably the perfect time."
"Dave is an unbelievable person," said Philip. "Nobody has ever said a bad word about him, and I think this is a big opportunity to grow his business. I'm just privileged for Dave to allow me to use the knowledge I've gained over the last two years, and the relationship we already had, that he trusts me to take the thoroughbred business and run with it.