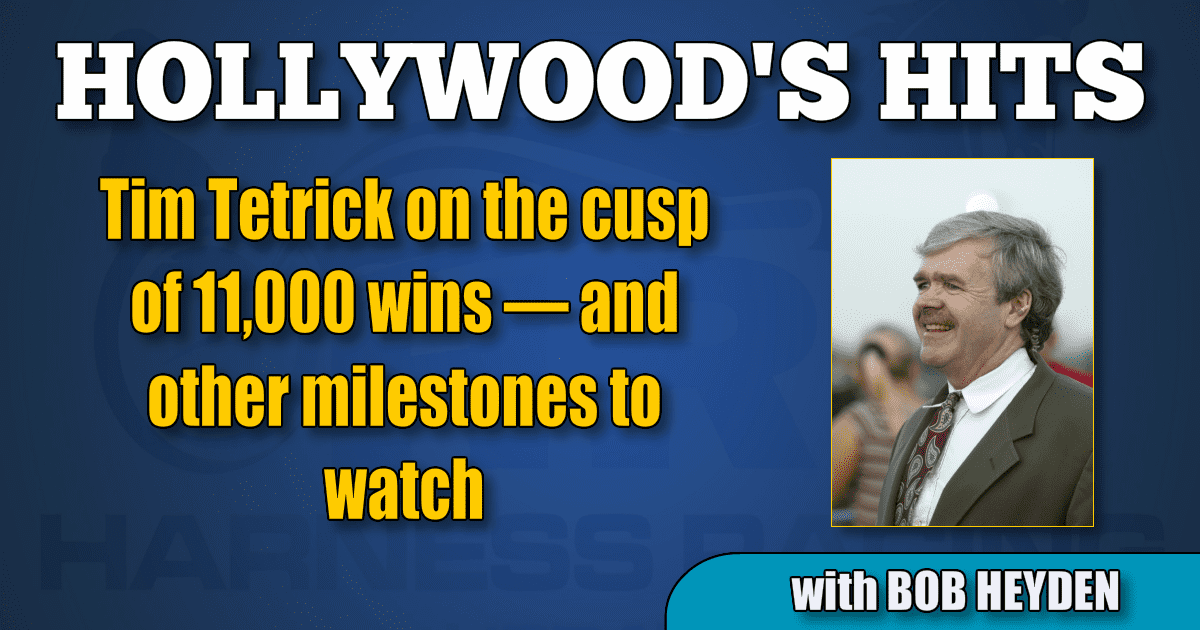 Tetrick poised to hit 11,000 wins, and other milestones to watch
by Bob Heyden
Tim Tetrick started Saturday (May 25) with 56,046 starts and was 28 wins shy of 11,000 victories. When he gets those victories, he'll become the 11h to do so — and would need another 50 to move into the top 10 for the first time ever, surpassing Walter Case, Jr. at 11,049.
Meanwhile, David Miller is close to joining the 70,000 drives club. Through Friday (May 24), he had 69,236. Already in the club are:
Cat Manzi — 95,690
Tony Morgan — 84,899
Herve Filion — 82,336
Dave Magee — 70,919
Miller is also #5 all-time in victories with 12,682.
Aaron Merriman has moved into #7 all-time in wins with 11,320 surpassing Bill "Zeke" Parker at 13,311.
Seven of the top 12 dash-winning drivers of all time are retired.
Brian Sears is about half-a-million dollars away from cracking the top 5 for the very first time in career earnings.
Brian Sears — $190,241,901
Mike Lachance — $190,786,957
Ron Burke is now within 200 wins of the magical 10,000 career mark. He had 9,828 wins starting action on May 25. An average of 2.8 winners a day puts him right at 10,000 on Hambletonian Day. Last Hambletonian Day, Burke surpassed $200 million.
There are 17 members of the 10,000-win club They are all drivers. Burke is poised to become the first trainer to reach this number.
Rick Zeron is still the richest driving Zeron with $102,984,884 and 8,137 wins.
Sylvain Filion is about to become the 24th member — and 11th born in Canada — of the $100 million driving club. By USTA statistics, he had $99,607,525 entering May 25.
Dan Dube, a little less than three weeks from turning 50, has 61,790 drives, 9,042 wins and $120,287,122 in earnings
Yannick Gingras on Aug. 4 is set to become the richest driver ever to turn 40. He has 40,755 starts, 7,176 and $171,528,492 in earnings.
Virgil Morgan, Jr. and Mark Ford are in a good duel for who has the second most starters of all time (behind Burke, of course).
Ford — 27,942
Morgan — 27,810
Scotty Zeron at 30
Scotty Zeron turned 30 on May 23.
He already has two Hambletonians on his bio (one colt (Marion Marauder, one filly (Atlanta)) and a Triple Crown (Marion Marauder).
No other driver has had two Hambletonians at a similar age. Tommy Haughton came the closest. Haughton's Hambletonian stats:
Age 23-1980 — Final Score SECOND
Age 25-1982 —Speed Bowl WINNER 

Age 26-1983 — T V Yankee was fifth
Age 27-1984 — Wholly Arnie was 13th
Age 29-1986 — Speedy Tomalli was 8th
Zeron has had two other Hambletonian drives:
2015 Billy Flynn 8th in elimination at 48-1 
2017 International Moni won his elim then was wiped out in the final.
All his Hambletonian drives have been in the two heat format.
At a similar age 30:
• Tetrick won the 2012 Hambletonian with Market Share
• John Campbell won the 1985 Breeders Crown with Sandy Bowl and Prakas
• David Miller debuted in 1995 finishing fifth in the Meadowlands Pace from post 10 with Cinder Lane Sam
• Ted Wing was the 1978 Meadowlands leading driver with 178 wins.
The 2016 Hambletonian was not only Zeron's breakthrough in the sports classic event, it was his greatest day. He wrapped up his first Meadowlands driving title that day, surpassed $50 million in his career, at age 27, won the U S Pacing Championship with Shamballa, for his dad, defeating both Always B Miki and Wiggle It Jiggleit and Zeron won the Hambletonian final by a nose, an indication of what was brewing for Marion Marauder, who won all three Triple Crown legs in a photo.
Marion Marauder well over $3 million is the richest ever standardbred Triple Crown winner. He also finished second in the $1 Million International Trot at Yonkers.
Zeron won the freshman pacing colt division with Artspeak and last year won a pair of pacing divisional titles with Nancy Johansson — 2YOCP with Breeders Crown and Governors Cup winner Captain Crunch and the 3YOFP division with Kissin In The Sand. z