by Victoria M. Howard
Harness racing can be very dangerous at times. At full speed, the horse average anywhere from 30-35 miles per hour. One of the most dangerous, yet underrated jobs in the sport is that of an outrider.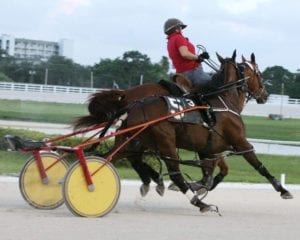 An outrider is responsible for ensuring the safety of all horse racing participants (both human and equine) during training and live racing.
They are responsible for opening and closing the races each day and clearing equine traffic when necessary. Outriders catch loose horses as quickly as possible, minimizing the chance of injury, and also help drivers who are having trouble with unruly and difficult horses.
Recently at Miami Valley Gaming, a standardbred got loose after a horse broke stride causing a chain reaction and knocking the driver off. The frightened horse ended up in a pond. Although the outrider immediately jumped in to save the horse, the animal began to panic and worked his way to the middle of the pond where he drowned.
This is a rare occasion for whenever a situation occurs for an outrider to assist a troubled or loose horse, the end result is usually a happy one.
Tia Shafer, the outrider at Mohegan Sun Casino at Pocono Downs is not only dedicated to her job, but is an all-around horsewoman. Shafer has worked full-time at The Isle of Capri in Pompano Beach, FL; Running Aces in Minnesota and is currently at Pocono Downs in Wilkes Barres, PA.
As soon as you meet Shafer, her infectious smile and bright blue eyes makes you feel like you've known her forever. She also has that way with horses.
Although she wasn't brought up around them, Shafer was always horse crazy. Her dream of actually working around the four-legged magnificent creatures came true in 2007.
"That year I rode backup for the outrider at Pompano and did so for two years before I was hired full-time," she said.
"My family wasn't involved with horses, but got me riding lessons when I was young. In my early 20s, I was stabled with several barrel horses at a standardbred farm, which is how I got my start in the business.
"I did not have any special training to be an outrider. I began my riding career on show jumpers then switched over to barrel racing. I believe my background made me the confident rider I am today. I also feel that helping out as a groom in the barn allowed me to fully understand how the equipment is supposed to be applied and gave me insight into how it works."
Shafer currently has three horses in her stable. All three are off-the-track thoroughbreds (OTTBs) she re-trained for their second careers as outriding ponies.
"Red is 16 years old and my main guy. I've owned him since 2009 and he has helped me develop into the outrider and trainer I am today.
"I adopted Hollywood from New Vocations in 2013. He is 15 years old and the bravest horse I've ever had the pleasure of riding. He has never once questioned what I have asked of him.
"And last but not least is Sal, who is the youngster. I adopted him after his last start at Gulfstream Park in January 2017. He has never put me in a bad situation on the track and always tries his hardest to compensate for any situations that may arise."
Shafer said she loves her career, but it can be tiring at times.
"My day starts out arriving at the barn no later than 7 a.m. to feed my boys. I fill their hay bags and pull off their bandages before turning them out together for the day. I arrive back at the barn two hours before post time and bring them in to feed and saddle up whoever is on duty that night. I don't give them a heavy warm-up for they work hard enough at night. I walk them the mile up to the race paddock where they wait to start work.
"They all wear a magnetic blanket for about 45 minutes before saddling up. This helps warm up their back.
"At Mohegan Sun I do not lead post parade, so I watch the horses go on the track and keep an eye out for any that may cause problems for their drivers. I watch all the horses and double check their lines, bridles, and other equipment during the post parade, then ensure they all get turned to the gate. I communicate with the starter to keep him informed if I have a situation where two horses need to be turned, so he's aware what I'm trying to accomplish."
What is the most dangerous situation Shafer has encountered as an outrider?
"Twice in my career I was almost hit by the starting gate. Although it was completely accidental, it was utterly terrifying. Also, being pulled out of the saddle by a loose horse also nears the top of the list. This is where my amazing boys stepped in and saved the day.
"I don't think outriders get enough credit. Most trainers, drivers and owners honestly have no idea how much care and effort an outrider puts out to ensure their horse gets the safest and fairest race possible.
"The horses we choose to work with take years to develop into the mounts we trust with every life on the racetrack — human or equine. They are not easily replaceable and are literally a part of our family."
As far as advice for anyone thinking of becoming an outrider, Shafer said, "Watch closely: watch the races, watch the horses and workouts in the morning. Try and pick out any possible troubled horse and learn to read a horse's body language. And, of course, have a team of horses you completely trust to take care of you and everyone else on the track."
A special thank you to all the outriders who do a wonderful job protecting the drivers and horses. You are indeed heroes.