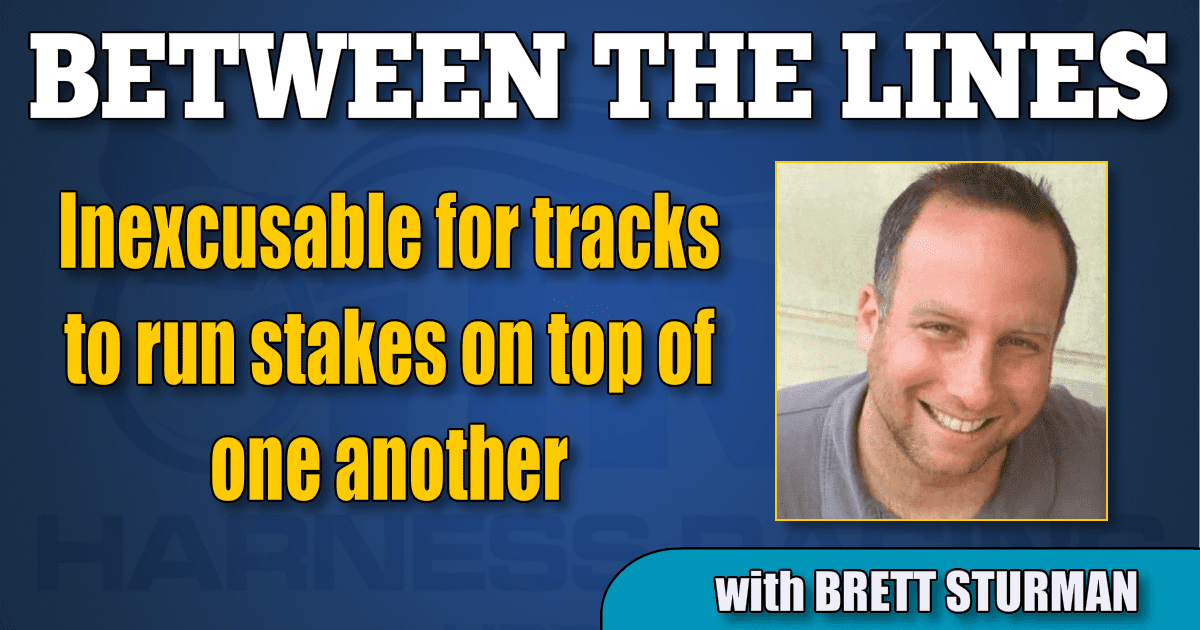 Inexcusable for tracks to run stakes on top of one another
by Brett Sturman
Post drags in harness racing have spiraled to a point of being hopelessly out of control. Essentially accepted now as a necessary evil, it's commonplace for tracks to designate post time as zero, even though a race may not go off for over another 10 additional minutes. But where it becomes a mess is when tracks drag on top of one another to where it conflicts with concurrent premier races.
Such was the case last Saturday, when inexplicably the $50,000 Van Rose Memorial Invitational at Pocono Downs featuring the richest horse in North American this season to date went head to head with the $175,200 Arthur Cutler Memorial at the Meadowlands, one of the signature free-for-all trotting races of the year. With the Van Rose going off at 10:38 p.m. and the Cutler at 10:39 p.m. according to the official race charts, how could a person be reasonably expected to watch – or bet – both races live?
It's almost hard to believe the timing of how this came to be.
Starting with the Meadowlands, their race prior to the Cutler went off at 10:14 which gave them a solid 25 minutes in between the two races. But for the Meadowlands, this isn't out of the norm. All night to that point they had been between 21 and 24 minutes to post, so you could see them extending the Cutler post time just a tad longer figuring they would get additional betting dollars coming in on a full quality field of 12 horses.
As for Pocono, their preceding race to the Van Rose went off at 10:16, giving them 22 minutes leading up to their big race out of the 22 races they ran that day. Up to that point though, Pocono had been pretty consistent all night in running most their races only 17 minutes apart. I suppose you could make the argument that like the Meadowlands, Pocono wanted to put in an extra drag to get a few more dollars for their big invitational of the night featuring Western Fame, making his first start following his Levy series win – fair enough.
But if that were the case, why on earth would you coincide the race exactly at the same time as the Meadowlands – a track that you know is handling 10 times the amount of money you are? None of it makes any sense.
In situations like this, does one track have an obligation to cede to the other, and if so, what would determine that? Should the fact that the Meadowlands is handling over $3 million per Saturday card be enough reason that other tracks stay off their races, in particular their biggest one?
The answer should be a simple one. Tracks should do what is in their own best interest – which naturally entails not running races head-to-head a track that is outhandling you ten-fold.
Going with the example of Saturday, almost any casual harness racing observer will choose to watch and/or bet the Cutler over any other race going on around that time. Making the decision to go up against that scenario only seems self-defeating. It's not even that one track is more at fault than the other, but there's clearly a more negative impact to one track than the other and that's what makes the coinciding of the premier races tough to figure.
Track operators have long scoffed at the idea of having a central coordinator be responsible for the designation of post times across the most visible tracks. They don't want to give away control of when they deem their individual post times throughout a card should be, but perhaps some type of compromise could be reached when it comes to coordination for the big races.
Realizing that listed post times mean little for almost all races, what about sticking to a hard post time for the bigger races, like when the Hambletonian goes off at the actual listed time due to television considerations. If it was known for certain in advance that the Cutler or that the Van Rose were going off at a set time, then both tracks could coordinate rather than playing a drag game and see who can go the longest as to not interfere with the other.
Or, it doesn't even have to be that hard. The Meadowlands is regularly in contact with Woodbine throughout their race cards as to not go off near each other, so how hard would it be for designated coordinators at each track be in routine contact with counterparts at other tracks that have races they want to showcase that card.
And isn't showcasing the best horses uninterrupted what a lot of this should be about? To its credit, the Meadowlands makes it a point to show some of the big races from other tracks directly in its live simulcast feed. Not every track needs to share in showing each other's big races (though they should), but at the very least tracks would maximize both their handle and their viewership in these stakes races if they aren't in direct competition.
Tracks already drag post time to keep their windows open for as long as possible, but also because of considerations from concurrent racing elsewhere. Ceding to another track in having their big race take priority isn't just something to be done out of common courtesy; it should be done because it's good business for their own product.