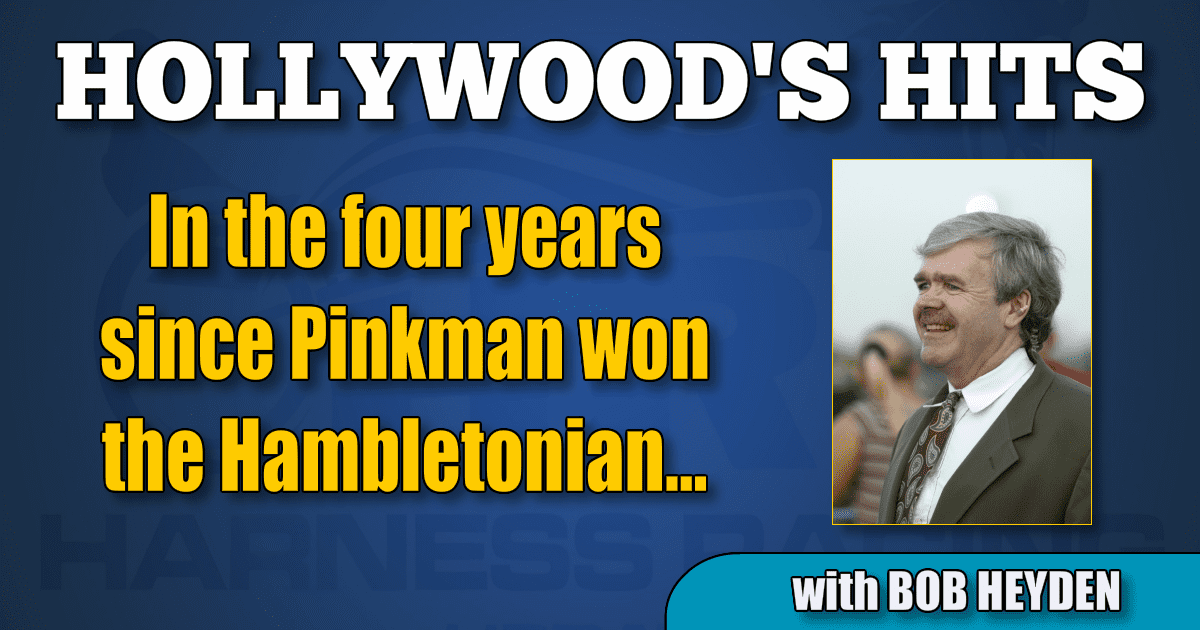 In the four years since Pinkman won the Hambletonian…
by Bob Heyden
When Pinkman won this past weekend at the Meadowlands, it was just his sixth win since his Hambletonian triumph of 2015.
He exited Hambletonian Day 2015 with a record of 17 14-2-0, $1,737,925 for his career.
Since that Hambletonian triumph, he has earned over $1 million with a 6-10-7 record in 42 starts.
Shiaway St Pat, also a gelding, won the very first Meadowlands Hambletonian (in 1981) and he too continued on in his career, although not against the same competition that Pinkman has faced.
In 1981, Shiaway St Pat was 10-for-22, good for $480,095. He would end his racing career with earnings of $550,611.
In 1982, his record was 5 1-1-1, $28,500
• 1983 — 23 4-0-2, $20,640
• 1984 — Did Not Race
• 1985 — 14 3-1-0, $6,356
• 1986 — 1 0-1-0, $525
• 1987 — 20 6-6-3, $5,557
• 1988 — 5 0-0-0, $288
Shiaway St Pat's Hambletonian was the biggest purse race won by Ray Remmen at the time.
Pinkman was the single season (2015) all-time leader for any Jimmy Takter trainee with earnings of $1.897 million.
Both Remmen and Takter were inducted into the Harness Racing Hall Of Fame.
Varenne v. Moni Maker
Speaking of trotters, the anniversary of the last time Varenne and Moni Maker met was May 7, 2000 in the Lotteria Nazional Finale (Group 1). The purse was 583,000 Lira — the U.S. purse equivalent of $276,808. The Distance was 1,600 meters.
Varenne was the winner 1:56.3, Moni Maker was DQed for an extended break.
They had met and finished 1-2 in the Gran Premio Delle Nazioni — also a Group 1 event-the prior Nov. 14. At that time, $242,000 U.S. was on the line with Varenne emerging victorious for the 1 5/16th miles.
Varenne banked $5,636,225 lifetime and Moni Maker $5,589,256
Cutler history
The Arthur J. Cutler series was started in 1998.
Magician was the first repeat winner (2000-2001).
Fools Goal made it consecutive $3 million career winners in 2002.
Mr Muscleman won it in 2005. He was yet another $3 million plus earner.
Sand Vic repeated in 2006-2007.
Lucky Jim won the Cutler in 2009 en route to a spectacular 17-for-18 season.
Kadabra won it in 2003. He is the sire of Will Take Charge this year.
Graduate
The first leg of the Graduate was last night, with 4-year-olds in the spotlight. Some of the most famous 4-year-olds to have captured this event were: Cam Fella in 1983, Forrest Skipper in 1986, Staying Together in 1993, and Gallo Blue Chip in 2001. ALL were voted Horse of the Year.
On the trotting side, J L Cruze, who is in to qualify this weekend, became the first ever Meadowlands sub-1:50 trotter in the Graduate series in 2015.
Mays past
In May, 1942 — Spencer, the Hambletonian winner and "Lord Of Castleton", died after a colitis attack at age 17.
In May, 1946 — Perfected at a cost of more than $40,000 by the Liberty Aircrafts Products Corp. of Farmingdale, the Phillips Starting Gate passes tests at Roosevelt Raceway.
May, 1947 — "The American Trotter" the definitive history of the standardbred, and the crowning achievement of author John Hervey, is published at a retail price of $7.50.
May, 1948 — Indian Land, driven by Joe O'Brien, and Rodney, driven by Bi Shively, win $50,000 features at Santa Anita.
May, 1948 — Bill O'Donnell was born
May, 1949 — The grandstand at Hollywood Park is destroyed by fire, requiring a new facility to be built for the opening of the meet in October.
May, 1968 — Albatross was born.
May, 1971 — The USTA initiates the Harness Racing Hotline to keep fans and media abreast of the latest news and happenings.
May, 1973 — George Swinebroad, kingpin auctioneer of horseflesh in the world, dies at age 73 after undergoing heart surgery. More than $1 billion in horses passed under his gavel.
May, 1979 — John Campbell won his first $100,000 race (the $106,000 Oliver Wendell Holmes with Merry Isle)
May, 1982 — The World Cup started (and lasted until 1985).
May, 2004 — Foiled Again was born
10 10 news
TEN starts was all it took for Walner to become a go-to stallion and have a series named for him at the Meadowlands.
TEN starts was all it took for Chapter Seven to nail down HOY honors in 2012 — that total being the fewest ever for a horse so honored.
Both were trained by Linda Toscano and driven by Tim Tetrick.
90th anniversary
This year marks the 90th anniversary of Walter Cox trainees going 1-2-3-4 in the Hambletonian.
1 — Walter Dear brown colt
2 — Volomite Bay Colt
3 — Sir Guy Mac Chestnut Colt
4 — Miss Woerner Brown filly
Chuck Sylvester had a shot at this in 1998, but finished double bookends 1-2 and last and next to last.