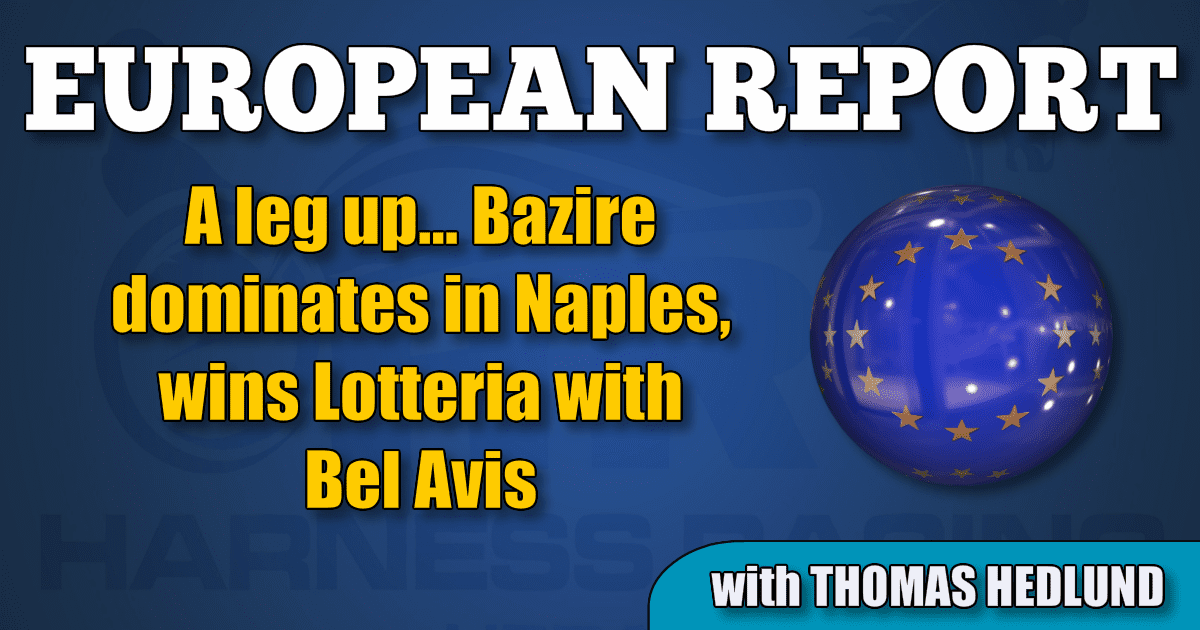 A leg up — Bazire dominates in Italy, wins Lotteria with Bel Avis
by Thomas Hedlund
Jean-Michel Bazire made one of his infrequent journeys away from his home country France on Wednesday afternoon and the trip to Italy was successful.
Bazire is a showman and when he qualified Bel Avis (Ganymede) for the $279,000 final of the Gran Premio Lotteria, many fans understood this would end up with a French victory.
Bel Avis made an early break from post one in his elimination, but the 8-year-old Ganymede son showed great speed and strength when he came back and sprinted to safe win in 1:55.1.
Stefan Melander trained Disco Volante (Scarlet Knight) and Björn Goop took a wire to wire 1:55.4 win in the second elimination, while Alessandro Goociadoro's Vetruvio (Adrian Chip) took the last elimination from the lead in 1:55.
Bel Avis was served a perfect trip in second over in the final of Gran Premio Lotteria and when Vitruvio early suffered from puncture on a wheel in the race, Bazire put his focus on disarming leader Disco Volante, a mission that was completed by the top of the stretch.
Bazire lifted his legs in the sky and celebrated the victory mid home stretch when Bel Avis flew to an easy win in 1:54.4.
Gran Premio Lotteria replay.
Set for Finlandia-ajo
Helsinki, Finland and Vermo racetrack is in focus on Saturday afternoon when prestigious Finlandia-ajo ($213,000) is on the schedule.
Superstar Readly Express (Ready Cash) will make his second appearance over the mile and will probably be a heavy first choice.
Readly Express starts from post three and this will most certainly be the 7-year-old's last performance ahead of Elitloppet.
Finlandia-ajo 2019 (one mile)
Horse – Driver
1. Next Direction – Iikka Nurmonen
2. Chief Orlando – Antti Teivanen
3. Readly Express – Björn Goop
4. Peace Of Mind – Alessandro Gocciadoro
5. Elian Web – Jorma Kontio
6. Pastore Bob – Johan Untersteiner
7. Top Of The World – Hannu Torvinen
8. Sorbet – Örjan Kihlström
9. Eridan – Jos Verbeeck
10. Drole de Jet – Pierre Vercruysse