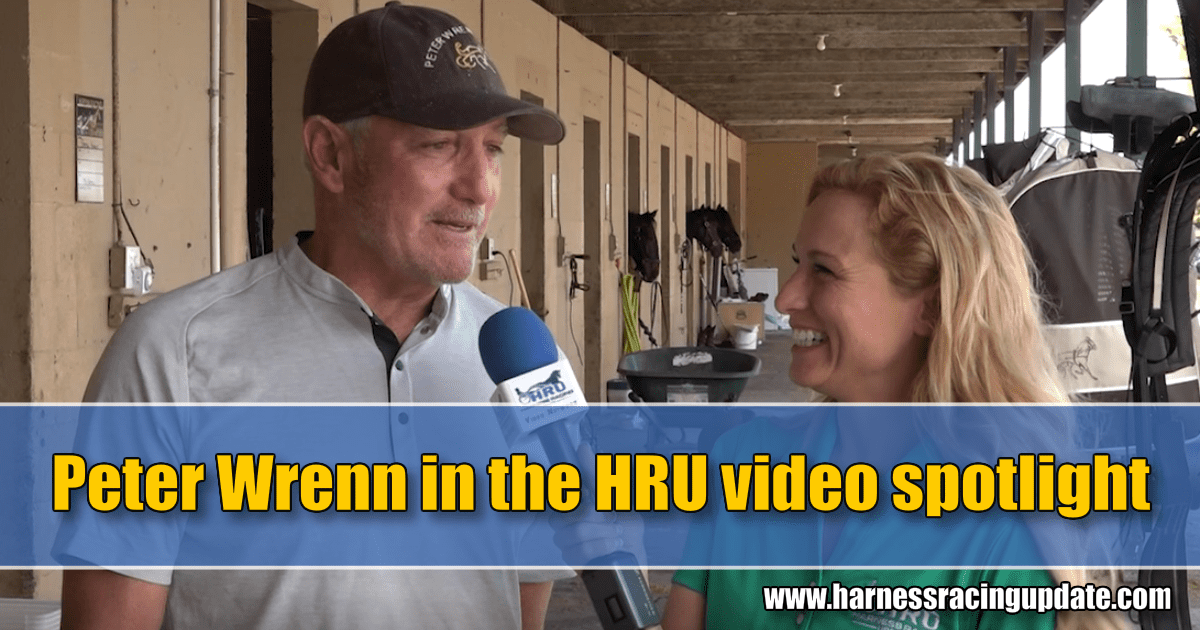 Peter Wrenn in video spotlight
Trainer/driver Peter Wrenn was interviewed by HRU's Heather Vitale about his 10,000th driving win and the returning horses and babies he and his wife Melanie have in training at Sunshine Meadows — including one named for the Egyptian lord of the underworld and one named for Brexit.
by Dave Briggs
Trainer Peter Wrenn, who recently reached 10,000 driving wins, has some pretty intellectual names in the stable he and his wife, Melanie, are training this winter. For example, he has a horse named for the Egyptian lord of the underworld (Odds On Osiris) and one named for the United Kingdom's exit from the European Union (Odds On Brexit), both owned by Odds On Racing's Dana Parham.
Wrenn spoke to Heather Vitale in Florida last month at Sunshine Meadows.
That interview is available now on the HRU YouTube channel.
Special thanks to Lexington Selected Yearling Sale and Preferred Equine Marketing for sponsoring the Wrenn video.
Last weekend, we posted videos featuring Julie Miller and Andrew Harris.
Look for videos featuring Dan Daley, Luc Blais, Jeff Webster, Linda Toscano, Joe Holloway and Tom Cancelliere in the weeks ahead, as well as an update on Foiled Again's retirement and many more videos from Ontario.
Some sponsorship opportunities remain for the videos. To place your video message at the start of a video please contact advertising director Wilma Van Vaerenbergh at: hruadsales@gmail.com.