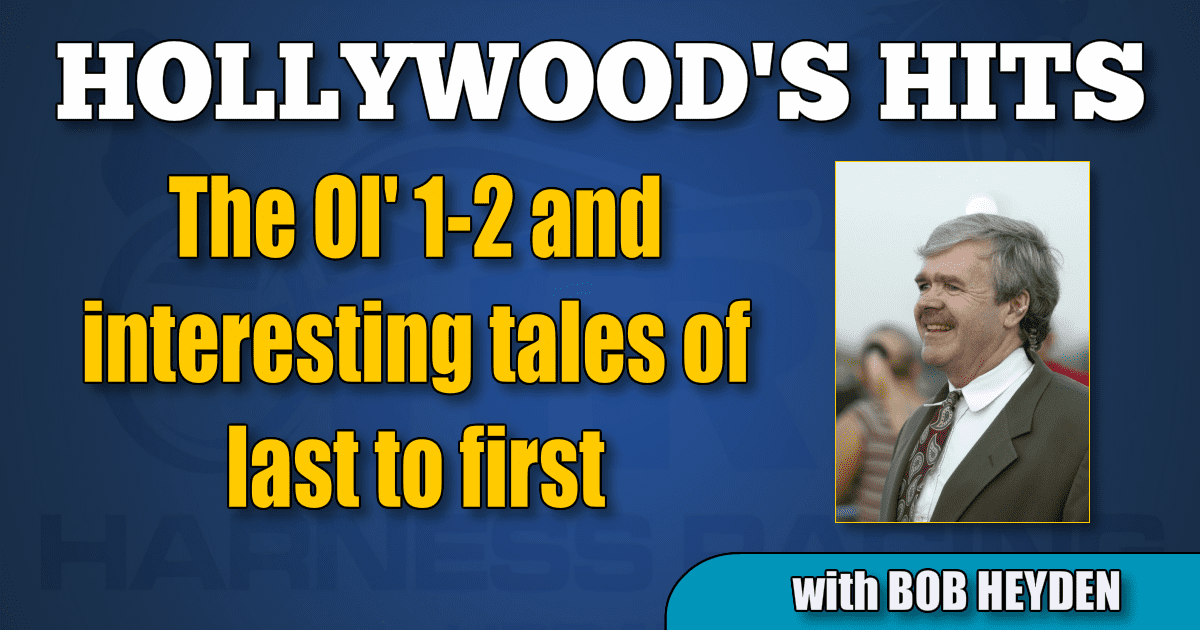 by Bob Heyden
Are 1 and 2 your favorite numbers? Do you box the 1 and 2 each race?
Well, this being the 30th anniversary year of the dead-heat Hambletonian, lost in that crazy day was that it might have been as simple as 1-2.
Probe ($26.00) won the first heat from post 1.
Park Avenue Joe was the second heat from post 2.
Probe starting from post one after earning his post position due to his win, made a break and was off the ticket.
They drew 1-2 in the raceoff, with Park Avenue Joe on the rail, and finished in a dead heat.
No, you couldn't box them up in the final. The dead heat made this the only pari-mutuel race in Meadowlands history where every wager was a winning one.
Two, unfortunately, was not a good number that day for Peace Corps, the betting favorite in each leg. She saw her 17-race winning streak come to an end with a second and a fourth.
Two, as in two checks, came the way of Shogun Lobell that day-for 66-year-old Howard Beissinger. Shogun was third and fourth).
Two trophies were distributed as the two colts were declared co-winners. A court later decided — on the basis of summary — that Park Avenue Joe would get the winner's share of the purse.
And finally, Fortunate One had way too long of a day. He wasn't at all what his name said. He twice made a break and finished way back each time.
Last to first
Each of the last two winning Hambletonian drivers finished last the year before:
Scott Zeron won in 2018 with Atlanta, but was last in 2017 International Moni (although he was impeded).
Ake Svanstedt won in 2017 with Perfect Spirit, but was last in 2016 with Mavens Way.
Mike Lachance was, like Scott Zeron, the last driver to be last in between Hambletonian wins. He won in 1994 and 1996 with Victory Dream and Continentalvictory, respectively, but was last with King Pine in 1995.
Ron Waples was last with Huggie Hanover in 1988, the year before his dead heat win with Park Avenue Joe.
But maybe nobody had an odder stat line than Mickey McNichol, who won the 1992 Hambletonian with Alf Palema. He was last the year before, too, with Grundys Mist. But with an added twist, McNichol was last the following two years, too — 1993 with Dylan Lobell and 1994 with Gum Ball.
30-30-30-30
Scott Zeron is a couple of months away from hitting the Big 3-0, so we thought we'd take a closer look at some other 30s of note in the industry:
• List of Triple Crown winners that lived to at least the age of 30: Scott Frost (31), Speedy Scot (30), Lindys Pride (31), Super Bowl (30), Bret Hanover (30), Romeo Hanover (35), Rum Customer (30).
• When Billy turned 30 in 1953, only half of the Triple Crown races were on the docket. The Cane-Messenger and Yonkers Trot were either two or three years away.
• With Foiled Again topping 100 wins and also the all-time earnings chart, guess how many of the top 100 thoroughbred earners of all time have 30 or more wins? Just one. John Henry had a record of 83 39-15-9 $6,591,860 and he, too, upon retirement, led all in earnings calling it a career the month prior to the first Breeders' Cup.
• Ted Wing was the Meadowlands' leading driver at age 30 in 1978 and he heads to the Hall of Fame on July 7. The "Magic Man" Bill O'Donnell, three months older than Ted , had not year driven at the Meadowlands by the time he turned 30.
Spring is here
Two decades ago, Wendy and Skip Spring reached in for $37,000 to buy Bunny Lake and she rewarded their selection with a 2001 HOY title, the last time a pacing filly and a trotting filly went 1-2 in the balloting (Syrinx Hanover was second).
Remembering Dave Elliott's 100-win season
In 1983, Dave Elliott became the first trainer to record a 100-win season at the Meadowlands. The star of his stable was On Around and John Campbell drove almost exclusively for the barn. For the year at the Meadowlands, Elliott had 450 starts, exactly 100 wins, 75 second, 51 thirds, earnings of $1,203,857.
This came after three solid seasons for Elliott.
1982 — 265 60-36-37 $682,371
1981 — 321 61 39 40 $613,065
1980 — 186 45 37 22 $462,823
Campbellversary
This year marks the 30th anniversary of the Campbell brothers leading at the Meadowlands in training (Jim) and driving (John).
Shoulda seen it coming?
The year before they finished 1-2 in the richest race ever contested, the $2,161,000 Woodrow Wilson, Bill O'Donnell and Bill Popfinger were 1-2 with Nihilator and Praised Dignity, respectively. 1984.
The year before in the Wilson — won by Carls Bird — in the two richest of the four consolations, O'Donnell won the $200,000 one with Panorama (the sire of Staying Together) and Popfinger won the $150,000 second consolation with Embrace Me to the tune of $90.20.
Wait… WHAT?!?
It was Powerball Night for a lucky few who, at the Meadowlands on Feb. 24, 1977 hit the 4th race trifecta. The three in order of finish 1-2-3 were 5-1 Fort Norman ($12.00), over 10-1 Lookout Red Clay with 12-1 Dreamalong Butler third. Herve Filion-Jim Tallman and Greg Wright. The trifecta paid… ready? $14,454!
What could have been for Western Hanover?
Western Hanover passed away on Aug. 27, 2007 at 18 years of age, in the prime of his siring career. Just look at the Experimentals from 2006:
#1 Jeremes Jet a son of Western Hanover
#2 Western Ace a son of Western Ideal — a grandson of Western Hanover
#3 Western Cyclone a son of Western Hanover
#4 Palone Ranger — a son of Western Ideal-a grandson of Western Hanover.
Then and now
1980 marked the first $2 million race night. Land Grant at $141 captured the $2,011,000 Woodrow Wilson. There were zero female trainers and zero female drives on the card. At that point, a female trainer had never had a Horse of the Year.
Flash forward to today and the HOY, McWicked, is trained by Casie Coleman. Linda Toscano is the first female trainer to go into the Hall of Fame a year after Margareta Wallenius-Kleberg became the first female member of the Hall of Fame. In 2017, three females were 1-2-3 in the HOY balloting — Hannelore Hanover, Ariana G, Manchego.
Parallels between Smarty Jones and Foiled Again
On May 1, 2004 Smarty Jones won the Kentucky Derby in front of 140,054. One week later, on May 8, 2004, Foiled Again was foaled.
Smarty Jones ended his career at $7,613,155 and his nine career starts are the co-fewest of any of the top 100 earners of all time.
Foiled Again ended his career at $7,635,588 and his 100-plus wins and 300-plus starts make him the only one on the top 200 earners list with both.
Smarty Jones and Foiled Again finished $22,433 apart in lifetime earnings.
Quiz
Q. Can you recall who was the trainer of one-time Meadowlands co-track record holder (1:53.4) Spare Hand?
A. John Turner
Quiz II
Q. Can you name Pat Crowe's first Meadowlands Pace horse (hint: He competed in the Haughton barn as a 2-year-old).
A. Greener Pastures raced in the 1994 Pace and failed to earn a check.