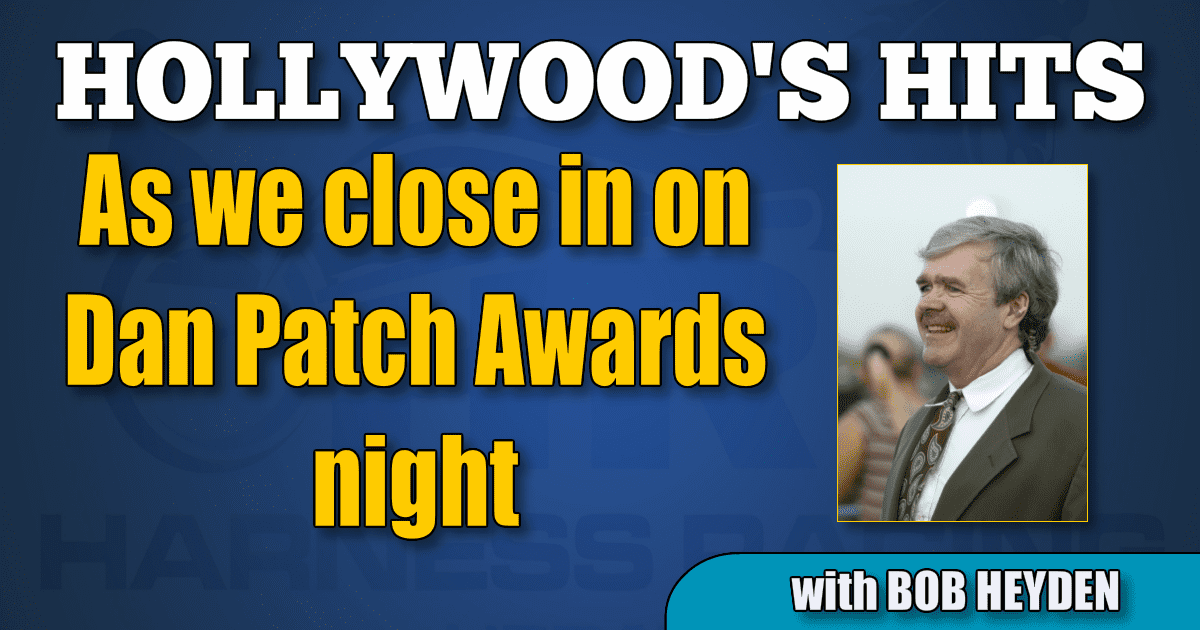 As we close in on Dan Patch Awards night
by Bob Heyden
Here are some of the Hall Of Fame drivers who never did have an individual Horse Of The Year:
Herve Filion
Dave Palone
Berndt Lindstedt
Jim Doherty
Ron Waples
George Sholty
Carmine Abbatiello
Shartin N
Her being named Pacing Mare Of The Year is especially interesting considering:
• It's never been done before by a Down Under-bred female.
• It is the first time such an honoree won better than $1 million.
• It has been 50 years since a Down Under-bred was rewarded in the post-season banquet — 1968 Cardigan Bay (Older Male Pacer of the Year). He was the first millionaire of either breed male, or female. Shartin N is the first 4-year-old or older pacing female to topple seven figures in a single season.
• JoAnn Looney and Jim King, Jr. are now the only duo to have a million-dollar earning single-season male pacer (Wakizashi Hanover in 2015) and a female over age three do the same.
The Butler didn't do it
Adios Butler that is.
He was the 1960 and 1961 Horse of the Year, but trainer Paige West and driver Eddie Cobb are the only two trainer and driver combo to win a back-to-back Horse of the Year title and not make the Hall Of Fame.
This also happened to Pat Crowe, but he alone trained and drove the great Cam Fella in 1982 and 1983 to his consecutive awards as HOY.
Revisiting Tetrick's super seven
In 2012, Tim Tetrick was the driver behind seven divisional titles.
The next closest driving season ever is four by any driver in any season.
In 2012, Tetrick handled Chapter Seven, American Jewel and Heston Blue Chip (all for trainer Linda Toscano), as well as Captaintreacherous, Check Me Out, Market Share and Androvette.
25 years ago…
In 1994, Cams Card Shark won the Horse of the Year after becoming the first horse to better $2.2 million in a single season.
The Jug winner was Magical Mike for trainer Tommy Haughton on what would have been his late brother Peter's birthday (Sept. 22).
Mike Lachance and Ron Gurfein won the first of their three Hambletonians together, this one with Victory Dream.
Pine Chip won his second straight Trotter of the Year award.
John Campbell was the driver for both the Pacer and the Trotter of the Year — Cams Card Shark and Pine Chip.
C R Kay Suzie served notice by shattering several world records that she would be a force in 1995 (She was named HOY in 1995).
Five trainers to be inducted
This year, five trainers will be inducted into the Harness Racing Hall of Fame — Jerry Silverman, Joe Holloway, Blair Burgess, Linda Toscano and Ted Wing (although he did drive mostly). From 2003-2014, only four trainers were inducted: Ron Gurfein, Jimmy Arthur, Jimmy Takter and Richard Stillings.
Roll call
In order, the last 25 sires of the Horse of the Year (all different, with just the one repeater in there Moni Maker 1998-1999):
1993 — Panorama (Staying Together)
1994 — Cam Fella (Cams Card Shark)
1995 — Royal Troubador (C R Kay Suzie)
1996 — Valley Victory (Continentalvictory)
1997 — Supergill (Malabar Man)
1998 — Speedy Crown (Moni Maker)
1999 — Speedy Crown (Moni Maker)
2000 — Magical Mike (Gallo Blue Chip)
2001 — Precious Bunny (Bunny Lake)
2002 — Life Sign (Real Desire)
2003 — Pacific Fella (No Pan Intended)
2004 — Artiscape (Rainbow Blue)
2005 — Western Ideal (Rocknroll Hanover)
2006 — Yankee Glide (Glidemaster)
2007 — Andover Hall (Donato Hanover)
2008 — Mach Three (Somebeachsomewhere)
2009 — Muscles Yankee (Muscle Hill)
2010 — Rockn Roll Hanover (Rocknroll Heaven)
2011 — San Pellegrino (San Pail)
2012 — Windsongs Legacy (Chapter Seven)
2013 — Kadabra (Bee A Magician)
2014 — Art Major (J K She's A Lady)
2015 — Mr Wiggles (Wiggle It Jiggleit)
2016 — Always A Virgin (Always B Miki)
2017 — Swan For All (Hannelore Hanover)
2018 — Will it be McArdle? (McWicked)