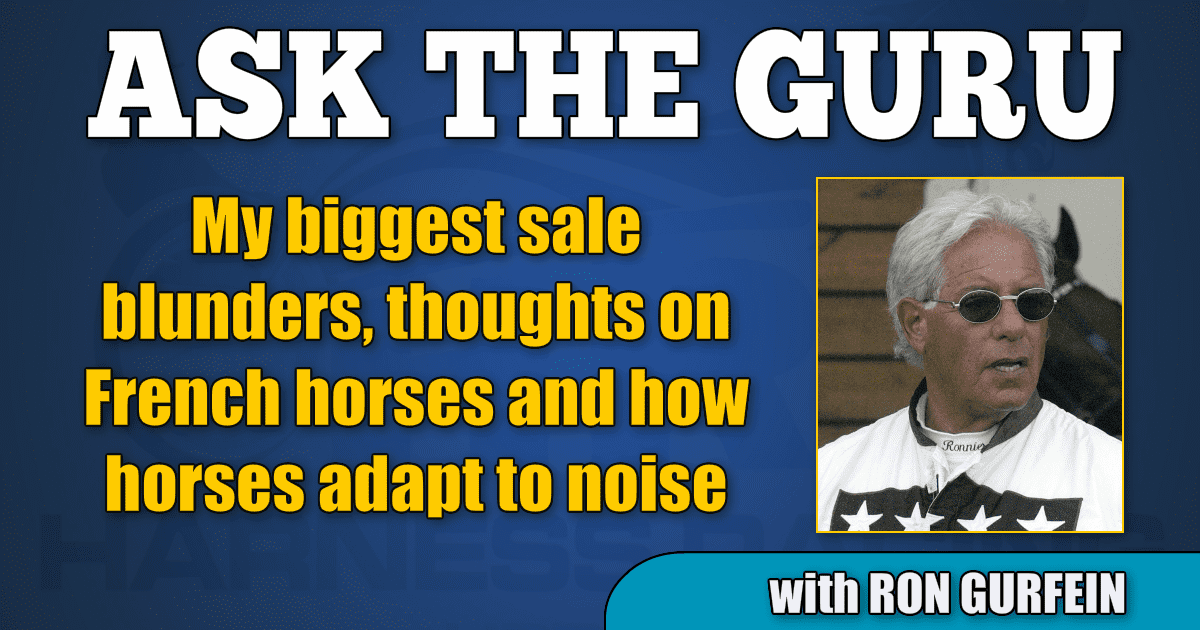 My biggest sale blunders, thoughts on French horses and how horses adapt to noise
by Ron Gurfein
Tidbits: I have been inundated with emails about the races that horses trained by Nick Surick and Rene Allard are involved in at Yonkers. If you are finding fault with the system call track management or the judges, don't waste your time telling me stories because I am neither a judge nor a jury. Just because horses go faster in one race than another there is more to it than performance enhancing drugs. When money is involved it is common for players to push the envelope. In time the guilty will get caught, but we don't need hanging judges or vigilante juries. Proof of guilt is of the essence in these matters.
How about Clemson? Its Red Zone defense was so good I thought they had the plays before the snap. Their reaction to the fake punt was almost as if they knew it was coming. Who was more impressive, Trevor Lawrence or his receiving corps? What can we do to make him a Dolphin some day? Fabulous game.
Talk about great games, is it possible that the Eagles are God's team? How smart was the Philadelphia front office to keep both Carson Wentz and Nick Foles, who would have been a very valuable commodity to put on the trading block.
Congratulations to Yannick Gingras for win 7,000. You're almost halfway there.
Congratulations to Dan Noble for winning the North America Driving Championship at Miami Valley over Brett Miller.
Billy Bigler asks: We all know of some of the bargains you have picked up in your career, tell us about some of the errors.
There were plenty of them, too many to list in the column, but a few that stick in my throat I will relate. In 1972, I bought a Torpid colt out of Magda by Tar Heel from Pine Hollow Stud. I loved the colt and the pedigree and he turned out to have limited ability at best. The following year, Magda had a better looking foal that was awesome on the floor and I decided to take another chance on the family considering the new model was a Fulla Napoleon. As the bidding approached my budget, I kept thinking about that racky-gaited Torpid colt and I chickened out . The auctioneer knocked the colt down to Dale Ross, his name was Momentum and he won almost $500,000.
Also in the early seventies, and also from Pine Hollow, came two beautiful chestnut Romeo Hanover colts. I was very friendly with Paul Vance as he was a well known songwriter as was my father in law, Milt Kellem, and both were constant track goers. Paul's most famous song was Catch a Falling Star and Milt's was Gonna Get Along Without You Now, both very popular in my day. Paul and I kept going back to the barn and looking at the two colts, Qatar the Old Glory Yearling Sale at Yonkers Raceway. They both sold around the same price. I bought the first one Magic Kingdom and Paul the other, Secret Service. They trained well next to each other at the South Florida Training Center. My colt was hard pressed to break his maiden and won $32,000 lifetime, and Secret Service won $450,000.
Last and worst error ever I was at the Harrisburg sale in 1995 and I was looking at two Sierra Kosmos fillies that Dr Alexander of Pin Oak Lane Farm was selling. Every time I took the two fillies out of the stall, Dr Alexander would tell me "I raised those girls. I know which one is better." No matter how hard he tried to convince me, the filly he liked was a bit too masculine for my taste and rougher looking. Fool that I was, I didn't listen to the breeder (something I never did again) and bought the wrong horse. The filly was so bad I have a mental block on her name which is unimportant anyway as she was awful. The filly he did want me to buy was No Nonsense Woman, winner of $1,300,000. Can you imagine having No Nonsense Woman the year after Continentalvictory? Unfortunately, I messed up.
Steven Frank asks a question that was as long as a novelette. I apologize, but will paraphrase. Steven says I have been to tracks recently with very few patrons and I wonder when a horse is used to the quiet atmosphere at these venues what happens when he or she goes to The Little Brown Jug or a similar event?
Some horses will get a bit on the iron when there is a noisey crowd, but for the most part, a trainer can handle the noise by using ear plugs or a ear cup devise called a hood. I never found crowd noise a problem compared to the noises and sights at the tracks like Springfield and Duquoin with signs and rides and all sorts of goings on in the infield. What a colt sees is far more concerning than what he hears. Loudness might get a colt riled up where he wants to go right now, but a Tilt O Whirl in the first turn may frighten one into leaping over the hub rail. When I went on the western swing of the Grand Circuit I would always hit those tracks early to get the horses used to all the distractions. I even found the signs and sites at the Meadowlands disconcerting to 2-year-olds and being stabled on the ground gave me a great advantage over the shippers.
Neil Zelkin asks: The Internet has brought European racing to our doorstep. I love French racing. It is way more exciting than ours. Why don't we have 15-horse fields and distance races like they do? I also noticed something that confuses me why in France do they have so many races where all the horses in a given race have names that start with the same letter of the alphabet?
The French Trotting Association has kept a closed book on their breed. For all of the last century, they allowed no outside blood to enter their sport. Therefore, the type of horse they are breeding is very different from the American version. Our horses are finer and lack the ability to race long distances parked much of the time. It's almost like we raise sprinters and they raise distance routers. Our horses are severely inbred compared to theirs. If you attended a big race in France you could see the difference in the animal right away. Moni Maker, the last American horse to have success in France, was more on the order of a French horse than an American. She was big and strong and could go forever. Her son, International Moni, had many of those qualities and is from a stallion with European heritage, that is why he is being so well received as a new stallion in our country.
I agree with you wholeheartedly that we should at least attempt bigger fields and different distances, the trouble is we are so short of horses right now that this would be futile. In order to create excitement we need NEW. I have said many times in this column that elimination races are awful. Take the 15 top money earners and race — especially on a mile track. What is more exciting is that in the Prix d'Amerique 20 horses turn and go. Unfortunately, we are part of a sport that seems to defy change.
As for why horses have names starting with the same letter, it not only France, but many European countries that do that to signify the year of their birth. Those races are indigenous to horses bred in France in a certain year. They are restricted by age so when 3-year-olds race they have the same letter as with 4- and 5-year-olds, etc.
The races where they don't have the same letter are ones of open class horses where the conditions are for many ages and are usually for the better horses.
Thanks to all my readers for the kind words. Please keep the questions coming in as this is a slow time of the year for racing news. Have a wonderful week. Go Eagles.
Have a question for The Guru?
Email him at GurfTrot@aol.com.