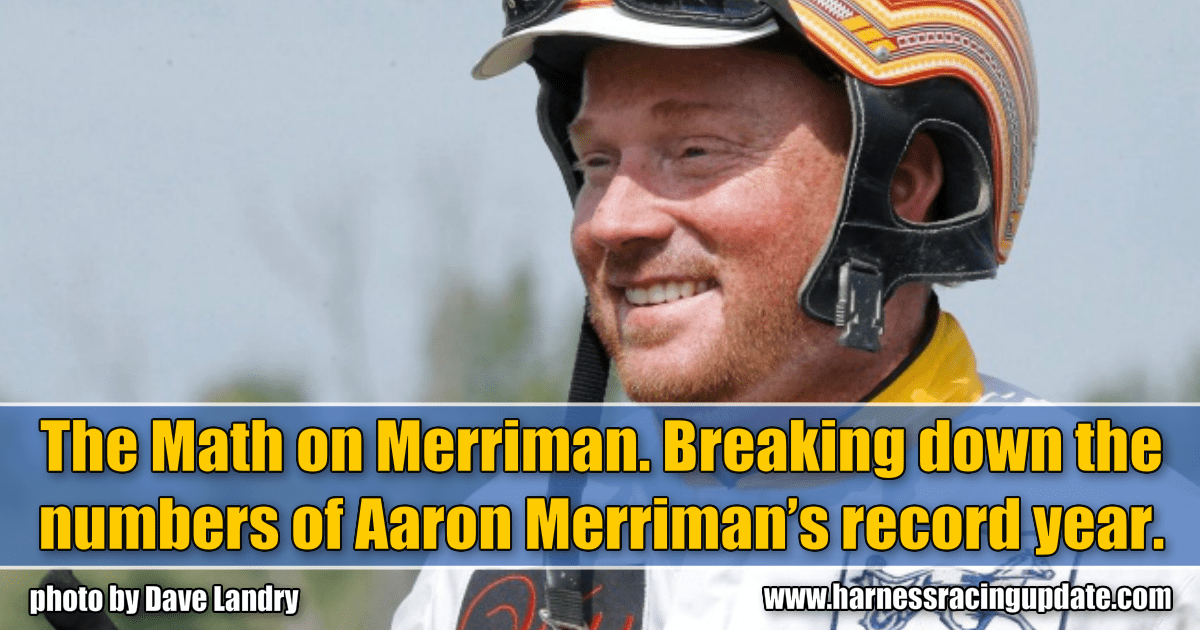 Breaking down the numbers of Aaron Merriman's record year that earned him USHWA's Driver of the Year award.
by Jay Wolf
You have to forgive driver Aaron Merriman if he wasn't real excited to see the ball drop on 2019. For the Cleveland native, this will be a year he never forgets – a North American leading 1,141 wins, he was named the "Driver of the Year" by the United States Harness Writers Association and his beloved Cleveland Browns posted a 7-8-1 record.
In March, Merriman passed the 10,000-career win mark. He won the $200,000 Charlie Hill Memorial with Homicide Hunter in a world record equaling mile. On Ohio Super Night (Sept. 8), he scored his biggest two wins of the season – the $275,000 Ohio Sires Stake Final with Only Take Cash and the $250,000 Jim Ewart Memorial Final with Split The House. In December, Merriman became the first driver to record a 1,000-win season in multiple years.
To truly appreciate the other accomplishments of Merriman, you have to really dig into his numbers.
The 40-year-old Merriman guided a staggering 636 different horses to victory last season.
Merriman's winningest horse was the 5-year-old, Sass, with 16 wins. The Kadabra gelding is owned by Paul and Patricia O'Neil and trained by Jessica Roegner.
"(Sass) had a lot of hard trips and he seemed to like that a lot better. I thought I would make it easier on him, so I drove him bad a lot," said Merriman, laughing.
Second on the wins list was the Cantab Hall gelding, Wind Of The North. Merriman drove the 8-year-old in all but one of his 33 season starts, compiling a 15-6-6 record for owner/trainer William Bercury.
"Great horse, world champion," said Merriman. "He's a Cadillac to drive. The (Bercurys) are great people to drive for."
Another Bercury trainee, Barn Girl, rounded out Merriman's top three winners with 13 seasonal wins. While the Cash Hall mare was a terror on the track with a 13-4-0 record in just 18 starts, she could also be a terror to drive.
"She is not my favorite horse. She is little and mean," said Merriman.
Merriman drove winners for 219 different trainers.
The Merriman 'training title' was almost a triple dead heat going into December. When the year ended, he won 83 times for William Rhoades, 80 times for Brian Loney and 78 times for Jessica Roegner.
Farther down the list was Aaron's father, Lanny, with 10.
"Those (10) wins mean a little more," Aaron admitted.
Merriman raced at seven tracks and won races at six tracks in 2018 – Northfield Park (711 wins), The Meadows (263), Scioto Downs (69), Miami Valley Raceway (46), Dayton Raceway (43) and the Delaware County Fair (9). He finished fourth in his one and only start at another facility — Pocono Downs in the Earl Beal Memorial elimination.
"Instead of hustling back and forth to (other tracks), I kind of stayed put. There is good money in Ohio," said Merriman.
Merriman swept the early daily double nine times, a shocking feat because he is usually traveling between Washington, PA and Northfield, OH during the early Cleveland card.
"That is even more amazing, because I am not there that often (for the early races)," said Merriman, laughing.
Merriman won eight races on a Northfield Park card five times last season. He won 249 races in November and December.
Five of his 2018 wins came via disqualifications.
"I gained five wins (by DQs)? I usually give a few away each year," said Merriman. "I am glad a couple came back my way."
Aaron Merriman was involved in four dead heats for win in 2018. Two occurred with Dave Palone and one each with Jason Merriman and Jason Thompson. Thompson is Aaron's brother-in-law.
"One of the dead heats was with my brother-in-law, so that was kinda cool," Aaron said.
The dead heats between Palone and Merriman are sure to establish a "Hollywood" Heyden world record between two winningest drivers – nearly 30,000 career wins.
Speaking of Palone and his 18,650 career wins. Does the 16-year younger Merriman see a chance to top the all-time wins list?
"No. I know this sounds crazy, I am literally a day-to-day guy," Merriman said. "Winning a thousand races is not something I shoot for."
What will Merriman do in 2019 as an encore?
The sky is the limit. Through the first two days of racing in 2019 he has nine wins, which is two ahead of his 2018 pace.
Aaron Merriman's 2018 season by the numbers
• 1,141 season wins
• 711 wins at Northfield Park
• won with 636 different horses
• recorded 495 wins in races with purses $10,000+
• .386 UDRS rating in 2018
• 413 wins ahead of second place Ronnie Wrenn, Jr.
• won 249 races in November and December
• won for 219 different trainers
• won 124 times in November
• 95 wins in race #6 of a card
• won 94.3 per cent of trainer William Bercury's 53 seasonal wins
• 72 per cent of his wins came with pacers
• 63 per cent of his wins came on a half-mile track
• won 11 races on July 30
• 10 wins for father Lanny Merriman
• swept the early daily double 9 times
• won eight races in a day at Northfield Park (he did it 5 times)
• recorded wins at 6 different tracks
• Five wins came via disqualification
• Three wins in $200,000+ races
• Three wins came in dead heats
• Two seasons with 1,000+ wins