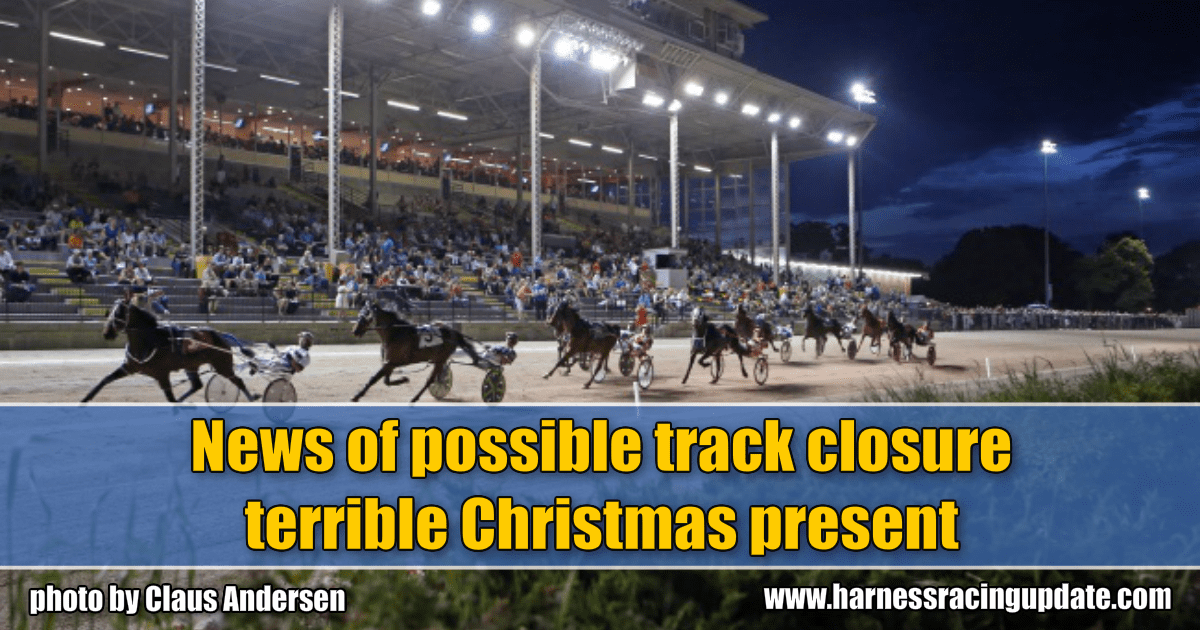 News of possible track closure terrible Christmas present to Ontario horsepeople
Western Fair District president Hugh Mitchell said the leaked announcement that Gateway Casinos had leased land elsewhere for a new casino in London, ON has thrown the future of The Raceway at The Western Fair into doubt. Though, he remains optimistic the provincial government will support racing there.
by Dave Briggs
Hugh Mitchell said the timing was particularly bad less than a week before Christmas when news "inadvertently leaked" that Gateway Casinos had leased land for a potential new location for its gaming operations in London, ON. It is a move that, if consummated, could lead to the closure of The Raceway at The Western Fair District which depends on the more than $6 million in annual lease payments Gateway currently pays to operate a casino at the track.
"I feel for the horsemen, honestly," said the president of the Western Fair District when reached on Dec. 21. "A lot of us in management are pretty close to the situation and we have more information than probably the rank-and-file horseperson has, so when they get that news of a possible closure of Western Fair Raceway, that's pretty troubling at this time of year – at any time of year, never mind Christmas. So, I empathize with them tremendously. We had no control over the circumstances. We understand that it was inadvertently leaked. Nobody planned it to be announced this week on Gateway's end, but that happens. So you deal with it as it happens and that's what we did."
That said, Mitchell said Western Fair is working diligently on other funding options, should Gateway decide to move its casino operations. The first step has been to approach the provincial government.
"We submitted to the Minister of Finance a proposal and a request for the government to fill the void that might be left behind if Gateway decides to relocate because we were only prepared to negotiate a deal with Gateway if it supported racing," Mitchell said. "That was the only way we were going to get a deal… We said to the government that we're looking to the government to fill that void so we can continue to support racing to the degree we do today."
Mitchell said he is waiting for feedback from the Minister's office, but is mildly optimistic, especially since the new Progressive Conservative government, led by premier Doug Ford, has been "pretty supportive of racing" since being elected last June.
"We're optimistic that the government will find its way to continue to support racing to the degree they have in the past and we'll have a bright future. That's what we're hoping for. Those discussions will begin in earnest in the new year," Mitchell said, adding he can't rule out the prospect the government may authorize a slot hall to remain at Western Fair to support racing even if Gateway moves its main operation to a new location in the city.
"That is an option, yes. We have seen it — at Kawartha (Downs) particularly — and there are rumors of it happening in Sarnia. So that is a possibility and that we would support, because the infrastructure is there and it's integrated with racing. We would like to eventually retrofit that grandstand and make it more relevant for today's audience… consolidate it, update it and modernize it. And if there were a few slots adjoining it or part of it retrofit that would be acceptable, subject to the money being very similar to what it is now."
Mitchell said the impasse between Gateway and the Western Fair occurred over two things — money and potential land use.
"Their plan for operating a casino on our site was to build on the main footprint, the main parking lot and operate a standalone gaming facility. Our concern with that was – a) parking and b) it would not be integrated with racing and it's our view, our very strong view, that racing and gaming needs to be integrated so there can be synergies, cross-promotion and it can be a symbiotic relationship, which was the original intent of the Mike Harris government in 1998 when it brought the Slots At Racetrack Program (SARP) into play. So, that was the first issue we disagreed on," Mitchell said.
"The second thing was that our rent that was negotiated with the OLG (Ontario Lottery and Gaming corporation) after the cancellation of the SARP program was about $6.2 million and Gateway was not prepared to pay anywhere near $6.2 million, actually a fraction of it. I understand that.
"When we negotiated the $6.2 million it was contingent on us continuing to race. There were a lot of conditions around that lease that supported racing. Now that Gateway has taken over the lease and it's set to terminate in March of 2020, they wanted a new deal that was much less expensive because they weren't prepared to support racing. That's not part of their business model or their mandate."
The new site Gateway has leased in south London still needs to be zoned for gaming by London city council, which has previously voted in favor of keeping the casino at Western Fair. Even if the city refuses to zone the new site for gaming — which could happen — Mitchell said there are still some challenges to resolve before the new casino could be built at Western Fair.
"We would still stand really tough on there being enough money to support racing, for one. And, two, whatever is built, needs to be at least somewhat integrated with racing. Those are two conditions. We were prepared to let them walk and that's what apparently they are doing. We were prepared to do that, to stand on those two points," Mitchell said.
He stressed Western Fair is not asking for more money from Gateway than the company is already paying for its lease.
"In fact, if the negotiations went positively, we would have taken a little bit less to make it work, but there was too much of a gap. What we don't want to have happen is gaming on our site and racing finished. That is not the model that we want to support," Mitchell said.
The Raceway is said to support some 5,000 — mostly rural — jobs.
"It's pretty significant," Mitchell said of the number of jobs. "(The decision) has a huge trickle down impact, negatively or positively, however the outcome.
"I remain optimistic. I thought it was important that we put a stake in the ground and we did. There's always a silver lining in every cloud and we'll find it."