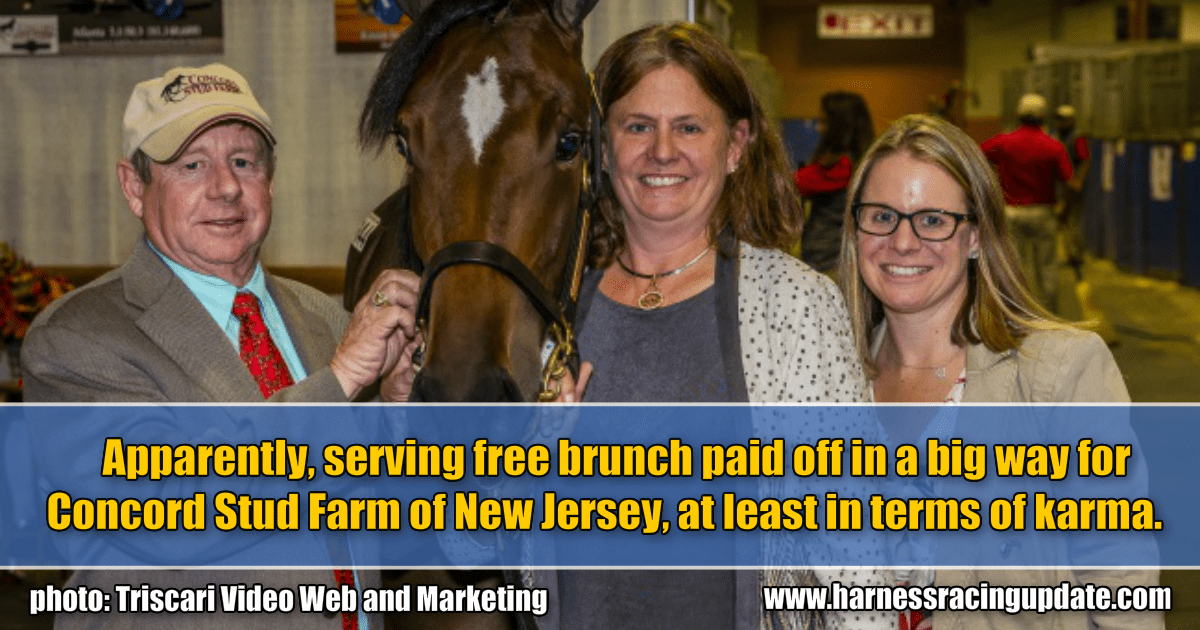 Concord Stud has terrific opening session as average and gross soar at Harrisburg
The gross of nearly $16 million was up 29 per cent and the average of $93,541 was up 24 per cent over a year ago.
by Dave Briggs
Apparently, serving free brunch paid off in a big way for Concord Stud Farm of New Jersey, at least in terms of karma.
After feeding the masses, Concord Stud — operated by David Meirs III, his wife Robin, and their daughter, Julie — sold the two highest-priced horses during a gangbusters opening session of the 80th Standardbred Horse Sales Company's yearling sale Monday at the Pennsylvania State Farm Show Complex in Harrisburg, PA. Concord grossed more than $3.5 million to out-earn everyone except Hanover Shoe Farms which, as usual, was far and away the leading seller.
"Great day, it's a day that you dream of," said David. "Did I expect to be able to have a sale like this today? Not really. But I was very pleased with the way the horses looked. We tried something that we've never tried before, which we have never bathed our horses… We had a discussion, between my wife and my daughter and I about it. I said I thought the horses were carrying enough shine and were in good shape.
"Even horses that were probably in the $35,000 or $40,000 range brought closer to $100,000, so there were a multitude of things coming together. I think the buyers appreciated having a brunch. The bottom line is that we need to be taking care of our owners. It was my daughter and my wife's idea to let them come out here and let them have a brunch, let them talk… get them here early and to make it fun."
In the end, no one had more fun than the Meirs family on a day in which the sale grossed $15,902,000 for 170 yearlings sold to produce an average of $93,541. The gross was up 29 per cent over the $12,350,000 fetched during last year's opening sessions. The average was up 24 per cent. It was the highest gross and average for an opening session in recent memory.
"It was just a fantastic sale, top to bottom, trotters and pacers, colts and fillies. I looked down, preliminarily, through the consignors, and it looks like virtually all the consignors have done well. Everyone I've talked to is just very excited and pleased, so obviously I am, too," said Standardbred Horse Sales Company president and CEO Pete Spears.
From 50 cents to $500,000
Concord topped the sale with hip 144 Fifty Cent Piece, a Muscle Hill filly out of Thatsnotmyname purchased for $500,000 by SRF Stable of Sweden. Lina Alm purchased the horse on behalf of SRF. Alm also completed the transaction for the Muscle Hill filly out of Bella Dolce named Bellareina Dolce that sold for $400,000 at the Lexington Selected Yearling Sale. It was the second highest priced yearling sold at that sale.
Alm said she made a connection with Fifty Cent Piece.
"I can't really put my finger on it, but… they have something. I want them to be intelligent and not have stress. If they can handle being here, it's a good sign," Alm said. "I'm very happy when we buy the horses that I have that feeling for. I get very emotional."
Three years ago, Concord sold Fifty Cent Piece's half-sister Future Secured (Cantab Hall) for $500,000, as well, at Harrisburg, topping the 2015 yearling sale.
But as much as that was a proud moment, nothing has surpassed this year's sale, so far, for Concord. Julie said she is most proud Concord is a family operation.
"Starting from day one, we do everything hands on," Julie said. "My parents are foaling out the babies. My mom is foaling in New Jersey and my dad is foaling in Pennsylvania. Occasionally, they switch and go vice versa, but it's a very hands-on approach where we're involved in all of it."
Concord was the second leading consignor by average, hitting $132,111 for 27 sold. Only Fair Winds Farm Inc. was better with an average of $144,571 for seven sold.
It's yet another fine moment in a great year for Concord.
"We had five in the Breeders Crown," David said. "Thanks also to our owners that keep their mares with us. For the Takters to be able to have the faith in us to sell their yearlings (is special)."
Takter tops as a seller
Concord also sold Krickan, a Trixton filly out of Solveig for $415,000 to John Floren, the man who purchased $424,540-winner The Ice Dutchess for $320,000 at last year sale to share the title as sale topper. Krickan, bred by the Solveig Breeders led by Jimmy Takter, is named for Takter's wife, Christina.
"Krickan is my wife's nickname. Everybody in Sweden calls her Krickan," Jimmy said.
Krickan the trotter is out of an outstanding race mare and broodmare who also produced Shake It Cerry ($2.78 million), Uncle Lasse ($930,000+), Dontyouforgetit ($600,000) and more.
"(Krickan) was really a perfect individual and everything… John (Floren), what a class guy that guy is. I'm happy," said Takter, who is retiring at the end of the year and turning over his horses to his daughter, Nancy Johansson and his current top assistant Per Engblom. "My team's going to train (Krickan), so I was happy with that."
Takter and Concord also sold hip 154 Love For Sail, a Captaintreacherous half-brother to $1.5 million winning filly See You At Peelers (Bettor's Delight) out of West Side Glory for $235,000 to Jim Glass, agent, of Stanford, KY.
"(Love For Sail) by far, including See You At Peelers, was the best individual that (West Side Glory) ever threw."
"Everybody knows that I have bought a lot of expensive horses so it's nice to be on the other side of things. I made a lot of people in those horse sales rich over the years," Takter said, laughing. "I was happy. I can see those guys and why they get excited about sending a horse to the sale. It's big money, you know."
Hanover tops $7 million
Hanover Shoe Farms led all consignors by a huge margin. The farm's 66 yearlings grossed just over $7 million in all— 44 per cent of the total session gross — for an average of $107,364.
"It was a great sale and we're looking forward to tomorrow," said Hanover president and CEO Jim Simpson.
"We're very pleased and I'm happy we made it through the day without incident," said Hanover farm manager Dr. Bridgette Jablonsky. "And there's a lot of people that still don't have a horse."
Hanover sold the third highest priced yearling of the day, hip 47, a Captaitreacherous colt out of Hana Hanover named Honorat Hanover purchased by Myron Bell, agent, of Boynton Beach, FL for $400,000. Bell also signed for the fifth-highest priced yearling, Captain Trevor's full-brother, a Captaintreacherous colt out of It Was Fascination that fetched $350,000.
"We bought the two colts from Captaintreacherous today for Captain's Court, which is a group comprised of some of the greatest owners in the industry – Brad Grant, George Segal, Marv Katz and even Ken Jacobs came in for one of them," Bell said.
"They are both out of great maternal families. They were both great individuals. They were raised properly. They look very racey and I hope they fulfill our dream, because when you're buying a yearling, you're buying a dream."
Tony Alagna has been tabbed to train the two colts and it was a sweet reward for taking something of a gamble last year and filling his barn with offspring of the first crop of Captaintreacherous, who has turned out to be the leading money-winning sire of 2-year-old pacers.
"I had two theories going into it," Alagna said. "My theories were that (Captaintreacherous) got such great mares that he just had to contribute a little bit and if he showed a little bit, then with the pedigrees that he got and the mares that he got, he was going to be a hit and that's what he was.
"The other thing was, I'd rather support something that I know and I believe in and I stand behind… Though, now we kind of created our own problem, but that's a good problem to have. Last year, we were buying Captains for $35,000 — Tall Drink Hanover, $35,000, Captain Trevor, $75,000. This year, we're paying $350,000, $400,000, but that's a good thing. It does nothing but help our horse and it's great to keep the value up."
Alagna said he's proud to be, "sitting on our fifth horse that's a stud in eight years.
"We've got great clients and they've been very supportive. They are not afraid to fire and the good thing about it is that we're buying these top-end horses because we're trying to get stallions… I couldn't do it without those guys buying the high-profile horses."
Amazing numbers
As for the overall sale numbers, to put them in perspective, the average is up 24 per cent from a year ago, up 18.9 per cent from 2016's average of $78,676, up 66.7 per cent from 2015's average of $55,781, up 53.5 per cent over 2014's average of $60,955 and up 43.6 per cent from 2013's average of $65,124.
"There's always the possibility that things won't work out the way you hoped, but we really felt that we had a very strong catalogue and that this type of day was possible," Spears said. "We're very happy that the buyers recognized the strength of the entries and have bought a bunch of good horses.
"There was a lot of enthusiastic bidding. It wasn't just two bidders pairing up and fighting between themselves. A lot of the higher-priced horses had a lot of action, up until the very end.
"We hope for a strong day (Tuesday) and Wednesday. We have a very good catalogue (Tuesday) and a good catalogue Wednesday, so there's more strong days to come. The economy is good, everybody is feeling good and it's a lot of fun."
Bell said the sale numbers are helped, considerably, by there being a range of outstanding sires in the business.
"We have some great sires besides the late Somebeachsomewhere. We have his successor, the great Captaintreacherous, Father Patrick, of course Muscle Hill and all the other great stallions that stand in North America," Bell said.
Alagna said the big numbers are also influenced by supply and demand.
"I knew in Lexington that a lot of people didn't get horses bought, so between the people that didn't get horses bought and the people that don't buy at Lexington anyway, they always just come to Harrisburg," Alagna said. "When it started off like it did today, I said it's going to be a strong session and it was."
Today's session starts at 10 a.m.