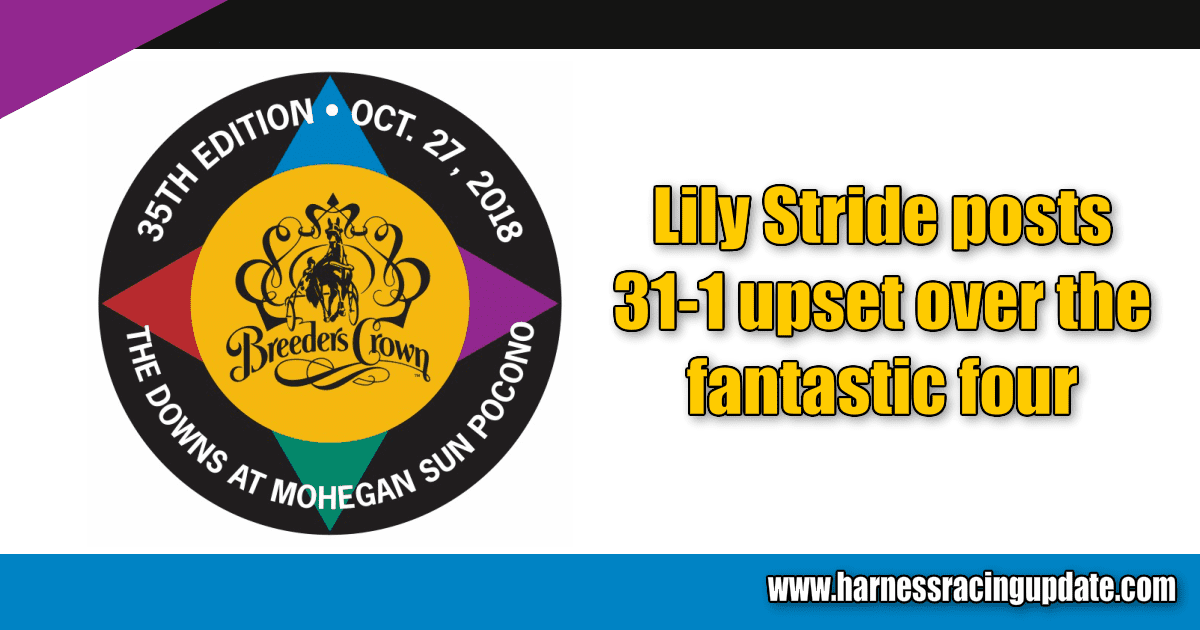 Lily Stride posts 31-1 upset over the fantastic four
by James Platz
Breeders Crown — 3YOFT
The $500,000 Breeders Crown final for sophomore trotting fillies was one of the most anticipated events on Saturday's championship card at The Downs at Mohegan Sun Pocono. Super fillies Atlanta, Manchego, Phaetosive and Plunge Blue Chip looked to mix it up for the title, but it was 31-1 Lily Stride and Tim Tetrick that spoiled the party and reached the wire first in 1:53.2. Sliding up the rail late, the filly edged favorite Atlanta in the final strides to secure trainer Mark Harder's first Crown finals victory. Lily Stride paid $65.40-$11.80-$5.00.
"You know, I've made it with a lot of horses that probably wouldn't win it, but you'd think one would pop up somewhere along the line and it finally did," Tetrick said after the upset victory. "She's so talented and so good. She's sound and she's fast and she's just everything that you want in a good horse. I really thought she could win a big one."
In a season dominated by the aforementioned quartet of fillies, Lily Stride showed her talent on the grandest of stages. The Muscle Hill—Sterling Volo sophomore has started 15 times in 2018, hitting the board 10 times with two wins and six runner-up efforts. In the weeks leading up to the Breeders Crown, Lily Stride showed she could contend with the best in the division. In Lexington, she trotted second to Phaetosive in a division of the Bluegrass and returned a week later to capture a heat of the Kentucky Filly Futurity in 1:50.2, racing sixth in the final. Last week she finished second to Atlanta in her Breeders Crown elimination.
"Ever since the first week of Lexington she's really been charging. She got taken out in the Futurity final, or she would have been second or third, and last week came home in :27.1," Tetrick said of the filly in the weeks leading up to the final. "I thought she was sitting on a good race. I'm really surprised she paid $60."
As can happen when big money and divisional honors are at stake, Tetrick and Lily Stride took advantage of a battle up front that created opportunity late in the mile in the night's 11th race. Plunge Blue Chip and Ake Svanstedt were the early leaders racing to the grandstand (:26.4), but soon Scott Zeron had Atlanta on the front after leaving from post three. Yannick Gingras and Manchego, drawing post eight, left from the outside and never saw the rail. The champion filly would apply pressure to the Hambletonian winner through fractions of :54.2 and 1:23.4, but the trip took its toll on both the leader and the challenger.
"It's just racing; I got parked," Gingras said. "It's unfortunate. I took a shot and it didn't work out. I was committed. It is what it is."
Manchego faded, forcing Phaetosive and George Brannan to move three-wide racing around the last turn. Tetrick, racing fourth turning for home, saw daylight along the inside and made his move. Longshot Lily Stride, sporting fresher legs than Atlanta, burst to the lead to spring the upset. Atlanta held off Plunge Blue Chip for second and Phaetosive finished fourth.
"They all went to the outside and we took a shortcut, which I have been doing with her the last few starts," said Tetrick, who steered back-to-back winners on the program, piloting Shartin N to a gusty victory in the $270,000 Mare Pace final.
Bred by Kentuckiana Farms and Jorgen Jahre, Jr., Lily Stride picked up the biggest win of her career for owners Emilio and Maria Roasti of New South Wales, Australia. Harder, who was previously 0-for-28 in the Breeders Crown, was happy to get his first Crown win for the connections.
"(The Rosatis) are great people and they have a lot of faith in me and put a lot of money in my hands and I feel really good for them," he said.
Earning her 12th career victory, Lily Stride raised her bankroll to $701,858, close to $445,000 accumulated in 2018. Harder indicated that she will now move to the southern hemisphere where she will race before later being bred.
"She's going to go Down Under and the owners will race her down there, which will be, you know, a feather in their cap, to race a Breeders Crown winner," Harder said.